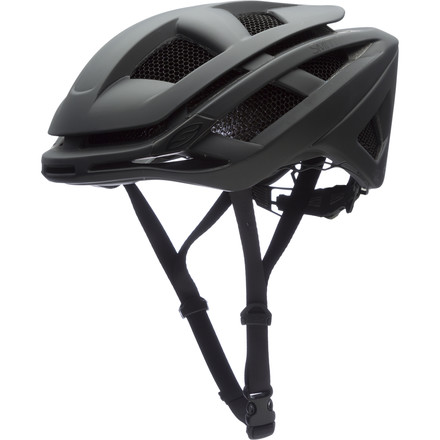 Colors

Detail Images

Videos

Community Images
Light, ventilated, and aero.
At first glance, you'd be forgiven for thinking that the Smith Overtake Helmet couldn't possibly be aerodynamic. Just look at all those little Koroyd tubes, sucking air right down to your head, cooling you as you ride! But, the engineers at Smith, in conjunction with aerodynamics guru Len Brownlie, ensured that the Overtake was competitive on all fronts, including aerodynamics. Over a 40k time trial, the Overtake was only about a second slower than the Specialized Evade, and was over four seconds faster than Giro's Air Attack.
Back to those Koroyd tubes, though. They're tiny, extruded, co-polymer tubes that absorb about 30% more impact than traditional EPS foam, and, due to their hollow nature, allow air to flow freely in a way that foam simply can't. On top of that, the microstructures allow for less material to be used in the construction of the helmet, which adds up to a highly-protective helmet that weighs in at just about 250 grams.
Road-specific design
Koroyd protection layer
Aerodynamically designed
This helmet is light weight, aerodynamic, and the koroyd keeps the yellow jackets out
Pat Sullivan
Great helmet, great price !
Familiarity:

I've used it once or twice and have initial impressions

Fit:

True to size

Size Bought:

Medium
After an over-the-handlebars tumble I wanted a MIPS helmet but the cost of those was scary. The Overtake was irresistable with the low price and cool matte black. Very comfortable - the only thing is if you tighten the rear strap when it's on your head then remove and try to put it back on you have to loosen the strap - maybe it's my head ???
Edward M.
Height:
6'1"
Weight:
150lbs
Fine helmet
Familiarity:

I've put it through the wringer

Fit:

True to size

Size Bought:

Large
First, all helmets meet the minimum safety requirement, so what I am looking at here are fit, feel, price, and lastly the looks.

The fit is good for me, and that is a very nice thing. True to size, and comfortable.

The feel is just fine! I have worn it on cold and warm days, and it just does not feel like it is there most of the time.

Most reviewers don't think it is hotter than other helmets, but I disagree. I used this and a Kask Proteone on succeeding days, and this felt hotter on long climbs. That is not good nor bad, it just is. This particular day was a double century and outside of the climb, I really did not notice the helmet.

Price? Great value on sale!

Looks. It is fine for me. I may be a bit less concerned about that, but it seems just fine!

In short, a great deal on a good helmet.
peter_meyer@me.com
I have always understood that a helmet should be replaced every couple years---I just ordered a new overtake (looks great) but I wondered what it means that it has a life time guarantee. marilyn
marilyn H.
I think that this is more about market position than anything. How often you replace it would be based on how many hours you take it on rides. You can check on this, but in my sense 2 years is about right for a rider who gets out a few times a week. I use that as my time to toss. But if you keep it longer because you are less frequently in the sun, then a lifetime just covers the difference between riders.
peter_meyer@me.com
brother loves it
Familiarity:

I gave it as a gift but have feedback to share
bought it for my brother for him to ride in the MS 150 from Austin to Houston, says it fits like a dream and is crazy lightweight.
Alex Bass
Great lid.
Familiarity:

I've put it through the wringer
Our team decided to use these and so far they work very well. I was concerned about cooling but riding in temps up to 90-95 has been no problem. My only complaint is that unless you have smith glasses you can't put them in your helmet...I generally like to do this on climbs but it's a small thing.
Sterling Watson
Great Fit, Light weight
Familiarity:

I've used it several times

Fit:

True to size
Following the measurement guide I opted for the medium and it fits me perfectly. After the first ride I noticed the light weight which left me with less neck fatigue as compared to my previous bulky Bontrager basic helmet. The Overtake also has a better profile slope over the ears than the Bontrager so that my sunglasses are not pushed down onto my ears. On my extreme downhills I do believe that I could notice that the Overtake is superior in aerodynamics to my old helmet and my segment data confirms it as well. The helmet holds my Bolle sunglasses in the slots, but as I have prescription lenses, I will probably not be using it, the world is too blurry without them. Crash tested? Not yet and I hope never to have to comment on this aspect of the helmet. So until then I will have to trust that it will do it's job.
Paul M.
If all eyewear companies made helmets
Familiarity:

I've put it through the wringer
I'm a Giro guy through and through, but am happy to say that this is the first non-Giro helmet that I could really get behind. This is my primary roadie helmet at this point as I got the ridiculously loud blaze orange. It matches my blaze orange Giro shoes well, so there's that. As for fit, the medium is on par with my medium Giro offerings. Most importantly, it looks good, fits good, and I simply forget it while wearing it. That's kind of the idea. A buddy of mine likes to make a habit of crashing on road rides for no apparent reason - his last couple were in the Smith Overtake, the last of which he bounced his head pretty hard. The helmet sucked it up no problem - he was so impressed he had another one ordered before we got home. I may add another color for the trails.
Eric C.
Round heads of the world, rejoice!
Familiarity:

I've put it through the wringer

Fit:

True to size
I'm not going to lie. It took me a few months to warm up to the design. My first impressions were very storm trooper-esque. I wasn't sold on the Koroyd design (the honey comb protection system). When I finally put the Overtake on my head, however, I began falling head over heels for the helmet.

Here are all the great things I discovered:

1. Color choices! Like things loud? Prefer the more subtle approach? The Overtake has a color for everyone.
2. It fit my very round (almost wide) head perfectly.
3. Despite my preconceived notions about the Koroyd not breathing well, I had plenty of airflow to keep my head cool.
4. The Koroyd keeps the bugs out!

The one and only thing I wasn't thrilled with: the chin strap is pretty short on the size small. I don't have much adjustment at all to loosen the fit (but I have just enough room so that it's comfortable under my chin).

vdickinson@backcountry.com
801-736-6396 ext. 4756
Virginia Dickinson
Gift for my wife
Familiarity:

I gave it as a gift but have feedback to share
She has used the helmet for Only a single ride, 100 miles however, so she is super pleased. She said it fit well immediately and still felt comfortable after 100 miles. She was pleased also with the Color and the quality of materials. Also Backcountry service was quick and excellent as usual. Helmet is pricey but I don't feel that I wasted my money.
Allen M.
This helmet fits like a glove
Super comfortable fit and lightweight. I bought the mountain bike model first and liked it so much that I got the Overtake for road biking. I think the lining helps keep you cool because it protects your head from direct sun.
Pete OBrien
Buy it. Now.
Familiarity:

I've put it through the wringer
Best fitting helmet I've had(and I've had them all) Cool even in the AZ heat, in light of other comments about the ability of the helmet to hold sunglasses(I have Flak 2.0) I think it works very well, so long as you make certain you have each arm in the groove that it designed to hold it. Not to mention it's the only helmet I have ever had the got multiple positive comments from the boys on the Sat. coffee shop ride, even to the extent another rider showed up the next week with one. :-)
bikepracticer
Keeps the Bugs Out!
Familiarity:

I've put it through the wringer
If you're like me and bike in insect infested areas, then you'll appreciate this lid immensely. Considering that the general consensus is that you'll need to ride in excess of 12 mph to outpace those pesky biting deer flies, this lid handles that & slower speeds equally well. Bug nets are close to the scalp, and that hasn't kept the biting & sucking bugs at bay in my experiences. But the Koroyd "straws" are long & narrow, and no bugs bugged me at all for the Lutsen 99er, which literally swarms with bugs in late June (Lake Superior, North Shore).

Probably not an intended characteristic by Smith (and the Overtake - road helmet), but I thought I'd point this out as it is nice benefit.

One Con: The glossy finish gets dull & doesn't wash well. I would have expected mosquito repellent to wash right off, but it left a residue. Stick to matte finish, and I think you'll be happier.
scott_10k_lakes
Great helmet
Familiarity:

I've put it through the wringer
Pleased with the overtake helmet. Very comfortable and high quality padding that also does a great job at keep sweat out of my eyes. Ventilation is on par with the many other heavily vented helmets I've owned. Retention system is great as it can be adjusted to be further up or down your head depending on your head shape. I'd say this is fits oval heads very well. I'm not too confident in resting my Smith pivlocks in the grooves like they say you can because it just doesn't feel overly secure, but I haven't really given it a chance so take it for what it's worth. I love the color options and the unique look. I got it to stand out of the crowd and it does that. Overall very pleased.
Eric E.
Not bad!
Familiarity:

I've put it through the wringer
Really a great fitting helmet. Feels nice and snug, but, not "scanners" snug. Very lightweight too. I've read about airflow problems, but, honestly it's hotter than hades in NC right now, and the helmet feels great. I bought the white/black/red one and it's pretty dope looking. The tension system is simple, but the ratchets seem to bite really well.

The only beef is that I can't scratch my head with the Koryoid as the vents are all essentially filled in. Also, there's no place to really hold glasses other than if you wear some Smiths. Lucky for me I have a pair of Smiths, so no big deal (even though I prefer my Oakleys!), I'll be interested in seeing how it does with a cap underneath it this winter.

All in all, a great piece of kit that I'd gladly buy again.
58 Teeth
Taylor Strand
Fantastic Helmet
Familiarity:

I've used it several times
This is the best fitting helmet I've ever owned. It feels like it was made for my head. Very light, like it's not even there. It's a head turner as well. My friends commented on it immediately.
Charles K.
I like it.
Familiarity:

I've put it through the wringer
Fit is excellent , very light and comfortable, good looking and
sunglasses integrate perfectly. Can't think of any cons.
Worth the high price.
James S.