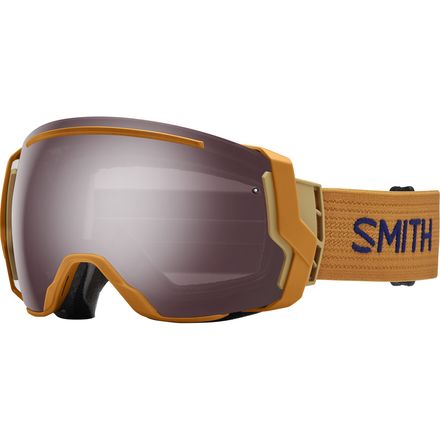 Colors

Detail Images

Videos

Community Images
Bigger is better.
Smith's been leading the way in the eyewear game for years, and has stepped up once again to deliver with the I/O 7 interchangeable-lens goggles. Taking the pioneering rimless design of the I/O to the next level, the I/O 7 uses a Single-Pivot Quick-Release lens-change system to make switching out your lenses even simpler, while at the same time making the frame lighter and more comfortable. The dual-axis outrigger system and three-layer DriWix foam conform to your face without pinching, and the ultra-wide silicone-backed strap sticks to your helmet like gum to the bottom of your shoe. Smith also designed the I/O 7 with an AirEvac system that interfaces with your helmet to help circulate air, reducing fogging on those sticky, swampy days.

Of course, you can't talk Smith without bringing up top-shelf optical quality, which the I/O 7 delivers in spades. The spherical Carbonic-X polycarbonate lens is designed using TLT optics, which mirror the shape of your eyes to provide precise, crystal-clear vision in all conditions, and features a mess of fog-preventing tech to keep you seeing clearly: the dual Vaporator lens technology is finished off with a Porex filter that sucks moisture from between the inner and outer layer, and is treated with a 5X anti-fog coating to prevent moisture build-up. You'd expect Smith to throw down the most precise, technologically advanced eyewear out there, and the I/O 7 certainly doesn't disappoint.

Proposition 65 Warning for California Consumers: This product contains chemicals known to the State of California to cause cancer and/or birth defects or other reproductive harm.
Single-Pivot Quick-Release lens-change system
Spherical Carbonic-X lens with TLT optics
Vaporator Lens technology with a Porex Filter
AirEvac helmet integration technology
5X anti-fog inner lens
Dual-axis outrigger frame with three-layer DriWix face foam
Ultra-wide QuickFit strap with silicone backing
Includes two performance mirrored lenses
Awesome Googles
Familiarity:

I've used it several times
These googles are pretty great. They fit my face fine and work easily with my helmet which is a Salomon. I love the black out color option, the sleek design and the extra lens that comes with for cloudy/stormy/overcast days. These googles did not fog up on me except for when I used a gator - I didn't have an issue when using a bandana - but other than that, the air circulation is great.

Oh, and the durability of these are awesome. I wound up doing a face plant on some packed snow and these googles didn't crack, scratch or break in any way - my face wound up with all the damage. :D
Maureen W.
High viz
Familiarity:

I've used it several times
I bought these goggles with the blackout lens and the yellow sensor mirror. I hesitated because for both lenses, the visible light transmission (VLT) is at the most aggressive end of the spectrum. Now I've been through a range of weather conditions—bluebird, overcast, flat light, snow—and I haven't found a situation for which one of the two doesn't work. I use the blackout lens for most conditions. More than I thought. It stays in the frame, but changing the lens is a snap. It takes like 8 seconds. The goggles also offer a wide scope of visibility and integrate perfectly with the Smith Maze helmet.
Hawley M.
The Never Fogging Goggles
Familiarity:

I've put it through the wringer
I forgot how much I love Smith goggles until putting on a different brand of goggles the other day and having them fog up immediately when I broke a sweat. The Vaporator Lens technology with a Porex Filter never lets the Smith I/O 7's fog! I also love the AirEvac helmet integration technology that gives the perfect helmet-to-goggle integration and the quick interchangeable lens technology that allows you to quickly adjust to variable lighting conditions.
Sara Gemmell
No Fog!!!
Familiarity:

I've put it through the wringer
I hate fog... but these googles paired with a smith helmet = no fog!!! Not to mention the interchangeable lens is pretty quick once you get used to changing them.
Brian B.
Nice, though a bit fragile
Familiarity:

I've used it several times
Comfortable, good fit with a helmet, wide unobstructed visual field, and good air circulation, no tendency to fog up.

Not quite as sturdy as I would have hoped though. The frame is soft and the lens can pop out of position pretty easily if the frame gets a little twisted when pulling the goggles on/off. Also, the lens scratches very easily.
Roee K.
Fits great and never fogs
Familiarity:

I've put it through the wringer
I wear these goggles every time I hit the mountain and love them
Matthew Roberts
Great Goggles
Familiarity:

I've put it through the wringer
I have had horrible experiences with goggles in the past, but these more than cut the mustard.

When paired with the Smith Vantage helmet (also highly recommend) there is no wind-gaps on forehead. I have never had a fogging issue on the inside, and when it gets very cold and I put steam on the outside of the lease from covering up my mouth, the fog dissipates quickly while skiing.

Overall, great goggles that have lasted a long time with top performance.
mg.106020068
great, fit really well on smith helmets
Familiarity:

I've used it several times
These goggles fit very well with the Smith helmet line and stay clear of moisture regardless of temperature/precipitation. I found the two different lenses to work well in the conditions that they are designed for and the fit is very comfortable. I definitely found these to be quality goggles
James Bleuer
way cool
Familiarity:

I've put it through the wringer
I wore the I0 for years before switching to the IOX a couple of season ago. The IO frame is relatively small, and the X really opened up my peripheral vision.
That said, the X is massive in comparison to the original IO, and I constantly had air rushing up through gaps between my face and the goggle's foam. I am sure that such a big frame fits on someone's face, but I felt that I was mostly just sacrificing the IO's comfort for the X's superior vision.
Thankfully, I wasn't the only one in that position, and Smith decided to produce the 7 for all the 'between sizes' folks.
The IO7 balances the IO's compact design with the X's wide field of vision. The 7 feels significantly narrower on my face than the X, but there isn't much difference in terms of the size of each goggle's peripheral vision.
I'm not sure that Smith goggles are any more durable than their competitors, but the company really stands behind the product, and the warranty is all time.
Conor Hampson
Best Goggles
Familiarity:

I've used it several times
I owned a pair of original I/O's and loved them. Being a creature of habit may be a bad thing, but I couldn't be happier with my purchase of these I/O 7's. The goggles fit great and swapping out the lenses is very simple. I decided to go with the Smith Pivot MIPS helmet and that combination couldn't be better as far as fit and ventilation. I never have foggy goggles and on those really cold days when the wind is blowing I never feel it between my goggles and helmet. They integrate perfectly so nothing is exposed. I've used these for skiing/snowboarding, snowmobiling and backcountry touring and they performed very well in all settings. I definitely recommend these goggles to anyone looking for a great pair. I chose the Sriracha color scheme and love the design. Feel free to reach out to me if you have any questions.
Zachary Cox
Perfect In Between Size Goggles
Familiarity:

I've put it through the wringer
Had the regular I/O goggles for a few years before it was time for an upgrade. After trying out these and the I/OXs I decided these were for me. They're not as big as the Xs but still cover quite a bit of your face. The lens changes in a snap and the clarity is pretty impressive with these. I went with the Ignitor Mirror and Red Sensor Mirror combo and purchased the Green Sol-X lens for bluebird days. If you have any questions about the best lens tint for you please reach out! Overall, highly recommend. Smith does it again!
Kyle Scagnelli
I'd say I'm well acquainted
Familiarity:

I've put it through the wringer
So I got the Sriracha Cuzco/Green Sol-X Mirror/Red Sensor Mirror, One Size, and absolutely love them!
As well as the Black/Blackout/Yellow Sensor Mirror, One Size, and those are super sick too!

Super cool look, and good range of visibility, it isn't like other goggles that sometime block a little bit of peripheral vision, this goggle gives you full range of vision.

It comes with two lens, one for darker, overcast, storm days. The other lens will be for bluebird days, and the bag it comes with is a certified lens cleaner.

Changing the lens on the goggles isn't exactly the easiest lens to change out the first time I had to to do it it took me like 5 minutes, but after some practice the process had become more fluid. The thing is the frame itself has these slots, specific for each side of the lens, and it is a little bit finicky to get it to fit super flush.

Overall great product, I'm stoked on both of mine, and they go super well with the Smith Vantage helmet.

Great Buy!
Alex Goulden
Go to pair of goggles
Familiarity:

I've put it through the wringer
I use these a few times a week and love them
Matthew Roberts
Comfortable and Awesome.
Familiarity:

I gave it as a gift but have feedback to share
I bought this as a birthday present for a relative and this is what they had to say:

The fit is great, I have a large face and the I/O 7 fits my big melon really well. The foam is super comfortable and the minimalist frame offers a girthy range of vision that my old goggles weren't giving me. Additionally, the interchangeable lens system is easy to use, though I did have some difficulty at first with the nose piece, but I eventually got used to it (I looked up a tutorial on YouTube to figure it out and make sure I didn't break anything in the process). All in all, this is an amazing step-up from my old goggles. Really couldn't be happier with them.
Monique Seitz-Davis
Favorite Pair
Familiarity:

I've put it through the wringer
I have had these goggles for about 3 months now and I love them. They fit perfectly on my face and are not super big like the I/0X. You can change out the lenses really easily and it takes about 30 seconds to change out a pair of lenses. I have the Smith Maze helmet and they fit perfectly together!!
Michael G
Great Goggle
Familiarity:

I've put it through the wringer
Awesome goggle design, easy lens swap. Lenses are incredible, these goggles come with two lenses which facilitates skiing in variable weather conditions. Overall, this is a great goggle, would recommend.
Renzo Becerra
Great goggle
Familiarity:

I've used it several times
best pair of goggles i have ever had. have few different lenses for to ride all conditions. easy to swap lenses, great anti fog as well.
Matthew Lundberg
Going from cheap to these is great
Familiarity:

I've used it once or twice and have initial impressions
I bought these on a whim, not realizing i read the price wrong. they arrived in the mail and i read the invoice shocked about the price but thought I'd at least give them a try before I decided to return them, and I'm glad I did. These goggles compared to cheap ones ($50<) make a world of a difference. I can actually see things besides hat is directly in front of me. they are comfortable and don't feel like they are squeezing my face. Haven't gotten to use the yellow lense yet, but the day I used the red mirror lense my friend complained about his goggles all day and ended up switching to sunglasses because his were uncomfortable and annoying. I let him borrow IO7 for the last run and he forgot they were on.
Elliot L.
best goggles out there
Familiarity:

I've put it through the wringer
Would highly recommend these goggles to everyone. Get area of vision and anti-fog system.
thomas sullivan
Always Smith
Familiarity:

I've used it several times
Have used Smith since I was a kid! This pair is another great quality and well performing goggle.
Madeline Curry