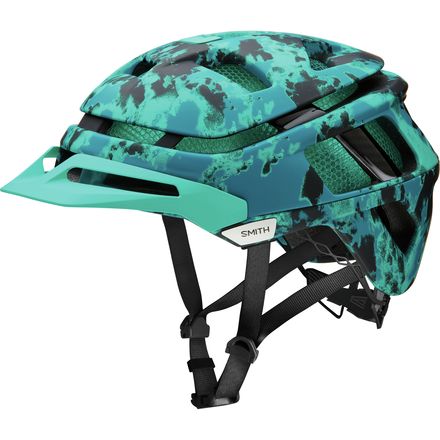 Colors
Be cool.
Stay cool and collected with an extra dose of dome protection in the Smith Forefront MIPS Helmet. It features the same patented Aerocore technology and Karoyd material found in the non-MIPS Forefront, with its unique "bundle of straws" aesthetics that comes with claims of up to 30% reduction in force transmission compared to standard EPS foam. This version ups the safety ante with a Multi-Directional Protection System (MIPS) liner to further reduce impact force and decrease concussion risk in the event of a crash.
While Aerocore construction boasts a host of advantages, large, unrestricted vents isn't one of them, so Smith adds integrated camera and light mounts to safely attach your tech. While it does require accessories, these mounts are much more secure than the standard strap mounts used to mount those items to other helmets, and the benefits manifest immediately with notable less shaky POV footage.
Lightweight protection boosted by MIPS technology
Karoyd material reduces force transmission
X-Static lining with Reactive Cooling Performance
VaporFit retention system adjust easily on the fly
AerEvac ventilation promotes cooling airflow
Integrated camera and light mounts
Seems good to me!
Familiarity:

I've used it once or twice and have initial impressions
I just bought this helmet and I've taken it on a couple of ride now. It seems good to me. Its comfortable and fits well. I'm not very picky as long as my head is protected. This helmet does the job and has MIPS .
Sam
Bought for Wife! She loves
Fantastic, bought for my wife...she loves it! Major points for the hubby! Great helmet all round!
Nicholas Z.
Saved my head
Fit:

True to size

Size Bought:

Large
I was involved in pretty bad crash and this helmet saved my skull for sure. I would buy it again
MI2006
Height:
6'1"
Weight:
220lbs
OK for trail riding, not for XC
Familiarity:

I've put it through the wringer
This is a comfortable helmet and I like the idea that it has an additional safety rating. I find that the ventilation is not enough for me on hard XC rides. I think the honeycomb padding restricts most airflow. Especially on long climbs, I am absolutely pouring sweat under this lid. Another annoying thing is that I pull out the pads every 5ish rides and handwash with cool water. After about four months of doing this, the mating velcro surface separated from the foam padding. I had to cobble it together the night before a race with hot glue. Compared to my Giro road helmet that has been going strong for 11 years now, I'm not super impressed with this product. I also don't agree with the description that this helmet does anything for sunglasses fog prevention, my Oakley EVZero Pitch glasses fog up under this dome piece just as often as any other helmet.
Greg Heidt
Go MIPS
Familiarity:

I've used it several times
I upgraded to have MIPS, this is light and low profile and super comfortable.
Megan Davin
One of the best
Familiarity:

I've put it through the wringer

Fit:

True to size
The Forefront is definitely one of the best helmets available for aggressive trail riding. It's light, breathes pretty well and provides excellent coverage. Like other Smith helmets, the integration with Smith glasses is pretty seamless.

While I think the fit is true to size, I'd recommend sizing up if you're between sizes. The MIPS system takes up a bit of room in the helmet.
Jacob Popek
Does the job, but not the best looking
Familiarity:

I've used it once or twice and have initial impressions
I bought this helmet because I am a big fan of Smith and their MIPS technology. But, I found out this helmet just sits too high on my big head and is not the comfiest. It would definitely work and protect your head very well however. There are other helmets out there that fit a little nicer on your head and look a bit better.
Zach Higgins
lightweight and good looking
This helmet is stylish and very effective. It has a wide selection of colors so if matching your bike or gear matters to you this is good choice. Overall the construction of the helmet seems very solid. There are ample adjustments which should allow most people proper fitting. For most brands, my head is right inbetween the medium and large size. I found the medium size fit me just fine. Now on to function. As noted, it fits well. The helmet doesn't move around on my head nor does it have uncomfortable pressure points I've experienced with other helmets. The biggest reason I picked this helmet was it's 'honey comb' design. The last 2 seasons I've been stung on the head by trapped bees. I believe this should solve that problem. I haven't ridden it in warm temps so I can't comment on its ventilation. I have a feeling this might ride a bit on the warm side. Overall, very solid helmat - five stars.

Harrison Burns
MIPS is the way to go
Familiarity:

I've put it through the wringer

Fit:

Runs small
I get it, there is not much research that shows that MIPS is as beneficial as marketing might claim. But, if there is even a chance it can help with concussions, then I think it is worth it. This helmet is so comfortable and breathable. I love the integration with Smith sunglasses. I have a standard Forefront in a small that fits perfectly. The addition of the MIPS makes it sit slightly higher and I needed to size up to a medium. It is slightly disappointing that a helmet of this caliber doesn't have consistent sizing from MIPS to non-MIPS. I have a feeling that Smith just took their standard helmet and lined it with MIPS which causes the discrepancy. Rad helmet, just be sure to get the correct size.
Katie Harker
Great helmet, definitely worth upgrading
Familiarity:

I've used it several times

Fit:

True to size

Size Bought:

Medium
The fit is similar to specialized helmets I've worn in the past with with the addition of a great mips system. The ventilation is good so far, it hasn't been to warm yet, but no complaints while pushing it up climbs. The helmet is solid on my head and doesn't move at all throughout rough descents. The gopro/light mounting feature on the top is a great addition as well. The build quality is great overall, I expect the helmet to last for some good years to come!
Aaron McClintock
Height:
5'11"
Weight:
170lbs
Five Stars
Familiarity:

I've used it once or twice and have initial impressions
I used this helmet for the first time over new years weekend on some southern-Utah slickrock. Great ventilation, loved the fit, and the visor is awesome. Definitely worth it to get MIPS technology in helmets. It's your brain!
Carly Mueller
Best Helmet / Helmet Brand on the Market
Familiarity:

I've put it through the wringer
Every Smith helmet I've tried has been the most comfortable helmet I've worn, the most reliable, and stories of crashes have told me that they work for protecting your head. This is definitely worth the money, and they look badass too.
Jennifer Chase
You never want to use a helmet but just in case might as well have the best! I tried a lot of helmets before purchasing this one and the reason this one was the winner is the fit!. Love the fit, I have dreads and It makes it really difficult to put anything over my head. However, this helmet was definitely an exception the overall cut and fit is amazingly comfortable and the ventilation is incredible! Especially for me as my hair is dreaded and just insulates under anything I put on top. Definitely a helmet I would recommend getting.
Christopher H
Good safety setup and great airflow.
William Krempa II
It feels really solid. Not heavy but not flimsy
William Krempa II
Protects my head with MIPS
Love the comfort and style. Feels built well
William Krempa II
This helmet is amazing. It is comfortable but very breathable and light weight which is super nice during those hot summer months. Adjustable fit, which is nice and great colors. LOVE IT
MacKenzie C
Ventilation and Protection
Familiarity:

I've put it through the wringer
The Forefront featuring, Aerocore with Koroyd, makes this helmet crazy light, offers great protective value, and keeps you cool on the trail. Smiths tried and true integration means your sunnys, or goggles, will work great with the Forefront. Whether you're crushing downhill, or cruising trail, this helmet does it all.
Michale Brunker
Light weight and protective
Great light weight helmet with very visible color in darker light. Adjustable to fit snug but not too loose or too tight. Well ventilated to keep your head from over heating.
paola monje
Expensive But Worth It
Familiarity:

I've used it several times
This thing is sweet. I got the "Matte Neon Orange" color, and it looks awesome, makes me super visible on the trail. The Aerocore tech gives me a bit more peace of mind, and does not at all make the helmet any hotter. Most don't know this, but it actually helps cool you down by directing cool air onto your head and letting hot air escape.

The first time I wore this helmet, I definitely thought it was hotter than my old Giro Hex. Now, after getting more rides in with it, I am almost positive that was all in my head. It was around 90F yesterday when I went on a ride, and I did not even really notice the helmet being on my head.

It is really pricey, but I think it's worth it to spend a bit extra when it comes to protecting your noggin. The Aerocore combined with MIPS offers ample protection. It's certainly the best helmet I have owned and would be my top recommendation.
Connor H