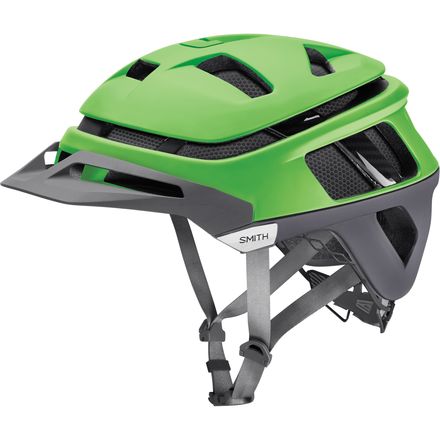 Colors
Be cool.
Stay cool and collected with an extra dose of dome protection in the Smith Forefront MIPS Helmet. It features the same patented Aerocore technology and Karoyd material found in the non-MIPS Forefront, with its unique "bundle of straws" aesthetics that comes with claims of up to 30% reduction in force transmission compared to standard EPS foam. This version ups the safety ante with a Multi-Directional Protection System (MIPS) liner to further reduce impact force and decrease concussion risk in the event of a crash.
While Aerocore construction boasts a host of advantages, large, unrestricted vents isn't one of them, so Smith adds integrated camera and light mounts to safely attach your tech. While it does require accessories, these mounts are much more secure than the standard strap mounts used to mount those items to other helmets, and the benefits manifest immediately with notable less shaky POV footage.
Lightweight protection boosted by MIPS technology
Karoyd material reduces force transmission
X-Static lining with Reactive Cooling Performance
VaporFit retention system adjust easily on the fly
AerEvac ventilation promotes cooling airflow
Integrated camera and light mounts
You never want to use a helmet but just in case might as well have the best! I tried a lot of helmets before purchasing this one and the reason this one was the winner is the fit!. Love the fit, I have dreads and It makes it really difficult to put anything over my head. However, this helmet was definitely an exception the overall cut and fit is amazingly comfortable and the ventilation is incredible! Especially for me as my hair is dreaded and just insulates under anything I put on top. Definitely a helmet I would recommend getting.
Christopher H
Good safety setup and great airflow.
William Krempa II
It feels really solid. Not heavy but not flimsy
William Krempa II
Protects my head with MIPS
Love the comfort and style. Feels built well
William Krempa II
This helmet is amazing. It is comfortable but very breathable and light weight which is super nice during those hot summer months. Adjustable fit, which is nice and great colors. LOVE IT
MacKenzie C
Ventilation and Protection
Familiarity:

I've put it through the wringer
The Forefront featuring, Aerocore with Koroyd, makes this helmet crazy light, offers great protective value, and keeps you cool on the trail. Smiths tried and true integration means your sunnys, or goggles, will work great with the Forefront. Whether you're crushing downhill, or cruising trail, this helmet does it all.
Michale Brunker
Light weight and protective
Great light weight helmet with very visible color in darker light. Adjustable to fit snug but not too loose or too tight. Well ventilated to keep your head from over heating.
paola monje
Expensive But Worth It
Familiarity:

I've used it several times
This thing is sweet. I got the "Matte Neon Orange" color, and it looks awesome, makes me super visible on the trail. The Aerocore tech gives me a bit more peace of mind, and does not at all make the helmet any hotter. Most don't know this, but it actually helps cool you down by directing cool air onto your head and letting hot air escape.

The first time I wore this helmet, I definitely thought it was hotter than my old Giro Hex. Now, after getting more rides in with it, I am almost positive that was all in my head. It was around 90F yesterday when I went on a ride, and I did not even really notice the helmet being on my head.

It is really pricey, but I think it's worth it to spend a bit extra when it comes to protecting your noggin. The Aerocore combined with MIPS offers ample protection. It's certainly the best helmet I have owned and would be my top recommendation.
Connor Howe
Great Fit
Familiarity:

I've used it several times
I like the fit on this helmet, and the added security of the MIPS technology. I have a huge head, so the ability to make adjustments to the fit with the lock-down system made a big difference to me.
Betsy Haws
Love this helmet. The adjustment on the back of the helmet is super easy to use and adjust while riding. It looks great, fits great and protects your head. For me, its worth it to pay the price steeper price to know my head is protected.
Amanda Roper
What more could you ask for?
Familiarity:

I've used it once or twice and have initial impressions
I haven't bought a new XC helmet in 4+ years and the Forefront helmet is much more than I was expecting. The helmet fits as expected if you go off of the sizing charts that are provided. It is very breathable while riding uphill and it doesn't move around a lot when you are riding down, even with the MIPS. Also in my opinion MIPS is totally worth it for a little extra, I have not crashed with a MIPS helmet but a little its cheap insurance in my opinion!
Forbes S
This helmet is comfortable
I love it. Comfort: 10. Go with the size range that includes your size at the high end, not the low. Your head isn't gonna grow.
William Krempa II
99 Problems, But a Head Injury Isn't One
Familiarity:

I've put it through the wringer
So recently I went mountain biking down in Moab and wore this helmet. First, this helmet is light. Lighter than my road helmet. I barely notice it is on my head while I'm ripping and rolling. Second, it is comfortable which is my biggest MUST. Nothing drives me more insane than having things scratching my head, pulling my hair or flapping around. This helmet does none of those things which makes it the perfect helmet for me. Easy to adjust and easy to customize to your noggin. You might be thinking, "Is MIPS worth it??". To be honest, even if MIPS works, I don't think it will eliminate concussions altogether. Eliminating the rotational force might reduce the severity of the concussion. But, the fact of the matter is still your head is coming to an abrupt stop in a collision. Thus, your brain is still going to hit your skull one way or another, which is what causes concussions. Here's my personal opinion. Is there a chance that it will reduce the probability of brain injury even a little? Yes. Okay, sold. Can you really put a price on your life? When I crashed down in Moab, I hit my head pretty hard. But as far as we can tell, and by 'we' I mean I went to a couple Dr's to get checked out, I am perfectly fine after hitting my head on the slick rock. ROCK. No dirt. Rock. The only damage done is bursitis on my butt, hip, and knee. Next purchase will most likely be some knee helmets... aka knee pads.
Karissa Lamb
No need for this helmet
Familiarity:

I've used it several times
I tried on a plethora of helmets. This one is a great helmet but there are FAR cheaper options with MIPS and with more coverage that this helmet offers. Save your cash and go with a chronicle from Giro or something
George Pointon
Smith Helmet
Fit:

True to size

Size Bought:

Medium
Wow this helmet fits like a glove! I almost can't feel it when riding. I read the reviews but was a bit hesitant because of the price but well worth it.
Javier A.
Height:
5'11"
Weight:
169lbs
One of the best for MTB
Familiarity:

I've used it several times

Fit:

True to size
This is one of the best half-shell helmets out there for MTB. The coroyd shell combined with MIPS technology and a superior coverage area make for a helmet that really tics all the boxes for safety. It's a bit strange looking but the style has grown on me. Ventilation has been adequate. My only gripe is that it's expensive, but that's the price of superior protection! Smith makes a mount for lights and a GoPro that you can get from their site, so that's worth checking out as well. This helmet definitely offers some of the best protection out there.
Brock Price
Great Helmet
Familiarity:

I've put it through the wringer

Fit:

True to size
I recently broke my original Forefront helmet in a crash and replaced it with the MIPS version. It has all the great features of the forefront like sunglasses retaining system and excellent ventilation. But includes an internal MIPS chassis.

Highly recommend
Shawn Craig
Saved my head
Familiarity:

I've put it through the wringer
I had this guy for over a year and never felt like I wasn't protected. Racing Dual slalom I washed out, and went OTB straight to my head. Cracked the foam in the helmet, squished some of the koyord but didn't trigger the mips. Rung my bell a bit but I was perfect ok and very happy the helmet functions as well as it does. Bought another right after. Upgrading my snowboard helmet to a Vantage in the near future. 100% a functioning technology that works and is worth every penny when those freak falls happen.
Bryce M.
Rad Brain Bucket
Familiarity:

I've put it through the wringer
Ok so I have a slightly funny oval shaped head and its a 22" circumference, and I picked a Medium. It fits well. There are lots of cool colors and the helmet looks rad while keeping your noggin' safe.

Pros:
-Some helmets don't fit my head well. This one does.
-One of the more lightweight helmets, but definitely no doubt of protection here. I had the non MIPS version previous and had a pretty hefty crash coming down the ledge at Horsethief in Fruita, upgraded to the MIPS version this time around.
-I have the Smith PivLock Arena glasses that can "clip" into the helmet. They pair well with the helmet.

Cons:
- This might be a personal issue, but my head can get itchy when its hot out - the Koroyd material makes it pretty much impossible to scratch without taking off the helmet. I don't think it breaths as well as some other helmets with "clear" vents to be honest. That said, you likely won't notice unless you're sloggin' up a brutal climb on a very hot day.
-Its not cheap. That said, in terms of quality, Smith helmets are nop notch and I would have no qualms about spending as much as I did again!

Overall:
-Fantastic helmet that looks rad and keeps you safe that is super lightweight. Feel free to reach out at 801.204.4547 or cojohnson@backcountry.com if you have any questions about the helmet or sizing!
Connor Johnson
Favorite mtb helmet!
Familiarity:

I've used it several times

Fit:

True to size

Size Bought:

small
I love everything about this helmet. It is the best looking mtb helmet I've had, it doesn't seem as awkward as a lot of the other mtb helmets out there. It fits true to size, I always wear a small helmet and the small fits perfectly. I love the honeycomb and MIPS protection of the helmet and the color selections are on point!
Reiley Pankratz
Height:
5'3"