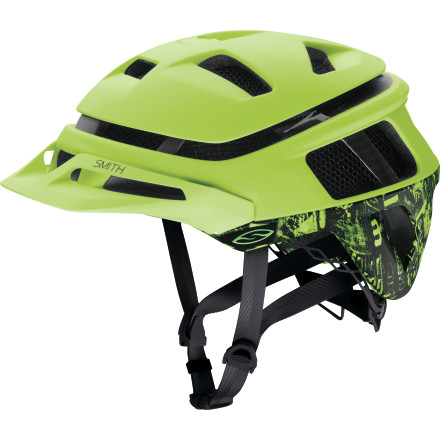 Colors

Detail Images
They're not kidding about the Forefront thing.
The team at Smith, having spent decades reducing lens fogging, knows quite a bit about ventilation. One look at the Forefront Helmet, with its breathable Koroyd tube structure, shows how willing they are to depart from convention to create a product that's truly great. The Koroyd tubes are tiny, extruded, co-polymer tubes that absorb about 30% more impact than traditional EPS foam, and, due to their hollow nature, allow air to flow freely in a way that foam simply can't. On top of that, the microstructures allow for less material to be used in the construction of the helmet, which adds up to a highly-protective helmet that weighs in at just about 285grams.
It's not just a cool-looking helmet that protects your head, though. The AirEvac system, borrowed from its snow helmets, moves hot air away from your glasses or goggles to keep them fog-free. The visor has two positions to keep the sun out of your eyes, and there's also a threaded brass insert on the top of the helmet designed to accept aftermarket mounting kits for GoPro cameras and Light and Motion lights. The helmet's fit is secured via Smith's VaporFit retention system, which anyone familiar with Smith's snow line will be familiar with.
Aerocore Koroyd tube construction
POV camera and light-mounting capabilities
Optics perch
New favorite helmet
Familiarity:

I've used it once or twice and have initial impressions
This helmet is secure, lightweight, and protective - everything I look for in a helmet! As a bonus, if you have bangs or short hair, you don't get the silly bits of hair sticking up through the vents with this helmet.
Losaunne
Unanswered Question
Is the visor removable?
Yehkuang T.
Awesome Helmet
Familiarity:

I've put it through the wringer

Fit:

True to size
Love this helmet. I've had it for quite a while now and am thinking about getting Smith's road helmet too. The padding inside is nice and the tightening system feels secure. As far as sizing goes, I usually can just barely fit into a small helmet but with this one I have plenty of room to tighten down with the small size. One more thing I'll say is the honeycomb material between the vents keeps bees and other bugs from getting into your helmet which I think is highly underrated.
Jason Z.
Green Beacon
Familiarity:

I've used it several times
Bought this for my wife and now I can spot her from a mile away. This was a great purchase. The helmet sits comfortably and snugly on her head and is very easily adjusted. She likes the Koroyd tubes not just for looks but because they do help maintain airflow.
Brock Price
I recently upgraded from a 2 year old Giro helmet to the Smith Forefront Helmet. I was originally drawn to the slick look of this helmet but quickly realized that it is the best value for the protection offered. Everyone notices this helmet when I ride including people shouting down from a chair lift that they love my helmet! I ordered the Smith Forefront Helmet in small and have to tighten it all the way. I would have liked to get the XS to fit around my head better but the small works just fine. The honeycomb looking ventilation (Koroyd Tubes) keeps the cool air flowing through. At the end of the day, I love how stylish it looks while ripping the trails but the specs and protection are what sold me on this helmet.
Joe Coughlan
It is your brain.. Don't be a cheapskate
Familiarity:

I've put it through the wringer
I was initially hesitant to buy this one because of the price, but when comparing the features, fit, and crash test results of this helmet to others, there was simply no other choice. Fits my head very nicely, all while minimizing the nerdy effect that most cycling helmets have. Comfortable and well ventilated for even 100 degree rides. End of the day, would you rather spend the $$$ shaving grams of your bike weight, or protecting your brain bucket? I'll give you a hint, you can replace a bike.
Andrew Burgess
Saved Knoggin...Faded Bad
Familiarity:

I've put it through the wringer
First things first. It saved my head twice. Hard crashes, head first, no concus, no head injury. I bought the orange in hopes it would help visibility. It did. I purchased in NOV 2014 and finally arrived in FEB 2015. I live in CO at 8000 ft and ride around 2000 miles per year ST. It has completely faded to mustard yellow and blends nicely with the aspens. So, it saved me twice but now faded. Cools nicely and the adjustment wheel is perfect. I am at around 3000 miles and the pads are still good with only monthly washes. No other complaints.
Jonathan B.
Excellent Head protection
Familiarity:

I've used it several times
I bought this helmet for my son who is finally large enough for a size small adult helmet. The helmet was on sale, so why not go with one that offers this kind of protection. He raves about how light and cool it is (both literally and figuratively). He's very happy with it and I'm happy knowing that it offers advanced protection.
Patrick Mulligan
This helmet may have saved my life. I hit a root and went over the bars and landed head first on a boulder. The helmet took all the impact which was significant enough to fracture my first rib and sternum. CAT scans revealed no head injury. Great choice for the most important piece of safety equipment.
Jason M.
Money well spent!
Familiarity:

I've put it through the wringer

Fit:

True to size

Size Bought:

Large
Helmet performs very well. It is light, kept my head cool all the time, does not hinder my lateral vision and fits perfect because of the adjustable knob. I enjoyed it very well. One happy biker here!
Ernesto C. Mendoza
Airdrie, Alberta, Canada
Ernesto M.
Height:
5'6"
Weight:
165lbs
All i can say the helmet is great and its feet well on my head. and its very light. and i think am gona purchase another of this in different color.
Boyd O.
1.21 Gigawatts!
Familiarity:

I've put it through the wringer
And you thought Doc Brown had the only formula to time travel to the future! It seems my Forefront Helmet does as well as seen in the picture below from Snowbasin last summer. Or maybe the helmet was travelling faster than me. We will never know the truth.

Born from the hard work of a bunch of guys and gals in Idaho (thanks Mr. Sours!), this helmet has quickly become one of the most popular on the market. I have found that the Koroyd material combined with the AirEvac ventilation system is super breathable and after a couple minutes of riding you barely notice you have this bad boy on your head. Paired with the Smith Pivlock sunglasses I have spent many hours in the saddle with no fogging or significant sweat build up on my glasses. I took a couple tumbles last season, none too serious, and my Forefront did its job admirably in protecting my precious cranium. It is not multi-impact but I did not seriously impact my head so my helmet is still going strong. And finally for those looking to catch the ultimate shred footage, there is a built in camera mount that I use for a bike light for night riding.

I would highly recommend this helmet and feel free to shoot me any questions on bike helmets or anything mountain bike related.

Kyle L. - Expert Gearhead - klivingston@backcountry.com - 801-736-4337
Kyle Livingston
Very uncomfortable
Familiarity:

I returned this product before using it

Fit:

True to size

Size Bought:

small
I was so disappointed that I couldn't make this comfortable as it looks like a very safe helmet. The helmet retention straps hit on the back of my head and were very painful. I tried adjusting it, but it didn't help. When I tightened the helmet down with click adjusters I immediately got a headache from the pressure.
cookie monster
Height:
5'6"
Weight:
135lbs
It doesn't get much better than Smith
Familiarity:

I've used it several times

Fit:

True to size

Size Bought:

Large
This helmet fits similarly to the ski helmets Smith makes and is just as comfortable. The honeycomb stuff seems weird at first blush but once it is on your head you won't be able to tell. I do with that it was more compatible with Lyzene lights, but I don't do much night riding so it isn't too much of a problem. I have a pair of Pivlock V2 max's that fit perfectly with this helmet, which is a nice bonus.

Hard to say you have put a helmet through the wringer when you have not actually crashed in it, but so far so good.
STRANDY!
Light and durable
Familiarity:

I've put it through the wringer
I have had the Smith Forefront helmet since they were first released in 2014 and have had the opportunity to use it pretty hard. From urban commuting to the Downieville DH, it has been a solid helmet. The gopro/light mount is a needed feature since this helmet doesn't have traditional vents to thread an adapter on to. The visor is easily adjustable in the down or up position and I haven't had any issues with the retention system. There is minimal interference with sunglasses, slim to none with the Smith Arena Pivlock and the front and rear sunglass dock is pretty cool. There is nothing worse than your glasses falling off your helmet and getting all scratched up. The light weight of the helmet is on par for the other light weight helmets in the competition (Specialized, Giro, etc.) without sacrificing durability. The only negative that I have is that it is a warm helmet. By not having traditional vents, but rather the Aerocore Koroyd tube construction, it is lighter and able to absorb more impact than traditional construction helmets.

I have used the Specialized Sworks helmets as well, this one just looks a lot better in my opinion.

I have a fairly normal head size (I think) and wear a medium pretty much across the board in most bike and snowboard helmets
Brennan K
Very well ventilated helmet and lighter than the rest. It looks really cool also. It fits my head perfectly but compared to the TLD A-1 this one doesn't have that much cushion inside.
Christian A.
The Helmet you need and should purchase!
Familiarity:

I've used it several times
- Fantastic fit and design
- Superlight
- Great ventilation
- 100% worth the investment
James Everitt
Saved my dome
Familiarity:

I've put it through the wringer
Helmet saved me a trip to the ER. Cracked it, but it held up well. Smith also let me select a new helmet with a 30% discount. The only negative factor is the orange fades from the sun overtime.
Kolt M.
Marks up my forehead
Familiarity:

I've put it through the wringer
I bought the Forefront in the white/teal. I'm really not happy with it, unfortunately, although it took several rides to make that decision, so I can't return it now. The main thing is that it doesn't fit very well at all. The sizing is fine (I ordered the size recommended on the chart based on my head circumference), but no matter what I do I end up with a significant mark on my forehead from the padding after every ride! I've tried not tightening it as much - to the point where it feels a bit loose and insecure, but I STILL get a mark from where the pads meet at the front of the helmet. If it is snug enough to not wiggle (but not tight!) I get a headache from the spot where I end up with the mark.

Also (and this is a minor quibble), I have a lot of hair, that I wear in a pony tail, and like to stick through the space between the bottom of the helmet and the harness. This is difficult on the all mountain helmets (like the Forefront) that do a better job covering the back of your head, but I find that I either have to have the harness connected all the way up to fit over my pony tail (which makes the helmet slide forward a bit... especially if it is looser - see above), or all the way down, which fits better, but I find that the bottom spot isn't as secure, and the harness tends to pop off the helmet - I wonder if this would happen with the MIPS version?

The good stuff: I like the venting, my head stays nice and cool. I like the colors. I'm not crazy about the bobble-head look I have, but I kind of expect that from an all-mountain helmet, and it isn't that bad.

Unfortunately it was expensive, and mail takes FOREVER to get here, so I'm trying to get some use out of it.
Bronwyn L
Nice Vents
Familiarity:

I gave it as a gift but have feedback to share
Bought this for a fella who can really sweat. He loves the venting!
Chelsea B