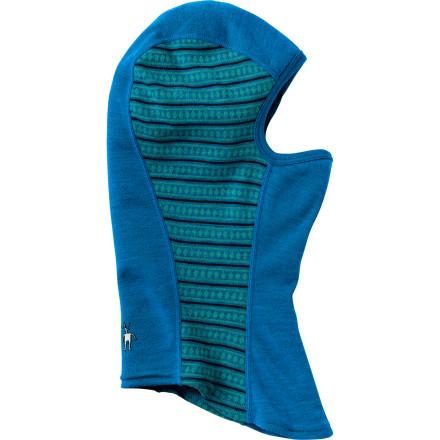 Colors
Wool. Is. Good. Remember it.
When the ridgeline above your favorite chute looks like a cresting wave in an offshore breeze, you'll be happy you brought the Smartwool Balaclava as backup. Put it on underneath your beanie and doubt no longer—thin as it is, the Balaclava's superfine Merino wool is an excellent insulator. It doesn't stifle your head or block your hearing like its thicker fleece brethren, nor will it change the fit of your helmet. What it does is take the sharp edge off the wind, shield your chin and ears from frostbite, and maintain its temperature-regulating properties even if it gets wet. And when the sun comes out, it stuffs back in your pocket without looking like a dinosaur egg.
Balaclava for a warm neck when you're on the slopes
Merino wool keeps you warm and dry while you ski or ride
Large opening won't block your peripheral vision
Flatlock seams ensure a comfortable fit beneath your helmet
Not durable.
Familiarity:

I've used it once or twice and have initial impressions

Fit:

True to size
Would remove "skiing" from recommended uses. While very soft, comfortable, warm, and thin as other reviewers stated, this product does not hold up to active use. With only 4 days of skiing and contact with the top of a ski shell and helmet strap, several large holes wore through at the chin. Disappointing in this case as it was the first use -- albeit, a demanding one. May be better suited for hiking, climbing, or XC skiing.
Dmitri M.
Perfect!
Familiarity:

I've put it through the wringer

Fit:

True to size
I love this balaclava, The fabric weight is perfect and the wool keeps you warm and dry compared to others I've used. It also isn't constricting which is awesome. Nobody wants to feel like they're being choked out while crushing it out on the mountain!
Sheila
Warm and Cozy
Familiarity:

I've put it through the wringer

Fit:

True to size
I use this on the mountain about 4-6 days a week and find it a great alternative to a non-wool balaclava. It certainly keeps me warm and mostly dry on any day. My only dislike about the product is the seam that runs directly up the chin. It is a little uncomfortable at first but after I start skiing I barely notice as I'm ducking through the trees. This fits under my ski helmet well also.
Christian Ceraso
Height:
5'11"
Weight:
210lbs
Fantastic For Multiple Uses!!!!!
Familiarity:

I've put it through the wringer

Fit:

True to size
I use for MTBing, hiking and running. PERFECT!
Armando M.
Height:
5'7"
Weight:
185lbs
Stealthy comfort and protection
Familiarity:

I've put it through the wringer

Fit:

True to size

Size Bought:

One size
I rock this thing in all conditions. Its thin enough that it fits effortlessly under my helmet, but still delivers warmth when you need it (but not too much). Versatile, comfortable, awesome.
Gian Colombo
Height:
6'2"
Weight:
200lbs
Fantastic for multiple uses
Familiarity:

I've put it through the wringer

Fit:

True to size
I wear this to commute 30 miles a day on my bike. I've taken it mountaineering, and I've worn it over weekends in the woods. It keeps you warm, even after you've sweated all over it. It doesn't itch anywhere near as much as I'd have guessed (yeah, any wool is going to itch a little bit after three days). I love this thing!
David S.
Height:
5'4"
Weight:
140lbs
Warm + light
Familiarity:

I've put it through the wringer

Fit:

True to size
I use this mainly for 2 things - running in the super cold, and skiing. Used this with the smartwool neckwarmer on top and was warm into literally -25c in Banff. Dries quick, fits comfortably under a helmet. Highly recommended
John S.
Height:
5'10"
Weight:
165lbs
Keeps your face warm and dry!
Familiarity:

I've put it through the wringer

Fit:

True to size

Size Bought:

One Size
Its great for keeping your entire face and neck warm and dry! Can't recommend this Balaclava enough!
Paul Reeder
Height:
5'8"
Weight:
145lbs
Great lightweight balaclava
Familiarity:

I've used it several times

Fit:

True to size
You can wear this thing just around your neck, under your chin, or full facemask style. I've been using this for cold weather mountain biking. It is the perfect weight for me to wear in 30 - 45 F temps. I pull it down around my neck once I get hot, and then throw it back up around my ears and/or face when we stop for a break or are getting started again. Great for the initial chill after taking a break.
Dan Murphy
Height:
5'4"
Weight:
160lbs
Does anyone know what % wool this product consists of?
Howard L.
Howard,



SmartWool lists this item as 100% Merino wool.



Hope this helps! Let me know if you've got any questions.
Jared Downs
Bought this to replace a heavier, bulkier fleece balaclava for section hiking the PCT. It was what I hoped -- warmth with less bulk and weight.
River M.
Warm and Wonderfully Light Weight
Familiarity:

I've put it through the wringer

Fit:

True to size
I ordered a pair of balaclava's for my son and I for an upcoming section hike of the Appalachian Trail in TN. We hit some driving sleet for an hour an a half on top of a high mountain pass and the SmartWoold balaclava's did their part in keeping us warm and protected. After the balaclava's were delivered I wondered if I made the wrong decision - how can this superlight weight wool keep us warm. I was almost embarrassed to show my son when they arrived. That all changed once we put them to use. They also came in handy as head and neck wear when bunking down for the night in sub 30 degree weather. My only gripe is the material stretches a bit - once you wear the opening under your chin it's hard to keep above your nose. Including a shot of my son wearing his balaclava. Two thumbs up!
Lee E.
Great general purpose balaclava
Familiarity:

I've put it through the wringer

Fit:

True to size
Incredible warmth-to-weight ratio! Hard to believe something so 'thin' could be so warm. And so soft!

Not the best wind-breaking for cycling...wish one of these companies would combine the best of both worlds...warmth, windbreaking ability, and comfortable fit with good clearance for goggles/glasses specific to cycling, WITH the wonderful features of merino wool....

...this comes as close as you can get so far.

Perfect for all other applications/sports.



*Recommended.
Debbie C
How is this for cycling in the 30's (F)?...
How is this for cycling in the 30's (F)? Would you still need something like Gore's Windstopper balaclava in addition...or would that be overkill (most likely)?



Thanks for your help!
Debbie C
Debbie,

I would agree that layering both balaclavas would probably be overkill even in winter. If you are looking for warmth the SmartWool Balaclava will give you that and will also cut out some of the wind chill on your rides. However, a Windstopper balaclava will cut out wind entirely.
Mike D Hilverda
Best Answer
Depends a bit on whether you are talking about mountain or road riding... but assuming you are talking about road riding, I think you will be better off with a thinner balaclava that stops the wind.



If you wear glasses, you may want to look for a balaclava that has a lower front so that your breath is not fogging up your glasses at stop lights.



If you are talking about mountain biking, I think this will be too warm for you in the 30s.
David Thiel
Thanks guys! Actually, I do both mountain and road...I appreciate the suggestions, as does my nose, cheeks, and lungs, etc!



Thanks again!
Debbie C
Happy to help. FWIW I ride both road and mountain in the winter and I find that I generate enough heat to remain warm in both cases ... so on the road it's really just about stopping the wind. On the trails it's about not freezing my butt off from condensation during slow sections and the inevitable social stops and mechanicals. (I never ride the trails alone in the winter.)



My best outfit is:

-- Bibs, Amfib tights over ski socks, 45nrth Wulvhammer boots (these are the absolute BOMB) on bottom. On top, I like a LS base layer, a short sleeve jersey, and then a NON-windstopping thermal jersey. For mountain biking, that's it... but for road riding I add a windstopping (non-insulating) shell.



I usually only wear a skullcap under my helmet (a Giro Xen). On much colder or windier days I'll upgrade to a balaclava, but for that it really needs to be around 10F or below (in which case I will sometimes switch out for a true thermal road jersey and then carry my spare shell as an extra layer if I need it...)



In all cases I wear a warm set of gloves (PI lobsters) out of the gate, then switch to lighter gloves (usually PI cyclones) as soon as my hands give even a hint of sweating. That gives me great comfort and provides the warmer gloves as a backup should I need them.




David Thiel
'2' Thumbs Up! Fantastic...wish more folks were as thorough in their answers!

(will have to translate some of the gear into the ladies dept.) Normally I wear Giordana or Gore...



On a side bar: what do you do for the hydration dilemma in sub freezing rides?
Debbie C
On my mountain bike, I carry a 100oz reservoir in an Ergon BC2 backpack. The reservoir has an insulated hose, which doesn't help at all. What DOES help (for a while) is blowing back into the tube after drinking (blow enough that you hear and feel the bubbles in your pack). That will work for a while, but eventually your valve will freeze up. Some folks will route the hose underneath their outermost layer, but I haven't been able to get that working myself; sometimes if the valve is frozen I'll just stick it down my shirt and that works... but only if you've cleared the main tube with blowback.



I'm a stickler for "water only" in my bladders, so I have not tried salts or other "antifreeze." That does work for bottles (and I have separate bottles for flavored/non-water drinks). Depending on the temps, you might have to add quite a lot of stuff to lower the freezing point of the liquid.



An insulated bottle (I use my Kleen Kanteen) with hot liquid in it is a nice backup and fits in the cages on my bike if necessary.



But honestly I think the best method is: drink a liter just before you hop on the bike. Sip from the bladder until it freezes. Push on through and then drink when you're back at the truck.



One last thing: I have been known to toss my jetboil stove in the truck... and it would easily fit in my hydration pack... so that remains an option if I was doing a really long haul ride in low temps.




David Thiel
Great ideas...what a winter I picked to try to tackle all the way through! Your suggestions are perfectly appreciated!



And THANKS again!
Debbie C
Yeah.. it's been a tough winter for riding. I haven't been out much at all. Aim to change that this week, actually!
David Thiel
Ninja Starter Kit
Familiarity:

I've used it once or twice and have initial impressions

Fit:

True to size
If anything, this thing can double as your next Halloween costume/ninja starter kit (you'll have to buy the nunchucks somewhere else ).



Anyway - this thing is thin yet warm. It will fit under your helmet without taking up much room at all.
Jon
easily the piece of clothing that I use the most
Alex R.
By far the best out there!
Just wanted to add a huge advantage this balaclava has over the competition.

This balaclava is extremely soft! Its not at all itchy as some who are not familiar with this type of wool. This is a huge plus for men (or some ladies) if you have not shaved in quite a few days. It does not snag and pull on your whiskers. Throw it in the wash and it keeps its shape. Money well spent and would recommend to anyone who asked!
Gary Todd
Feels great. Fits well. Very transportable. I carried it in the pocket of my pants when not in use. When needed, it is versatile--it can cover:

1. Just your neck

2. Neck ,top of head, sides of face

3. All of above and chin

4. All of above and mouth

5. All of above and nose

Making a quick transition between the areas of your face that are covered is essential when trekking in very cold temperatures, as your perceived temperature changes every minute depending on whether you are walking/climbing/resting and on whether the sun is blocked out by clouds, ridges/cliffs, etc. Transitions are fast with this balaclava. And the wool feels great. This is a thing balaclava, but I never felt that the warmth provided was not enough. Served me well on Mount Kilimanjaro, and likely will on many more trips.
Timothy B.
It's Merino. Nuff said
Familiarity:

I've used it several times
If you haven't been acquainted with the magical material known as merino wool, you need to get your sh*t together. For those who aren't familiar, it has an incredible warmth to weight ratio, dries quickly, is naturally antimicrobial, and you can wear it for days, sweating like a sumo wrestler, and the stuff miraculously doesn't smell. All my base layers are pure merino wool, and I will never change materials. As far as this balaclava, it lives up to it's merino reputation. Thin enough that your head doesnt sweat, but still perfectly warm. And also thin enough that when the mask is in front of your mouth, you can breathe naturally through it without your breath being forced up into your goggles and fogging them up (my pet peeve for face masks). So if you're looking for a solid mask made of the best layering material on planet earth.... look no further.
Ben Givens
This balaclava is great. Fits my big head. Neck length is generous (most balaclava are too short in the neck for me). Well-designed and versatile -- I can wear it normally, or can cover everything but the eyes, or if I get too warm can pull it down and wear it like a neck gaiter. Comfortable and warm without bulk, as the merino is thin and dense. The only annoying thing is the big tag inside the neck part. For my hikes in the New Hampshire winter woods, it's warm down to maybe 15 F. For lower temps, I wear an additional hat and neck gaiter over the balaclava (same brand). I've had this almost a year, washed it a couple times, and it's held up fine. Fashion-wise, you will look like a scuba diver or a ninja. My husband laughs at me when I wear it :-)
spnh