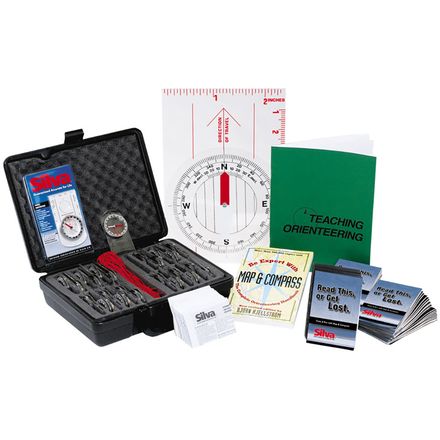 Colors
Compass clinic 101.
Whether you're teaching orienteering skills deep in the wilderness or your own backyard, the Silva Education Kit provides everything needed, besides an appropriate topographic map, for a single instructor and 24 students to navigate solely with a compass and map. This portable compass clinic comes in a rugged carrying case for safe transport.
Silva Polaris compasses, compass instructions, and "Read This, or Get Lost" brochures are provided for 24 pupils. Each Polaris compass features a rotating bezel for locking in your bearing, with a declination scale for adjusting between magnetic and true (geodetic) north. There's also inch and millimeter rulers, with a scale that corresponds to common 1:24,000 topographic maps.
The instructor receives a Silva Explorer compass that's similar to the Polaris compass, except it features a built-in magnifier for reading map details, as well as a 1/10-mile scale for both 1:24,000 and 1:62,500 topographic maps. As with the Polaris compass, there's an inch ruler. An attached lanyard makes for easy carrying around your neck. Moreover, the instructor receives a "Teaching Orienteering" guide, as well as a "Be Expert with Map & Compass" paperback.
Comes in protective carrying case
24 Silva Polaris compasses (for students)
One Silva Explorer compass (for instructor)
24 compass instructions and "Read This, or Get Lost" brochures (for students)
"Teaching Orienteering" guide and "Be Expert with Map & Compass" paperback (for instructor)