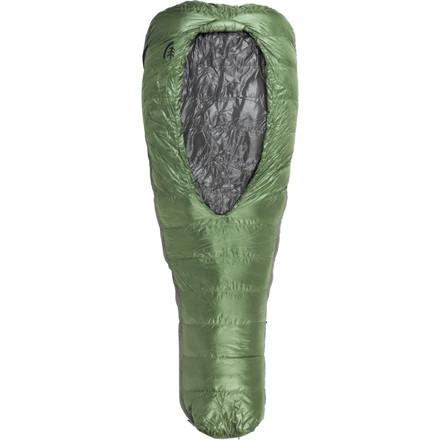 Colors

Detail Images
Warm, light, and very comfortable.
Sierra Designs redefined comfortable camping with its Backcountry Bed 800 Sleeping Bag so you can sleep out in the wilderness as if you were in your own bed at home whether you're backpacking deep into the mountains or camping out of your car. Free from extraneous (and heavy) hardware like bulky zippers and drawcords, this intuitive bag features an oval-shaped opening with an integrated comforter that helps it adapt to variable temperatures. You can tuck the comforter's sides snugly beneath you and stay warm in temps as low as 20° F, or you can pull the comforter out for the warmer nights. Its unique mummy design allows you to sleep on your stomach or side as well as your back, which is excellent because most mummy bags only let you sleep comfortably on your back. Sierra Designs stuffed this bag with lofty 800-fill duck insulation that has an excellent weight-to-warmth ratio so you don't have much weight on your back when you head out on a backpacking trip, and the insulation has Sierra Design's proprietary DriDown insulation that's water-resistant and dries faster than untreated down.

Sierra Designs built the Backcountry Bed's shell out of ripstop for durability and the liner out of taffeta for your comfort. This bag also features insulated pockets for your arms so you never wake up in the middle of the night because your hand slipped out of the bag and is slowly chilling. There's also an integrated sleeve for your sleeping pad so you never roll off of it during the night and wake up on the rocky ground. This sleeping bag is light enough for backpacking and warm enough for chilly nights.
Adapts to variable temperature down to 20°F
800-fill duck DriDown insulation
Unique mummy design
Nylon ripstop shell
Nylon taffeta liner
Oval shaped opening with integrated comforter
Zipperless design
Insulated hand/arm pockets
Sleeping pad sleeve (pad not included)
Bomber and Warm
Familiarity:

I've put it through the wringer
I got this bag a little while back and absolutely love it! It took me a minute to realize you need to put the tongue inside of the side walls in order to stay warm around its lower limit. It is VERY comfortable and so far is very durable!
Michael G.
Expensive car camping bag
Familiarity:

I've put it through the wringer
Like most other expensive gear, I collect sleeping bags.

I picked this one up to try out for mountaineering. I'm a big fan of Sierra Designs and would post a glowing review of their Flash 3 tent if I ever saw it on BC, but not really impressed with this bag.

I get the extra weight comes from the duplication of material and insulation required with the hybrid design but for 800 Down this bag also packs about twice the size of my Marmot Helium (15f)

Used it on a Mt. Whitney climb the first weekend of spring (2015). Temps at UBSL were warm at around 30F and still. My partner and I slept in the MH Direkt 2 (fantastic fast/light tent). Through the night I found I was getting a bit chill. This really surprised me since I sleep very warm and have used my Helium to -15F comfortably (in tent with baselayer as I was here). In the end the issue was that the bag just didn't seal up well and would allow cold air in around the quilt portion.

I've since switched back to my Helium which I typically unzip, layover me and tuck under if there's any cold drafts.

I'll keep this bag for use car camping where weight, pack size, and temps won't really be an issue.

In warm temps the bag is a bit more comfortable than a standard mummy (I'm a stomach sleeper).

Also was caught off guard that there's no insulation at all on the bottom of the bag. While this is a great design given the sleeping pad sleeve ensures your sleeping pad fills that job I would have thought this would have off set the extra weight/bulk of the hybrid quilt design.

Nice attempt but in the end I feel it misses the target enough that standard mummy bags make more sense for the price of this bag.
Alan Klackner
Very Nice Bag
Familiarity:

I've put it through the wringer
This bag is very good, almost perfect (minus a couple things). The no zipper, no velco design makes things very comfortable. I wished there was a little more room in the knee area (not much room to spread legs). In cold weather the quilt does stay in place, although I don't think it's quite as warm as if there was a zipper there. I have taken it down to the 20s and been a little cold. Overall very happy with this purchase.
ma.p489127
Love the way this bag is put together
I really wanted to love everything about this bag. To me this is a huge investment so it had to be perfect. I would say it was perfect in most ways. I originally ordered the women's version, but it was too snug for me. I exchanged it for this one reluctantly because the EN rating is only 31 and wanted something that would take me comfortably down into the 20s. But, I got it. It is soooo comfortable with that fluffy down comforter that you can curl up with around you. It had ample room to roll from side to side. I took it out in the yard on a chilly night with temps expected to go down to 28. It was great until around 2 a.m. I started to feel a little chilly. It was 34 degrees. I was using a Therm-a-Rest NeoAir XTherm pad and wearing smart wool, socks, base layer bottoms and top. By 3 a.m. I decided I was too chilly to sleep so I came inside. I am a cold sleeper. So I'm sending the bag back:( Back to the drawing board.
Barbara P.
WesB
WesB
Simply amazing - best investment EVER!
Familiarity:

I've used it once or twice and have initial impressions
I am a big boy - 6'2" 300lbs. As a result, it has always been tricky to find a bag that doesn't feel like a boa constrictor. I happened to see this bag reviewed on YouTube and was pretty much sold by the design before ever seeing it in person. The 25" width (for the "long" bag) combined with the convertible "quilt" aspect just seemed too good to be true and I ordered one the same day to replace two aging bags.



I just took the bag on it's inaugural journey - a 4 night photo "expedition" in Olympic National park in the middle of November. We were expecting temps in the low 20's and I debated bringing my Marmot 0 degree bag, but I really wanted to give this bag a shot. Combined with my new ThermaRest NeoAir XTherm (R-value of 5.7) and this bag, I slept like a baby the first nights, completely oblivious to my hiking partners suffering in the next tent over when the temps hit single digits. Seriously - I have NEVER slept this well while backpacking - not in July, let alone November!



I also love the ability to kick your feet out. I was there doing multi-hour timelapse photos in the middle of the night and the last two nights I finally got smart (and tired of freezing to death standing behind the tripod) and ended up wearing the bag like a dress.



AMAZING BAG - Worth every penny! (Though, I have to admit - I am sure much of the warmth and comfort is also due to the new XTherm pad as well...)
Dwongu
This is by far the best sleeping bag I have ever owned. I sleep on my stomach, so it seems like this was made just for me. I like being able to stick your feet out the bottom if you get to warm. Cools me off quick.



Be sure you have a pad because there is no insulation at the bottom of the sleeping bag for your back. They did this to save on weight. Not a good sleepng bag for a hammock. I used it on a chilly night, in my hammock, in the mountains and had to add layers. Everything was warm except for my back. Also, it might be harder for a larger person to move around in the sleeping bag. I'm 5'8" 170 lbs.



The weight is great and it packs down fairly small. I don't use a compression sack. I stuff my sleeping bag in my pack to take up the space between items. It helps keep things from moving around. This is a great sleeping bag and I would recommend it.
Parker
like sleeping IN a cloud
Familiarity:

I've used it once or twice and have initial impressions
I have one night in this bag outside and i'm pretty blown away. However, being an award winning sack this year i shouldnt be surprised.



This is by far the most comfortable bag i've slept in. The integrated down blanket does a great job increasing comfort (like at home) without creating any restrictions you get from a mummy bag. The extra material of the integrated blanket does a great job of keeping you warm (it was snowing where i camped...). This is also why i describe the bag as "sleeping IN a cloud" and that cloud being down. You can just wrap yourself inside the warmth and unrestricted comfort.


Daryl Deprey
Really cool design
Familiarity:

I've used it several times
I've used a lot sleeping bags and this new design is really awesome. So nice to have the ability to just open up the top like a blanket. It does limit the warming ability a little. I'd say this is good to 20f, but still a good back for 99% of the time you spend camping and backpacking. Packs down super small and is super light. Get the Long size if over 6 feet tall.
Ryan Hamilton
What size air mattress works with this...
What size air mattress works with this bag? 25" or 20" wide ?
Mathias S.
You will want the standard 20" sleeping pad for this bed.
Wayne Christoffersen
It depends. If you get the "long" version, the bag is meant to take a 25" wide pad. (Though, I'm sure you could still "fit" on a 20. It's just nice that the luxury is there if you want it. )
Dwongu
About the Rating... So I was looking...
About the Rating...



So I was looking at the temperature rating on the 600 & the 800 fill backcountry bed, and on the Sierra Designs website it says that the 600 is warmer. Now I always thought that the higher the number of the fill the warmer it was and the lighter it was.

Is that just an error? or is the 600 actually warmer? I want a good 3-season bag, & if I'm going to pay the price for it, I want the right one.
Heather H.
Best Answer
The fill rating refers to the quality of the down - specifically how much air the down traps, or its insulating capability. If you are comparing similar temperature rating for the 600 and 800 fill, the 800 fill will be several ounces lighter due to the high insulating power. But you pay for it. I see what you mean though - for the 3 season bag the Sierra Design website gives a 3 degree warmer rating for the 600 than 800 - but it is 9 ounces heavier, which is pretty significant and consistent with the 800 fill having better insulating properties.
Patrick McMurtry
A higher fill power rating means less weight and more packable. The warmth is all based on loft. The thicker something is, the more (warm) air can be trapped to keep you warm while you're sleeping. But like Patrick said, the big advantage to the 800 vs the 600 is the weight. It should be able to pack smaller by a noticeable amount as well.
Spencer Oliphant
Better and Different! Dig'n this bag, used it on a hut trip and felt like I was sleeping at home!
chixNsalsa