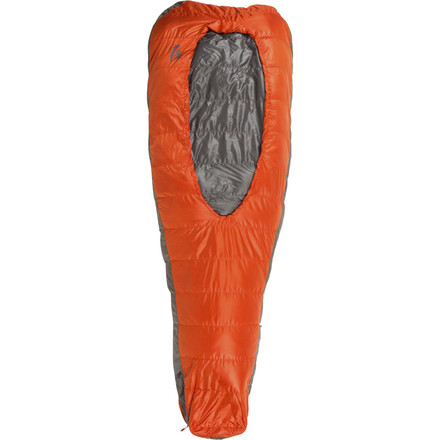 Colors

Detail Images
Out in the wilderness with at-home bed comfort.
Sierra Designs took a drastically different approach to designing the Backcountry Bed 600 Sleeping Bag so you can sleep in the wilderness and feel more like you're in your own bed at home. Free from extraneous hardware like bulky zippers and drawcords, this intuitive bag features an oval-shaped opening with an integrated comforter that helps it adapt to variable temperatures. You can tuck the comforter's sides snugly beneath you and stay warm in temps as low as 30° F, or you can pull the comforter out for the warmer nights. Its unique mummy design allows you to sleep on your stomach or side as well as your back, which is excellent because most mummy bags only let you sleep comfortably on your back. Sierra Designs stuffed this bag with 600-fill duck down insulation that was treated with DriDown to give it water-resistant qualities so you can stay warm even if moisture seeps through your tent.

Sierra Designs built the Backcountry Bed's shell out of ripstop for durability and the liner out of taffeta for your comfort. This bag also features insulated pockets for your arms so you never wake up in the middle of the night because your hand slipped out of the bag and is slowly chilling. There's also an integrated sleeve for your sleeping pad so you never roll off of it during the night and wake up on the rocky ground. This sleeping bag is light enough for backpacking and warm enough for chilly nights.
Adapts to variable temperatures down to 30° F
600-fill duck DriDown insulation
Unique mummy design
Polyester ripstop shell
Polyester taffeta liner
Oval shaped opening with integrated comforter
Zipperless design
Insulated hand/arm pockets
Sleeping pad sleeve
Muy bueno!
Familiarity:

I've used it several times
Es muy bueno, realmente es muy cómodo y calienta bastante bien, los acabados son perfectos y estoy muy satisfecho con el producto
Daniel A.
Does the Sierra Designs Backcountry bed 600 include a compression bag or just a common stuff sack?
Matt
Hey there Matt!

This backcountry bed from Sierra Designs should only come with the stuff sack which is ideal for storage! Give me a ring at 801.204.4660 or email me at brhall@backcountry.com and I can help you find one for your this!
Brooklynn Hall
First off, I'm basically an ounce counter when I backpack. I was an ounce counter on everything but then I wised up a little and realized some comforts are worth the extra weight. That being said, it's an amazing sleeping bag that in my personal collection will be used exclusively for car camping and non-backpacking trips.

It is extremely comfortable and spacious. The design makes for easy movement within the bag and allows for you to stretch out more. It's great for stomach sleepers.
Being that the bag is a little heavier, it also is a little more durable than the 800 model. The material is a thicker because weight savings is not as big of priority in the design of the 600. It packs down reasonably small for the actual size of the bag. As stated it is quite spacious but the lack of zippers allows it to pack down fairly small.
It has lots of sleeping options for different temperatures.





Kyle
versatile and comfortable
Familiarity:

I've used it several times
I have used this bag for both car camping and backpacking and have been thrilled with it for both uses. I bought it because the unique bed design caught my eye and I wanted to give a try. I am definitely sold on the concept. I was most worried about running cold in the bag as it does not appear to insulate as well as a traditional mummy. But, I think Sierra Designs took their design into account when rating for temperature. It got down to 32 for the majority of the nights I used this and I still did not feel the need to tuck the blanket into the bag for extra warmth. In fact, I found myself searching for the hatch in the footbox quite a bit. It is a bit tougher to find than I had originally expected but I am sure this is of value on the colder nights.
Evan
WesB
Choose the perfect SD Bag for you!
mclymer
When Comfort is Key
Familiarity:

I've used it once or twice and have initial impressions
I got a chance to check this baby out and it is awesome! I haven't been able to put it to use where it really counts, the backcountry, but I hope I get a chance to this summer.

Sierra Designs thought of everything. My favorite feature about this bag is that the quit top has little hand pockets so that stomach sleepers, like myself, can wrap the quilt around and stick our hands under our sweet sleeping heads, without exposing elbow. The quilt pulling out at the top is great for regulating temperature on warmer nights, super comfortable, and makes you feel like you are in your own bed instead of trapped in a sleeping bag/straight jacket. But, just tuck the quilt corners into the bag and you are toasty warm and covered head to toe, just like a regular sleeping bag. The foot box has an awesome little escape hatch so that when one or both feet are getting a bit too hot you can easily slide them out of the bag without exposing the rest of your body to the cold.

I think this bag is going to be the perfect thing for someone who loves the outdoors but misses the comforts of their own bed. This will be great for warmer spring nights and all through summer, 30 degree rating seems spot-on. Its a bit heavy so best for someone doing so casual camping and not the ultra-light enthusiast. No worries though ultra-light people, SD didn't forget you, check out the Sierra Designs Backcountry Quilt for a light weight quilt with awesome comfort features.

http://www.backcountry.com/sierra-designs-backcountry-quilt-800-sleeping-bag-30-degree-down
Zane B
Zipper-less and oh so cozy!
chixNsalsa