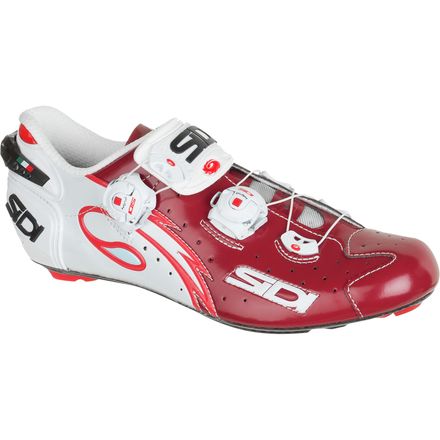 Colors

Detail Images
Pro-level for everyone.
Team Katusha's partnership with Sidi has had the riders rocking some custom-colored kicks that are now available to the every-cyclist as the Sidi Wire Push Team Katusha Limited Edition Men's Shoes. Channel the power of the red train in sprint leadouts and up sweeping mountain passes as you pedal with efficient power transfer and exceptional comfort. The Wire Push cuts a clean, low-profile figure and boasts race-proven design for any road race or training ride.
The Wire Push Shoes ride securely with Sidi's Tecno 3 Push fastener. Like its predecessor, the Tecno-3 Push system involves two ratcheting dials, Sidi's proprietary, non-stretch wire, and a customizable fit at the instep and forefoot. The Push in the shoes' title refers to the incorporation of a tempting little red button on the buckles' faces that, when temptation overcomes restraint, releases the ratchet's lever for quick adjustment, saving you the onerous task of flipping the lever up yourself. At ride's end, pinching two release buttons on either side of the dial loosens the wire. As with all of Sidi's fastening hardware, you can easily fiddle with the Tecno 3 Push buckles in the saddle.
The Wire also sees a return of Sidi's superlative vented carbon fiber sole. It shares the same construction method that Sidi developed with its Carbon Lite sole, yet relegates the "Lite" model to the heavy bin by losing an additional 38g. The weight loss may be due to the negative space of the vents, which shuttle cooling air into interior channels. The vents can be opened or closed depending on the temperature and your preference—even in the middle of a ride.
Despite the weight savings and ventilation, the Wire Push soles have the same stiffness and confident power transfer you've grown to expect from Sidi, and they've also got a bit of engineered flex for your toes while you're awkwardly clop-clopping around on a coffee shop's stained concrete floor during a mid-ride espresso break.
Also returning from previous top-shelf offerings is Sidi's improved Heel Security System (or HSS), which keeps your foot positively planted in the shoe. It involves a rigid, composite band that can be tightened or loosened with to adjust the amount of play you allow your heels. The shoe's tongue and instep strap are both generously padded to allow for supreme comfort with tight buckles. The upper is made from perforated Lorica, a synthetic microfiber that has become a staple of our cycling shoe line-up since it became a signature component of Sidi's venerable shoes. Finally, all of the buckles, wires, outsole lugs, and heel retention devices are fully replaceable.
A pro-tier, race-ready cycling shoe in a limited edition colorway
Vented carbon sole for extra cooling and efficient power transfer
Breathable, durable synthetic upper
Customize the fit with Sidi's Tecno 3 Push fastener
Heel Security Sytem offers additional adjustment
Replaceable buckles, wires, outsole lugs, and heel retention device