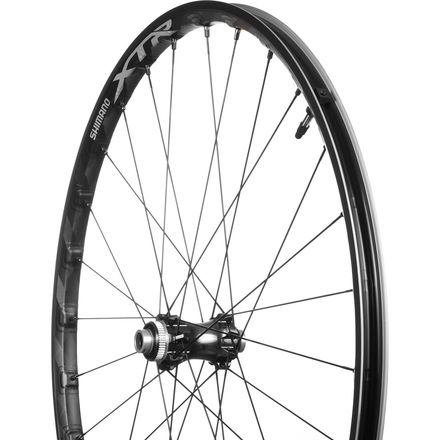 Colors

Detail Images
XTR goes midsize.
Shimano's benchmark XTR groupset was recently re-engineered from top to bottom, and the wheels received the same treatment. New rim construction shines to make race-ready hoops like the new Shimano XTR M9000-TL Race 27.5-inch Clincher Wheelset some of the most effective XC weaponry of the new racing season.
The new XTR wheels are built with Shimano's new carbon-laminated alloy rim construction. The technique capitalizes on the advantages of both materials while using each to compensate for the other's shortcomings. For example, full-carbon wheels can be prohibitively expensive. Aluminum rims can be cheaper, but often heavier, sometimes weaker, and ride quality can be compromised, as well. Shimano decided to engineer the two in conjunction with each other: a lightweight alloy rim extrusion receives full carbon fiber reinforcement here, the result being a durable, light, and relatively inexpensive rim that is torsionally stiff, vertically forgiving, and doesn't cost a down payment on a car. We love the new look, too.
The Race version of the rims are 20mm wide internally, while the Trail versions are wider, at 24mm internally, to accommodate wider tires and create a larger contact patch for greater control in technical situations. Down in the hubs, proprietary bearings keep the precision-machined hubs spinning for years, and a revised axle and bearing configuration saves a bit of weight, as well.
The Shimano XTR M9000-TL Race 27.5-inch Clincher Wheelset comes with a 142x12mm rear axle, and 100x15mm front axle, and a freehub body that can accommodate Shimano 10- or 11-speed XTR drivetrains. Both front and rear wheels have 28 spokes, and both are compatible with CenterLock rotors only.