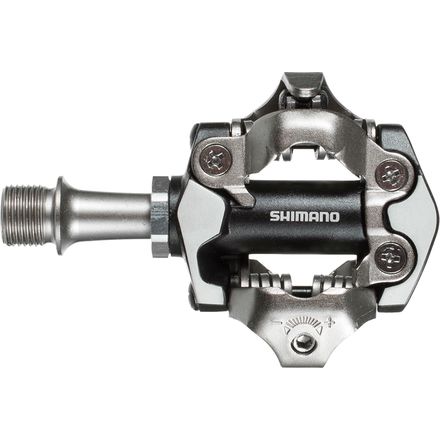 Colors
More stable and efficient than ever.
The Shimano XT PD-M8000 XC Pedals combine bombproof durability with lightweight efficiency for cross-country racers, dedicated trail riders, 'cross enthusiasts, and even road riders. Redesigned for 2016, the M8000 XC Pedals benefit from a 7.7 percent increase in pedal-to-shoe contact while enjoying a reduced stack height by 0.5 millimeters. These slight design tweaks improve stability and pedaling efficiency, also preventing pedal strikes on rocky trails by reducing its overall height profile. The M8000 XC Pedals retain their legendary durability with cro-moly construction and sealed cartridge bearings. As always, they feature four degrees of float and work with Shimano's 2-bolt SPD cleats.
The classic mountain bike pedal
Increased surface area for more stability
Reduced stack height lowers rock-strike risk
Durable body and sealed bearings absorb abuse
Replacement
Familiarity:

I've put it through the wringer
I have used these for years. Great product holds up well.
Anthony Webster
Cheap and durable
Familiarity:

I've put it through the wringer
These XT pedals are a great option for both beginners or expert riders. They are durable enough to Enduro ride with and light weight enough to XC race with. not to mention they are half the price of XTR pedals.
Greg Celentano
A blessing
Familiarity:

I've used it several times
This pedal has been a blessing for my daily commute. It is very easy to clip in and out and makes the ten mile ride each way much more enjoyable!
Jake Allison
Beat the $#!t out of these pedals
Familiarity:

I've put it through the wringer
I ride XT race pedals every day, through rain, shine, heat, and cold. Yes, they're heavier than ATACs. No, they wont' break. Ever. These are the pedals you run, when you need your $#!t working through every condition.
Adam H.
Simply the Best
Familiarity:

I've used it several times
Pretty much the best pedal for the money. Reliable, durable, priced right. Can not ask for anything else.
Sully
Great addition to my bike for easy clip function and reliability. I was a little worried as this was my first clipless pedal purchase for my bike, but I have been more than satisfied. Easy tension adjustability makes this a great pedal for all levels to adjust to the riders liking and ability. My husband was against these smaller looking clipless pedals, and he tried these and was super impressed and ended up get some for himself 😉.
Alicia
Excellent Pedals
Familiarity:

I've put it through the wringer
I've used these pedals for over a year now on multiple bikes and have zero complaints. I've been lazy about servicing and will probably ride these pedals until they die and then buy another pair. They work well and look nice. The interface has worked well with multiple XC style MTB shoes, including Specialized XC Pro and S-works 6 shoes. My pedals have some scratches in the metal from rock strikes, but the marks only seem to have caused cosmetic damage
Chad K.
Durable
Familiarity:

I've put it through the wringer
If you are looking for pedals that last a lifetime, then Shiamano SPD pedals are the one. They have a very low fail rate. When you buy a pair of Shimano SPD pedals you will easily get a couple years out of them. I highly recommend them.
Clayton Otto
Shimano XT PD-M8000 XC
Familiarity:

I've put it through the wringer
Like all things Shimano they work, are not finicky, and are durable.
What specifically Iike about the pedals are:
1. The platform is wide and I get good power transfer.
2. The engagement is positive an you know you are in.
3. Solid construction

I went to these after being on eggbeaters for a long time. The eggbeaters might shed "peanut butter" mud marginally better but the power transfer and engagement are much better with the shimano product..
matthew S.
Unanswered Question
Is the clips included in the Shimano XT PD-M8000 XC ?
outstanding cross pedal
Familiarity:

I've put it through the wringer
After many years of road riding these were the first MTB/Cross pedals I ever purchased heading into my first season of cyclocross racing. I researched several brands and models and decided to go with Shimano. I couldn't be more happy with these. Easy engagement, decently shedded mud/snow, and withstood a season of racing and looking good for the upcoming season.
James S
I have XTR on my road bike and a very old pair of Ritchey pedals on my mountain bike. I'd like to wear the same pair of shoes for both and was considering the XT for my MTB. Does the XT pedals work with the Shimano SH51 cleats?
George O.
Hi George!

You can indeed use the same SPD SH51 cleats in both XT and XTR pedals. If I can be of assistance with your purchase or any other questions you have, let me know.

Ed K

Gearhead - Competitive Cyclist

801-204-4688

ekilbourn@competitivecyclist,com
Ed Kilbourn
Hi George,



Yes. SH51 cleats are compatible with these pedals.
Scott Gartman
A solid pedal at a good price
Familiarity:

I've put it through the wringer
My husband has these on his mountain bike, and has loved them. He previously ran Crank Brothers Candy pedals, but had issues with them being hard to release. These are much better. This 2nd set was bought for the gravel/cross bike he has been lusting after.
Ginger
Good quality at a great price.
Familiarity:

I've used it once or twice and have initial impressions
I have had several Shimano clip-less systems over the years and these are just as good and intuitive to use. I switched from CB Candy to these so I can use my shoes for spin classes if I get a hankering to go nowhere. LOL Only a few rides but I suspect they will do just fine.
bdhasson
Easy In. Solid retention. Easy out.
Familiarity:

I've put it through the wringer
Great power transfer. Sheds mud well, and easy to clean after a day on the CX course or on the trails. No accidental releases. Unless you're counting grams, there's no real reason to go with the XTRs.
macweelz
Its all been said
Familiarity:

I've put it through the wringer
Just piling on with the other reviews but these are a fantastic work horse pedal. The price to gram diff is large to jump to XTR so I just run these and have never been let down.
Brandon Anderson
This pedal as gone largely unchanged for the better part of a decade and for good reason. It is a super dependable and highly functioning choice. It will easily survive an encounter with a rock or log and sheds mud effortlessly. The float adjustment is also spot on for making minor tweaks and adjustments.
Jesse DeKrey
Old Faithful
Familiarity:

I've put it through the wringer
Reasonably priced, pretty light, positive retention, and insanely durable. Unless you just prefer the feel of some of the other clipless mechanisms, these will serve you well.
Garson Fields
Best go-to pedal I own!
Familiarity:

I've put it through the wringer
I have used this pair of pedals on at least 4 different bikes, and they are still holding up. I just recently re-greased the pedal spindle after years of abuse, and they barely needed it. These things release when you need them to, in my experience. I would highly recommend these pedals for a great, durable, long term pedal.
Ryan Emery
10 years
Familiarity:

I've put it through the wringer
I seem to never be able to justify buying pedals because my XT's are 10 years old and still work with fresh cleats every year. But my wife got these for me, and I am STOKED. These are by far the best pedals ever. You don't slide off like Crank Brothers, you don't have to shim like Look, no weird non distinct release like Time. These are every bit as good as XTR just a little heavier. Get them.
Paul Clark