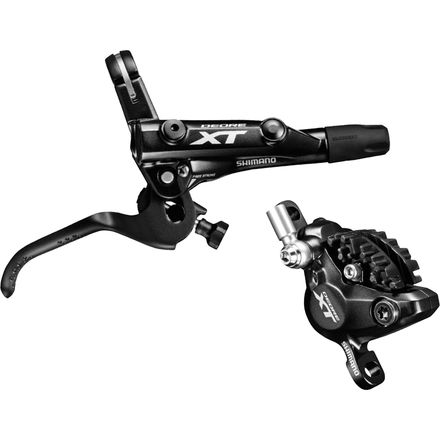 Colors
Ergo-licious.
Building off the smashing success of Shimano's XT BR-M785B Disc Brakes, the Shimano XT BL-M8000 Disc Brakes offer enhanced ergonomics with their sleek integrated master cylinder and simple integration with I-Spec II shift levers. Not only does this improved design shave precious grams, but it also frees up valuable real estate along the handlebars, which is always a positive with the ubiquitous use of dropper posts on modern trail bikes.
Sero Wave technology delivers reliable stopping performance across widely variable trail conditions and riding disciplines. This technology improves brake engagement by closing quickly upon first squeeze, ramping up power after initial engagement for improved bite. 22mm ceramic pistons inspire riders to push their limits with gobs of stopping power at a moment's notice. Shimano's Radiator Pads disperse heat on shuttle runs and lift-accessed downhills, preventing dreaded brake fade on lengthy descents. Tool-free reach adjustment dials in a custom feel for precise trigger actuation.
The Shimano XT BL-M8000 Disc Brakes come with everything needed for installation. This brake kit works with Shimano's XT and XT Ice-Tech Rotors for reliable stopping performance in all conditions. Hinged, split clamps allow for easy mounting. The pre-bled lever/caliper/hose assembly is ready for installation on your favorite trail bike.
The most popular brake for self-sponsored racers
Predictable modulation empowers precise braking
Ceramic pistons reduce heat accumulation
Finned pads further contribute to cooling
Compatible with I-Spec II lever systems
Pre-bled lever/caliper/hose assembly includes everything you need
Gold standard (at bronze price)
Familiarity:

I've used it several times
Coming off a pair of Hayes Prime brakes, these brakes are a luxury. They can be installed without a bleed, are so much temperamental, use standard fluid, replacement parts are easy to come by, and they don't brake the bank. A+ brakes. Excellent design and easy to service.
Spencer Dillon
Reliable, affordable, solid brakes
Familiarity:

I've put it through the wringer
These things stop. I love how easy they work. When comparing with other brakes I've tried, these are almost the easiest to bleed (my Hopes are easier), the best for reliability (SRAM brakes are notoriously unreliable), the best for quality per $ spent by far (Hopes are way pricey), and my favorite brake feel. My hopes require much more effort to stop than the XT brakes. Great, reliable brakes!
Jennifer Chase
What a brake should be
Familiarity:

I've put it through the wringer
These brakes work. Thats the best part about them. The pads sit straight in their proper position. They don't seize up. VERY easy to bleed and adjust exactly how you prefer your fingers to sit. The pull changes slightly over a continued downhill section but not enough to be an issue.
DJ Redundant II
Stopped Me in My Tracks
Familiarity:

I've put it through the wringer
I've been riding with these brakes on my all-mountain bike for a couple of years now. They have held up super well, despite my tendency to go down. They offer great stopping power, especially the 203 mm rotor in the front. The lever itself has a great feel under the forefinger, and is just the right length. I appreciate the ease of adjusting the lever in and out as well. Great buy.
Dave Vance
Great break
Familiarity:

I've put it through the wringer
The easiest to bleed and most bomb proof brake on the market for the most reasonable price, hands down
Matthew Lundberg
XT...enough said
Familiarity:

I've put it through the wringer
Shimano XT...easy install, easy setup, easy bleed (yes you will have to at some point), mad stopping power. No reason to mess around with guides, did consider Hope. But save some headaches and money. Buy a bleed kit at the same time, learn to work on your bike...it's therapy, not cheaper but way more more fun.
james D.
Stop smart
Familiarity:

I've put it through the wringer
The best brakes in the world are the Shimano XTR M9000 race series. Unfortunately, said stoppers cost big bucks, and as such, are out of reach for the every-man. The XT series brakes, particularity the latest M8000 edition, are an excellent alternative for XC racers, or for anyone in the market for a reasonably light, reliable, single-piston brake set. I've run these for three seasons now, and simply-put, they're great.
Joe Draper
Great Brake. Pre-Bled?
Familiarity:

I've used it several times
I paired this XT front brake with an XTR rear. It may be slightly heavier, but it has great modulation and plenty of stopping power for my cross country/trail style of riding.
I ordered the pre bled and left the hydraulic line intact because I do not like to bleed brakes. Unfortunately, it needed to be bled. I called Backcountry, who sent me on to Colorado Cyclist, for advice or an exchange. They told me to bleed the brakes, all I had to do was push fluid from the caliper to the handle. So now I have to buy some hydraulic fluid. That didn't do the trick, however, so I had to perform the full bleed procedure. Now it works well, but it was a frustrating process.
Michael S.
Great brake set
Familiarity:

I've used it several times
I have both the old m785s as well as these. The new model has a much more linear feel to braking — versus the old which acts a lot more like an on/off switch. The levers feel very nice in hand as well.
David C.
Amazing Brakes
Familiarity:

I've put it through the wringer
I've been using XT brakes for a while and the newest version are the best to date. From the updated caliper to the solid master cylinder these work flawlessly and look great. These also still use the same pads from the previous version. These are the best brakes you can buy for the price.
Chad Cordell
After fighting SRAM Guide brakes for months I made the switch and couldn't be happier. These are dependable and predictable offering great modulation. Easy maintenance and setup is perhaps the best perk of these brakes.
Mark L.
Super reliable
Familiarity:

I've put it through the wringer
The major benefit to these brakes is that they are reliable. They generally run quiet and are low maintenance. There is no shortage of braking power; these are strong brakes. My only complaint is the modulation. They feel a bit grabby to me. Some people like that feeling though so it does come down to preference. The bleeding procedure is simple which is nice.
Brock Price
Solid engagement and ample power makes these a solid set of brakes.
Aaron Bender
Reliable brake
Familiarity:

I've put it through the wringer
They are very reliable so you don't have to worry about issues or failures. My only complaint is they don't have much modulation which gives them more of an on or off feel.
Ben Melini
Good reliable and very smooth. Look no further
William Krempa II
I love my xt brakes. They have good adjustability and modulation. Reliable too
William Krempa II
The best brakes on the market!
Familiarity:

I've put it through the wringer
I have been through 4 sets of SRAM Guides, all of them have failed. I finally switched back to XT, and I have no idea what took me so long. Do yourself a favor and buy these brakes, they are easy to setup, rarely fail, and work tremendously.
Ryan Emery
Shimano Breaks
Familiarity:

I've put it through the wringer
You should only buy these on your bike. They are the best and I will always have XT breaks.
Sully
Love the simplicity and quick reaction of XT brakes. They are fairly simple to maintain as well. 5 Stars!!!
Tyler Thunell
Best brakes I've had
Familiarity:

I've used it several times
What to say here - these XT's are as good as I've had. Over the past several years, I have had the terrible Avid Elixir 5's, (bleeding is a regular occurrence, and it's difficult to get right) swapped those for the predecessor to these - the XT M785's. Loved those. Had the Avid X0 Trail brakes on another bike which worked well, but never had the modulation that the Shimanos offer. These M8000's are great. I shortened both front and rear hoses easily, bled them, and went riding.

Great adjustability, great modulation, and they are super reliable. Easily the best investment in the MTB brake world right now on a pure performance per dollar basis. Great price and service from Backcountry.
Bullet Bob