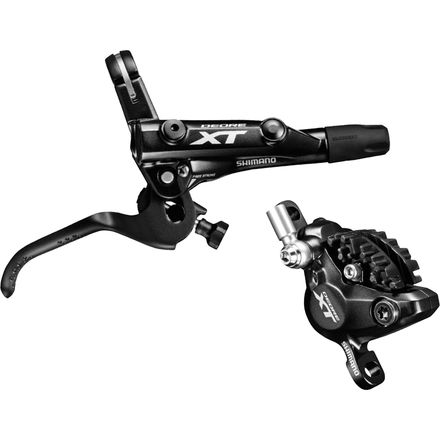 Colors

Detail Images
Ergo-licious.
Building off the smashing success of Shimano's XT BR-M785B Disc Brakes, the Shimano XT BL-M8000 Disc Brakes offer enhanced ergonomics with their sleek integrated master cylinder and simple integration with I-Spec II shift levers. Not only does this improved design shave precious grams, but it also frees up valuable real estate along the handlebars, which is always a positive with the ubiquitous use of dropper posts on modern trail bikes.
Sero Wave technology delivers reliable stopping performance across widely variable trail conditions and riding disciplines. This technology improves brake engagement by closing quickly upon first squeeze, ramping up power after initial engagement for improved bite. 22mm ceramic pistons inspire riders to push their limits with gobs of stopping power at a moment's notice. Shimano's Radiator Pads disperse heat on shuttle runs and lift-accessed downhills, preventing dreaded brake fade on lengthy descents. Tool-free reach adjustment dials in a custom feel for precise trigger actuation.
The Shimano XT BL-M8000 Disc Brakes come with everything needed for installation. This brake kit works with Shimano's XT and XT Ice-Tech Rotors for reliable stopping performance in all conditions. Hinged, split clamps allow for easy mounting. The pre-bled lever/caliper/hose assembly is ready for installation on your favorite trail bike.
The most popular brake for self-sponsored racers
Predictable modulation empowers precise braking
Ceramic pistons reduce heat accumulation
Finned pads further contribute to cooling
Compatible with I-Spec II lever systems
Pre-bled lever/caliper/hose assembly includes everything you need
Awesome stopping power
Familiarity:

I've put it through the wringer
These brakes have awesome stopping power and exceptional modulation. Shimano brakes are legendary for a reason and these are no exception. The mineral oil is also easy to bleed and work with if you are into bleeding your own brakes.
nathanael mackay
Brake Time
Familiarity:

I've used it several times
Grate Brakes
Jarquette
best choice
Familiarity:

I've put it through the wringer
Of all the brakes out there right now, this has got to be the most consistently reliable brake. Great pull and consistent feel. Durable, lastable... able to last.
DJ Redundant II
Best value stoppers for the price
Familiarity:

I've used it several times
I recently bought these a pair of these stoppers for my santa cruz hightower LT and I love them! Coming from sram's top of the line guide brakes on my old bike, I actually preferred the XT's over the guides. The squeeze actuation on these are similar to an all or nothing type of feeling when braking. Its hard to explain but basically you get 100% braking force at one given point on the stroke and it has a good feel to it. Unlike the guide's, where you get a gradual hard stroke all the way through. Would highly recommend these brakes to a buddy of mine or anyone looking for the best brakes that won't break the bank!
Wyatt Maxwell
Works like a light switch
Familiarity:

I've put it through the wringer
Bought this after getting fed up with issues with my Sram Guide brakes. XT's are more powerful, levers have less free stroke (you don't have to pull the lever an inch before the pistons start touching the rotor), maintenance is predictable and consistent, but modularity is bad. 4 piston brakes offer a lot better modularity, lockup happens more frequently with these brakes.

Long story short if you don't care about upkeep and want something to work the same every time get these brakes. If you want the ultimate performance go Sram.
Nick G.
Tremendous Customer Service
Familiarity:

I've put it through the wringer
Rear brake failed after 22 months of use. Had some issues off and on with it after the first 6 months, with some softness and a few trips to the shop to get it working properly. The front brake version of this still works fine. The 4 stars is for the folks at Competitive Cyclist who worked with me to replace it and ship it out a new one right away. That impressed me and I will remember that when I need more gear and components.
John K.
Yup, Another 5 Star Review
Familiarity:

I've put it through the wringer
These brakes work first time, every time.
Kyle Hickey
LOVE THEM
Familiarity:

I've put it through the wringer
One of the best mtn bike brakes I've used that is a two piston set up, and not to mention Shimano is the most reliable mtn bike brake manufacture. These brakes have awesome modulation that is like a dimming light switch- not just an on or off switch. Paired with the ice tech rotors that help dissipate heat under extreme braking conditions, these XT's will give you the confidence on any bike trail. For the price, it's a worthwhile upgrade over the Shimano Deore or Shimano SLX brakes- especially to customize brake lever position
Christopher Siepmann
Awesome Upgrade
Familiarity:

I've used it several times
I sent from M392 (something like that) to the XT brakes and they're amazing. I tried to get a little more power out of the Deores with Icetech rotors (and upping the rear to a 180mm) but after being dissapointed in the marginal gains I leaped to the XT's to compliment my new rotors. Always great service from CC and really happy with how my new brakes work.
Nick Z
Old Faithful
Familiarity:

I've put it through the wringer
Can't complain about XT brakes. Over the years they have always been awesomely consistent. A good standby for any type of riding.
BJ Platte
go to brakes
Familiarity:

I've put it through the wringer
The XT have been my go to brakes for quite a while now. I've tried others and always seem to come back. Maintenance is minimal and power is great.
Kyle Br
Now I have to update my other bike!
Familiarity:

I've put it through the wringer
Have Shimano BR-M445 brakes on my 7 year old Niner that I just flushed, added new oil & new pads, they work well. Then I bought new 5010 from you guys with these brakes. Crap • these are so good now I have no choice but to update my Niner to these • night and day difference. These are by far the best brakes I've used. Plus, being able to easily service myself and mineral oil instead of DOT make these a no brainer.
NC Bob
best for the price
Familiarity:

I've put it through the wringer
I have used Shimano for a long time and the Xt stuff is awesome! works great and not crazy expensive. Big fan of the saint breaks too if you're looking for more stopping power.
Brandon Orloski
Shimano XT brakes work, over and over
Familiarity:

I've put it through the wringer
If you want your bike to stop...buy these. EASY to maintain too....
Nuff said...
Mike Newberry
Without a doubt the most reliable brakes
These are my second pair. I replaced some SRAM brakes on my first bike and now I just replaced some SLX brakes on my new bike. My rider weight is 235 so I need a good brake that doesn't fade on the down hills. This brake has good modulation, power, and I love the one finger lever action. Pair these with the XT rotors and you have a match made in heaven. Did I mention they are also quiet? Well they are! For an all mountain/ Trail brake these will work just fine. They aren't as heavy duty as the Zee or Saints and also not as heavy. If you aren't a down hill rider on weight more than 235 than these will work just fine.
Harrison Burns
Gold standard (at bronze price)
Familiarity:

I've used it several times
Coming off a pair of Hayes Prime brakes, these brakes are a luxury. They can be installed without a bleed, are so much temperamental, use standard fluid, replacement parts are easy to come by, and they don't brake the bank. A+ brakes. Excellent design and easy to service.
Spencer Dillon
Reliable, affordable, solid brakes
Familiarity:

I've put it through the wringer
These things stop. I love how easy they work. When comparing with other brakes I've tried, these are almost the easiest to bleed (my Hopes are easier), the best for reliability (SRAM brakes are notoriously unreliable), the best for quality per $ spent by far (Hopes are way pricey), and my favorite brake feel. My hopes require much more effort to stop than the XT brakes. Great, reliable brakes!
Jennifer Chase
What a brake should be
Familiarity:

I've put it through the wringer
These brakes work. Thats the best part about them. The pads sit straight in their proper position. They don't seize up. VERY easy to bleed and adjust exactly how you prefer your fingers to sit. The pull changes slightly over a continued downhill section but not enough to be an issue.
DJ Redundant II
Stopped Me in My Tracks
Familiarity:

I've put it through the wringer
I've been riding with these brakes on my all-mountain bike for a couple of years now. They have held up super well, despite my tendency to go down. They offer great stopping power, especially the 203 mm rotor in the front. The lever itself has a great feel under the forefinger, and is just the right length. I appreciate the ease of adjusting the lever in and out as well. Great buy.
Dave Vance
Great break
Familiarity:

I've put it through the wringer
The easiest to bleed and most bomb proof brake on the market for the most reasonable price, hands down
Matthew Lundberg