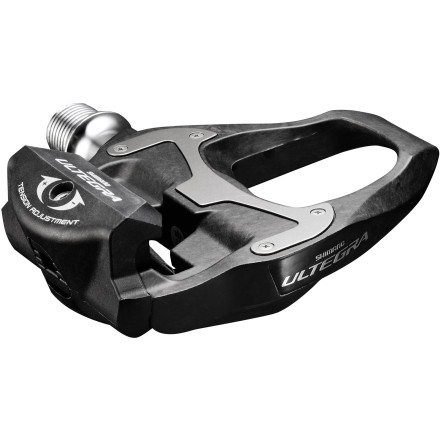 Colors
Lightweight and ultra-efficient.
Featuring a carbon composite body for serious weight savings and high levels of rigidity, the Shimano Ultegra PD-6800 SPD-SL Pedals are a great choice for the competitive cyclist and casual, everyday rider alike. The pedal's wide platform enables high levels of energy transfer, ensuring maximum efficiency on the road. Wide bearing placement maintains a uniform load distribution for stability.
Its short carbon fibers make it just a touch heavier than Shimano's featherweight PD-6900, yet it offers a similar level of performance without the sticker shock. They retain the same satisfying retention and release mechanism of SPD-SL pedals for easy use, and a stainless steel cover protects the pedal's carbon body from abrasion while reducing flex for maximum efficiency.
Carbon body
Aluminum cleat plate
SPD-SL cleat type
3-degrees of +/- float
Adjustable entry/release
Nice pedals
Familiarity:

I've used it several times
Easy clip in and out
Edgardo B.
Nice Pedals
Familiarity:

I've used it once or twice and have initial impressions
Great value for the price. Easy clip in/out.
Adjustment is very easy to perform.
These aren't the lightest pedals but they are more than enough for the average cyclist.
Jonathan Calderon
Great Price. Nice pedals, easy to use, clip in/out. Adjustment is easy to perform too. Great replacement for my old Look pedals.
Glenn Dickson
Great Pedal!
Familiarity:

I've used it several times
Very happy with this purchase. Fantastic pedal at a great price!!
Todd W.
Favorite Road Pedal
Familiarity:

I've put it through the wringer
This is one of the best road pedals out there. You can't beat the quality for the price. These are only slightly heavier than dura ace and perform just as well for a much cheaper price.
Dustin Cottle
Solid
Familiarity:

I've put it through the wringer
Just upgraded from the 105 and I'm loving the ultegra. I've worn the blue shimano cleats for two years now and even in the 105's I've had much more play than desired. With the ultegra however, the cleats have a much smaller degree of float so your foot is more stable. I feel like every pedal stroke is producing just a bit more power now that my feet aren't moving everywhere. Price point is great as usual for the ultegra line.
Brett W.
Excellent quality
Familiarity:

I've used it several times
These pedals are really good, i would say that if you are not a pro biker, there is no reason on going to the dura ace, unless you want to spend more money, cleat mechanism work really well, I started with the lightest tension and is really easy to pull your feet out, ill probaly increase the tension after getting more used to cleats
Javier Meza
Great pedals and easy to get in/ out of these gems. Love the platform shape
George S.
can't go wrong with these pedals
Familiarity:

I've put it through the wringer
Quality you can expect from Shimano products. These pedals aren't the lightest out there, but they set a pretty solid standard if you are looking for a pedal that will offer smooth, dependable use for a long period of time.
Trevor Linthorst
Solid upgrade
Familiarity:

I've put it through the wringer
Got these pedals to replace my 3 year old shimano 105 heavy clunker pedals and I dig the new ultegras. Super light and a much wider platform than my old pedals. I had to adjust my cleats slightly after a couple rides to account for the small amount of float these pedals offer but once you get it all dialed in, great pedals. I've already noticed more power transfer from foot to pedal just based on the big platform. Definitely recommend.
Sarah Edwards
Great pedals! Smooth clip-in.
Familiarity:

I've used it several times
Love the quality of these. Good value and very durable.
Jonathan M.
First set of clip in/clipless pedals...
Familiarity:

I've used it several times
SPD, clipless, clipped, SPD SL, flats, cleats, ABCDEFG....

It was all a bunch of brain damage to me. I started cycling back in April of 2016 and quickly fell in love with riding. One for the sheer leisure of riding and two for the fitness aspects of it. I started on MTB and just recently purchased a roadie. I have done enough reading and research to know that the differences between flats and clipless pedals on MTB could be called negligible (notice I say COULD). However, my reading and research has led me to believe that the same does not apply to road bikes. A clipless pedal is a necessity. SO, when I bought the road bike I spent some time researching pedals and I kept coming back to these Shimano cleat style pedals.

I was a little leery at first about using these type of pedals because I had heard the stories of friends falling over at stop lights because they forgot that they were clipped in. God forbid I suffer a little public humiliation in front a bunch of strangers. Anyway, I put these puppies on the bike and attached the yellow cleats that came with the pedals. Before I snapped in, I backed the tension out on the pedals for the clipping system. I balanced in the driveway for 10 minutes or so just snapping in and snapping out. My neighbors must think I am a lunatic I thought. It took a little while to get use to the feeling but I got to the point where I felt somewhat comfortable so off I went to try them out on the road. I still remember the first stop light that I came to and how nervous I felt. I disengaged really early and just let my foot hover above the ground as I coasted to the light. When it turned green, I lined the cleat up with the pedal and put a little weight on it and it snapped in rather easily. There is no mistaking when you have been snapped in. Its loud and solid. I now have some miles on these pedals and I am ready to increase the tension on the mechanism. I would recommend these pedals to anybody who is new to road biking (or experienced). They are light, well built and the clip in mechanism is great. Do yourself a favor and buy a pair.


Matt W.
Light and functional
Familiarity:

I've used it once or twice and have initial impressions
This is my first road pedals, so it will take some time to adjust to these style of cleats. My first impression is these are manufactured to the high level of quality I've come to expect from Shimano. Solid fit and finish. The only caution I can mention is for lighter riders the spring tension is strong even after full loose adjustment. I hope that will change with use.
Beatriz Freitas Rankin
Easy, light and comfy
Familiarity:

I've used it several times
These pedals are great - they are easy, light and comfy as my title says. I like the matte finish, as they go with my carbon Scott cr1 pro pretty nicely. they provide a nice solid base and feel great when pumping up some hills. I have had some other pedals that creaked and made all sorts of clicking noises... drives me crazy! These are super smooth though.
Bear
The Ultegra pedals have a solid platform, great feel, and smooth bearings. With all metal and carbon fiber construction these pedals look as good as they perform. The engagement is positive with a reassuring click in and out so there's no guessing about whether or not you're actually connected. I prefer the blue cleats, minimal play, no slop.
william S.
No-nonsense pedals
Familiarity:

I've put it through the wringer
Great pedals, work great, easy to use. In fact it's my second pair of ultegra carbon pedals ( for my second bike!). At this price, nothing beats those pedals
jean sebastien roy
Love them
Familiarity:

I've used it several times
Great product. Great vendor (Competitive Cyclist). I've notice squeaking with other riders who have other brands, like Look. No noise with Shimano.
Ken O.
Solid platform. Love them
Familiarity:

I've put it through the wringer
I have been riding a Look Keo after getting back into cycling "half ass" for several years and am now back into it much more seriously (3500 miles with 3.5 months to go). I bought Looks because hey I bought a set in 1985. What a night and day difference this pedal makes from that. The pedal platform feels wider and just such a solid transfer of power. I have to admit I also just bought the Shimano R231 shoes so that combination is like nothing I have ever had before. Love it. Much easier to clip in at the traffic lights than the Looks.
barry hair
Unanswered Question
Are these pedals as easy to clip out of as the light action spd-sl's?
Mary F H.
feel the POWER!!
Familiarity:

I've put it through the wringer
Stiff, durable, and the power transfer is amazing. Love these pedals.
Nick Watson