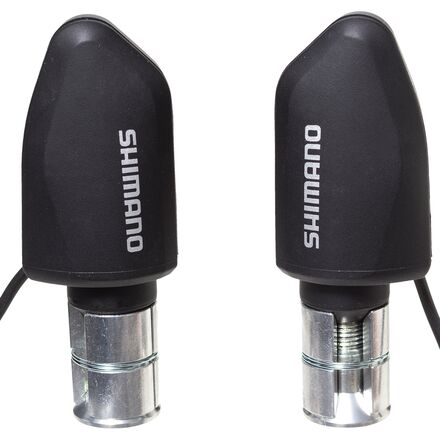 Colors
At the touch of a button.
While electronic shifting has several advantages for road bike, the advantages are even greater for TT bikes. Of course perfect shifting, no more dropped chains, and the lack of moving, oddly routed cables and housing are advantages for everyone. But the big difference between TT and road bike shifting is hand position. Not only is shifting on aero bars awkward and inconvenient, but there is a moment while you're grip is changing that's actually kind of dangerous. Shimano Ultegra Di2 Remote TT Shifters change all that with the touch of a button. Instead of adjusting your hand position on the bar, you simply touch the shifter button with your thumb, and it gives you a perfect shift every time. No more friction. No more cable adjustments. No more scary, out-of-control moments.
Safer, more comfortable hand position
Maintenance-free
Cleaner and more aerodynamic
Shift while coasting
Love Di2
Familiarity:

I've used it several times
Can' t say enough good things about these. I have them installed on my TT tri bike and takes the thinking out of shifting. They package is great, less to think about and at a more reasonable price!
Seth Barnes
Are these the SW-R671 shifters?
Scott Y.
Darryl Williams
I have a 2013 venge with Ultegra di2 10 speed. The bike has a 3 port fitting and I wish to set the bike up as a TT bike. Can I do it with these TT shifters. Do the wires plug directly into the brake levers or do I need a 5 port.



Many thanks

Derek


der105891448-0
You need a 5 port junction box unless you have Dura Ace shifters or Ultegra 6800 or 8000 series shifters.
Darryl Williams