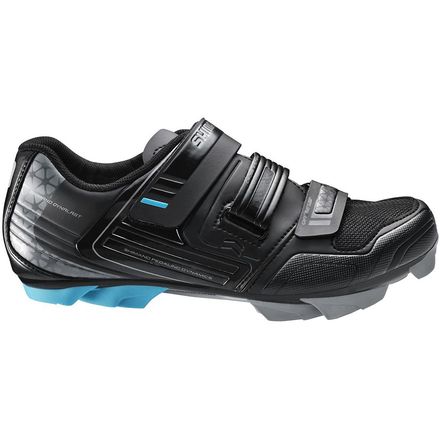 Colors
Sure grip on rough trails.
The Shimano SH-WM53 Women's Mountain Bike Shoes feature clean styling and an outsole stiffness index of five out of 12, which sits in the middle of the spectrum between comfort and competition. In other words, the SH-WM53's have enough flex to stay comfortable through long rides or while on foot and enough stiffness to transfer power efficiently into forward motion.
The SH-WM53's closure system consists of three hook-and-loop straps, with the midfoot strap pulling in the opposite direction to the top and forefoot straps, a design that helps to evenly distribute pressure and provide a secure, comfortable fit. Underfoot, a lugged outsole provides sure grip and easy walkability when scrambling over rocks, climbing over fallen trees, or meandering into your favorite post-ride snack stop.