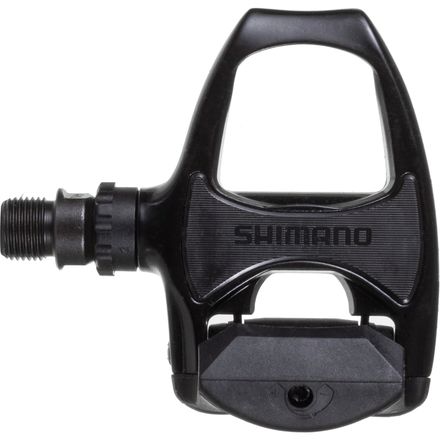 Colors

Detail Images
Tried and trusted.
Ask anyone who's put in hours and hours on the bike about pedals, and they'll likely make a single recommendation: Shimano. Shimano's pedals seem to last forever, require little to no maintenance, and cleats are easy to find when it comes time to replace them. The PD-R540 SPD-SL Pedal seen here is among Shimano's entry-level pedals, but you don't sacrifice performance –it's just a touch heavier than the Ultegra or Dura-Ace offerings.
SPD-SL cleat type
Cleats included
Adjustable spring tension
14.3mm stack height
CroMoly spindle, aluminum pedal body, composite cleat retention bar
Good for beginners
Familiarity:

I've put it through the wringer
Great for someone starting out on a road bike!
Isabelle Powell
First clipless
Familiarity:

I've put it through the wringer
First pedal and I really dig them. They are easy to adjust and I would recommend as a first pedal. Not sure about how they compare with other pedals in regards to weight but again it is a great learner tool.
rla111050360
Not bad for price
Familiarity:

I gave it as a gift but have feedback to share
Not my favorite pedal but gets the job done and works just fine.
Anthony Webster
Unanswered Question
I seem to have a hard time twisting out of the pedal. Any suggestions?
Great Pedals for the price.
Familiarity:

I've put it through the wringer
For the price they can't be beat since they come with the ($18) cleats too. Sure, they are a bit heavier than the more expensive versions of Shimano pedals, but they work perfectly. Clip out tension is adjustable over a wide range. Even at the lightest tension they are secure until you want to clip out, then you're out quite easily.
Stephen M.
Good Beginner Pedal
Familiarity:

I've put it through the wringer
I have Dura Ace pedals on my road bike, but got a pair of these to keep on my stationary bike. It lets me use the same shoes and position and keep money in my wallet.
Marc DiVall
My sisters first clipless
Familiarity:

I gave it as a gift but have feedback to share
If you're looking to get into your first pair of clipless road pedals, this is a great option. Economical and burly. Chances are you'll decide you're comfortable enough being attached to your bike that you want to upgrade long before you'll actually need new pedals. There's no reason these couldn't run great for years.
Spencer Oliphant
Very nice pedals
Familiarity:

I've put it through the wringer
I bought these pedals for a Winter Beater road bike. Very nice pedals and an excellent price. Thank you Competitive Cyclist for the excellent customer service and wonderful help. I'm very happy with my purchase.
Danny S
good for first timers
Familiarity:

I've put it through the wringer
this a great pedal to begin with, a bit heavy but I've had them for about two weeks now and i think they're good. when you become a borderline pro racer is when you should start to worry about how much things weigh
Jose M.
Great Pedals
Familiarity:

I've put it through the wringer
I bought these a few days before my first race and they are great. Also, they were very easy to learn to use. I've since put around 300 miles on them and they're doing awesome.
z.h105526140
Do they compatible with Northwave Evolution S.B.S. Shoe - Men's?
rida
Yes, these pedals will work with and road shoe designed for 3 hole cleats.
Adam D
Great Starter Pedals
Familiarity:

I've used it several times
Great pedals; easy to clip in and out of (from a beginner cyclist's perspective). I think these pedals are are the best bang for your buck in terms of pedals. Sure, the weight and body are a little on the budget side, but when you're paying less than $50 for them, I consider these a must for the beginner cyclist.
Andy C.
Very functional
Familiarity:

I've put it through the wringer
They're really easy to clip in and out of. I'm a first time clip-in user, and it was really easy to get used to them. Additionally, the pedals are big enough to use with normal shoes if you're casually riding your bike to a friend's house and don't want to wear clip-in shoes.
Emily W.
Best Value in Pedals
Familiarity:

I've put it through the wringer
I wound up with a set of these after breaking my Look knockoffs. These were the cheapest pedals my LBS had in stock, and I'm glad they did.



The Good:

--Compatible with the ubiquitous SPD-SL cleat, so spares (both pedals and cleats) can be had quickly in a pinch.

--Excellent support base, especially for my gunboat-sized feet.

--CHEAP; light pedals are great, but there are better places to put your cash than pedals (COACH) if your goal is to go fast.

--Smooth clipping in and out, complete with tune-able release tension.



The Bad:

--Heavier than the pedals further up the Shimano food chain, but such is the cost of budget components.



I raced on these until I got a massive raise at work one year. The Ultegra and 105 pedals have a slightly better support base, but unless you're pushing a couple kilowatts on a regular basis you're not going to miss it. Buy 'em, ride 'em, and enjoy the time on bike!
Michael Nies
Are the PD-R540 compatibale on my indoor...
Are the PD-R540 compatibale on my indoor spinning bike (BodyCraft SPX) ? I have Shimano PD-105 on my road bike, so my shoes with these clips would work.
Joe
Best Answer
I can't say, for sure, whether they'll work, but the best way to check would be to take a pedal off your road bike and see if it will thread onto the crank on your spinning bike. A quick Google search did find several people who put standard-threaded pedals onto their Bodycraft bike, but you might want to check to be sure.
Michael Nies
These were my second pair of clipless (still getting used to the naming scheme of pedals) and these were a fantastic upgrade. I moved up from Crank Bros. candy, and the larger platform makes things just seem more substantial, from when I decide to stand up and hammer it, or just clipping in. I would definitely suggest these.
Nate Tovornik
I got these pedals on a bike, but I need...
I got these pedals on a bike, but I need some cleats to attach to my shoes. I have Shimano MTB shoes that I'd like to use in the meantime until I can get some road shoes. Will my Shimano MTB shoes accommodate cleats for these pedals, and what kind of cleats do I need to get to be compatible with these pedals?

Thanks!
Michael D.
Best Answer
The cleats you need for these pedals are included in the cost. they are a SPD-SL cleat.

That being said the SPC-SL cleat is only compatible with 3-hole mounting bases. Shoes compatible with this cleat have three threaded holes in a triangle pattern.

The shoes you have likely only have a two-hole SPD pattern and will NOT be compatible with this pedal.

You options are to buy a standard SPD pedal for your road bike or get a dedicated set of pedals and shoes for your road rig.
Damon Salter
I love these pedals. They are easy to clip in and out of and work great.
Jeff F.