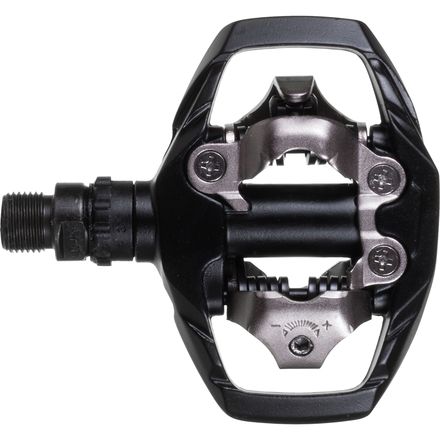 Colors

Community Images
Just a little bit better.
Shimano's SPD pedals have been around forever and, aside from a few additions here and there, have remained pretty much unchanged. The reason is simple: Shimano got it right the first time. The M530 still uses Shimano's tried-and-true SPD retention system, but it incorporates a larger platform to add a bit of support in gnarly sections of trail where you're tossed around.
The M530 SPD MTB pedal incorporates the same smart features that SPDs have incorporated for years. The dual-sided pedals make clipping in a snap. Sealed cartridge bearings make them pretty-much maintenance-free, although if you need to take them apart to clean and grease the internals, it can still be done without any SPD-specific tools. Finally, there's the tension adjustment, which is why many believers have been riding SPDs for years. With a 3mm Allen wrench, you can adjust the release tension of your pedals, so you can customize the feel to your exact comfort level.
Larger platform
Dual-sided entry
Sealed cartridge bearings
Adjustable cleat retention
Exactly what I wanted
Familiarity:

I've used it several times
I use these on one of my road bikes because they let me use shoes I can walk around in when I get where I'm going, but still offer the advantages of using a clipless pedal. Dual-sided entry is easy to engage. Wider platform allows limited use of street shoes for short periods. I like these a lot better than my dual-purpose (SPD/flat) pedals which I plan to replace soon.
Perry V.
Works well
Familiarity:

I've used it several times
I was looking for something to replace my old, speedplay pedals after my road shoes fell apart. Instead of buying new shoes, I decided to use my mountain bike shoes for all of my riding these days. These pedals feel great while riding and got them at a great price.
Kelly B.
Still getting used to it
Familiarity:

I've used it several times
This is my first spd pedal and I'm pleased with the overall performance. it's easy to get out of in a pinch, but it's a bit more difficult to clip in. I'm new to this type of pedal, so I'm sure with a few more rides under my belt I'll be able to adjust to it.
Sunn Kim
Uneducated buy. But still works great
Both sides are clips. In hinde sight. Might have splurged the 43.99 for the pedal/clip combo jobs. Nonetheless, clips are the single greatest advantage in the mtb world.
Ty E.
Really Enjoy SPD Clip Ins
Familiarity:

I've used it several times
I have always enjoyed SPD clip in pedals. This specific pedal has a great shape and enough surface area if you are not looking to clip in and do a quick ride down to grab some fro-yo. Easy to get clipped in and un-clipped as well! Definitely recommend this pedal from beginners to high intermediate bikers.
Collin Doherty
From a Beginner - Awesome
Familiarity:

I've put it through the wringer
So I had never clipped in before buying these pedals, and finally decided to bite the bullet. Soooooo worth it!

Backstory: I bought a sweet new bike to commute to town for work, and my ride home is about 7 miles and 1000 feet uphill. Hoping the pedaling efficiency would be worth the investment in pedals and shoes, I set aside my fears of toppling over at an intersection and went for it.

Long story short, my fears were way overblown. I'd commuted to work for years in the flatter lands of the Texas Hillcountry, and needless to say, riding bikes is flat out fun regardless of steed or style. My first day clipping in with these SPDs, I was convinced I'd never own a bike build for pavement without clipless pedals again.

These make a lovely click when you step in, so you're assured of your purchase. That said, the platforms are large enough to suffice in the event you're (I'm ?) not versed enough to nail 100% of your clips at every intersection after you've waited for your turn to get back spinning.

Getting unclipped is simple, I've yet to blow an unclip and embarrass myself, though I'm certainly sure to now that I've jinxed it.

What these pedals aren't is light, they're made of bomber metal and are quite substantially weighted. I'm not docking them any stars, however, as I don't feel like this is a racing or lightweight branded item. These are purpose built, and that purpose is solidity. They'll get you where you need to go, without fail, day after day. And the price point is unreal, truly. Save a buck here and get a sweet pair of shoes.
Taylor Journey
Economical and robust
Familiarity:

I've put it through the wringer
I put these on my mountain bike last summer and proceeded to ride the living sh*t out of them. At one point I thought the bearings had gone out on the right pedal, but the problem mysteriously healed itself without me having to take the pedal apart. Huzzah! I'm quite pleased with the abuse they've survived, given their rather inexpensive price tag.
Cori B.
Do these pedals come as a pair, or do you have to buy two? Thanks.
Tom Duncan
Hi Tom,



These do come as a pair, so no need to place two orders. I'd be happy to discuss the details of these pedals or help get an order placed if you'd like!



-Kody
Kody Gubler
Excellent pedals
Familiarity:

I've put it through the wringer
Have had these pedals for a few years and love em. They've withstood a heavy amount of hard cross country riding as well a decent amount of downhill. The wide/long base gives great support. With good maintenance, I plan on using these for a few more years.
Benjamin H.
Great pedals for the price
Familiarity:

I've put it through the wringer
Purchased these pedals for my mountain bike. I've pedals in the past that were difficult to clip into at the start because they were too stiff but these worked perfectly from the start. They are also easy to get out of which give you more confidence in sticky situations. Just get 'em.
Darin Cisneros
first clipless pedals
Familiarity:

I've used it once or twice and have initial impressions
I got these to use as my first ever clipless pedals. They are a little heavy but will be good to get started on. For the price, these are hard to beat!
Sheila
These Shimanos are a great entry-level, price point pedal. They run a bit heavy but the ease of use is perfect for someone just learning to go clipless. I'll probably upgrade in the future, but glad I got these in the meantime.
Joe Coughlan
Does the job just fine!
Familiarity:

I've used it several times
These are great pedals, never had any issues. Although on the heavier side, cant beat the price!
Tyler Thunell
These work great!
Familiarity:

I've used it several times
I purchased these for my new bike and I am very happy with them so far! They work great and I have not had any issues with them with my shoes. The larger platform is great for if I am every jumping on my bike quick without my bike shoes on. Very happy with these pedals!
Sara Gemmell
Good value
Familiarity:

I've used it several times
I've always loved Shimano components and these pedals are no different. They're good quality, work really well and are fair value at the price.
Evan Torrance
Do these pedals come with cleats?
Philip B.
Hey Philip! Yes, the pedals do come with cleats! Let me know if you have any questions on them or what shoes you should pair them with and I would be happy to help! My direct line is 801.204.4547 or email me at cojohnson@backcountry.com. Cheers, Connor
Connor Johnson
Do what they should!
Familiarity:

I've put it through the wringer
These pedals have been great. They have held up to some serious abuse and although they are a bit heady, they have lasted quite some time. Very happy with them.
Tyler Thunell
Ehh, shoulda got XTs
Familiarity:

I've used it several times
Work fine, but significantly heavier than XT model. Not as easy to rebuild as XTs either. Dust seal seems to let a lot more dirt in. Kinda wishing I would have got another set of the XTs instead.
Julian R Lyons
Unanswered Question
What size are the shoes and are they like regular shoes because i wear 12.5 in mens

MTB1203-0
Perfect for my park bike!
Familiarity:

I've put it through the wringer
I love to use these on my bigger bike, I can aimlessly try and find my cleat to clip in while I descend down terrain in the mean time. They are heavy, so if you are concerned about weight, go for the XT version. If you are just looking to get into SPD or a clipless setup in general, these are great starters.
Ryan Emery