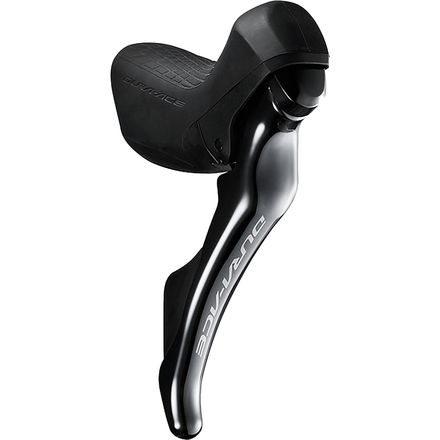 Colors
Barely lift a finger.
For Dura-Ace 9100's redesign, it was only fitting for Shimano to update its ST-R9100 11-Speed STI Shifters alongside the reworked front and rear derailleurs. When it unveiled Dura-Ace 9100, Shimano subsequently gave a nod of solidarity to double cranksets and mechanical shifting for road. Rather than stubbornly refusing to let traditional standards die, Shimano demonstrates these technologies' ability to transition into the future. Sure, a few of us at Competitive unabashedly love the soul of mechanical shifting, but with the crispness, precision, and sinewy curves of the new R9100 Shifters, the system makes the argument for itself.
Shortening up the lever stroke and updating the internal shifting unit were first on the list for the shifters' upgrades, and Shimano succeeded admirably at what it does best: creating incredibly reliable, functional componentry. Quick taps deliver smooth, effortless shifts along the cassette and crankset compared to 9000, whether you're mashing down on the pedals in a race or out for a Sunday hill climb with your ride crew, which places Dura-Ace 9100 at the zenith of mechanical shifting.
Shimano waved its meticulous wand over the brake levers as well, achieving improved hand/lever interaction by carving the lever blades into a more sinuous, contoured shape. This shape enhances braking leverage in a decidedly European style not previously seen from the more utilitarian brand, giving you the ability to shave, rather than dump, speed on serpentine descents from the hoods as well as the drops. Further, the brand cleaned up the hoods, sculpting them into a smaller, more organic shape that enhances both rider comfort as well as the groupset's already classy aesthetics.
Shift and brake with unparalleled reliability and ease
Shorter lever stroke requires less effort and pressure
Reshaped brake levers for easier braking from the hoods
Smaller, more organic hood shape improves rider comfort
Shimano proves that there's still a place for mechanical shifting at the top end
The best!
Familiarity:

I've used it several times
It is Shimano, Dura Ace, it is the best you can get.
José Carlos M.
9100 Dura Ace
Familiarity:

I've put it through the wringer
I used a DA-7800 10 speed for quite a few years. Let me say this, the 7800 was the foundation of the mechanical DA 9100. With that said, the 9100 11-speed FD and RD has the ability to be trimmed to a perfectly silent "transmission". This is by far the quietest setup that I have had as a mechanical. If your considering upgrading from 10-11 speed and you are interested in the DA 9100, go for it! you won't regret it.
Frederick G.
Are derailleur and brake cable set included with the shifters or i have to buy them apart?
Alejandro R.
The cable set will be included with the shifters.
Tommy Liao
Superior ergonomics, flawless smoothness
Shimano has redefined mechanical shifting once again. Ergonomics are absolutely top notch. If you're moving over from a 10 speed or earlier group, the levers are longer so you may have to move to a shorter reach bar or shorter stem though. The small shift paddle is now enlarged to make them easier to reach in the drops. The hoods have a new texture which honestly doesn't make a difference for me, but they look cool at least? The action is ridiculously tight and smooth, it reminds me of my other favorite past time.

Another note is that it is compatible with all 11 speed Shimano derailleurs (5800, 6800, 9000, R8000, obviously R9100). All the necessary cables and housing is included with the shifters.
Tommy Liao
These shifters are great!
Familiarity:

I've used it several times
These shifters are very smooth, the hoods are very comfortable, and the finish is very nice. What more can you ask for?
David H.
Mechanical Perfection
Familiarity:

I've put it through the wringer
I thought the previous gen 9000 was great, and Shimano somehow improved pretty much everything about it. Hoods are a little more comfy, and the lever blade curves a little bit more on the end to aid one fingered light braking perfectly. The shifting of both the front and rear derailleurs are lighter action, but dont lose any of that firm feeling. No complaints
Peter N
Definitely an improvement over 9000
Familiarity:

I've put it through the wringer
Love the shorter throw of the 9100 levers. Grips and set-up are definitely improved, the feel of the hoods is similar to 9000 but they don't seem to get as gummed up. Same great braking feel and lever modulation as 9100.

NOTE: Would recommend running modern shallow-drop bars with these levers given the tad shorter lever throw. Older style bars with a deeper drop will limit the ability to set up the lever throw in correlation to how close the pads are to the rim when not engaged.

Shifting is a bit lighter than DA 9000 but every bit as solid.
Colin C.
I just upgraded form Ultegra to Dura-Ace and love the shorter lever stroke.
Charissa Olsen