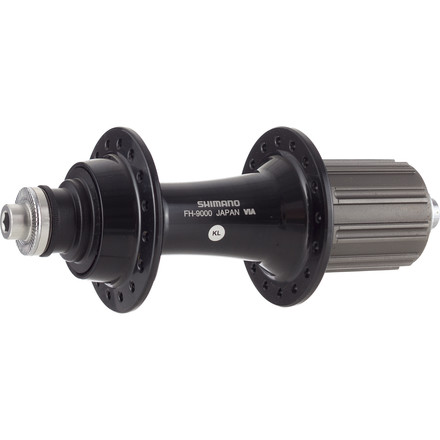 Colors
Uncompromising.
Despite the fact that it's one of the most crucial points of power transfer, the rear hub is often neglected in favor of a focus on bottom brackets and crankset bearings. The cup and cone bearings and labyrinth and contact seals of Shimano's Dura-Ace HB-9000 Rear 11-Speeed Road Hub make them even more reliable than the venerable Ultegra models, ensuring that you won't lose sleep over lost watts due to inefficient or compromised internals.
The hubs feature Shimano's Digital Click Adjustment, which actually refers to your fingers, not some sort of high-tech electronic device operating in a virtual world. Once you've loosened the hubs with an Allen key, you can adjust hubs with your own fingers — no cone wrench required. The freehub body and axle are titanium and aluminum, respectively, to keep the weight down.
Finally, we noted earlier that the cup and cone bearings in these hubs are serviceable. That's definitely something you'll want to do on occasion in order to keep them running in top shape. After all, they're a lightweight, race-tuned set of bearings, which means they're capable of operating at levels that other bearings can only dream of.