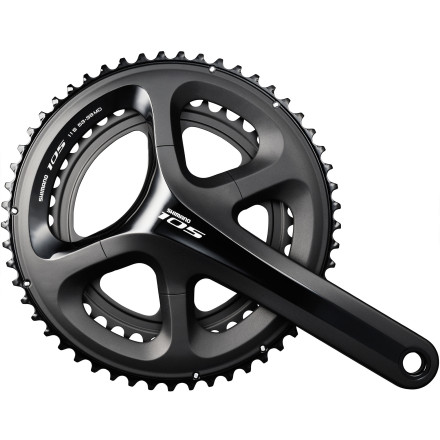 Colors
11 clicks of awesome.
The new 11-speed Shimano 105 group is a huge leap forward from the previous 10-speed family, narrowing the gap to its higher-cost siblings Ultegra and Dura-Ace down to a mere sliver. The 105 FC-5800 11-Speed Crankset gives you oodles of performance and gets the drivetrain rolling without draining your bank account.
This crankset is lighter and stiffer than previous models, featuring a new, eye-catching 4-bolt spider and chainring configuration with carbide construction to increase shifting precision and power transfer. Pairing all that function with its overall sleek design means you'll get down the road fast and look good while you're at it.
Aluminum arms
4-bolt spider/chainring configuration
Available with multiple chainring combination options
its perfect to start to race
Sergio C.
Hard to beat, especially for the $$$
Familiarity:

I've put it through the wringer
Unless you're a severe weight weenier, or have to have a :::slightly::: more attractive crankset, the 105 is as good as it gets.
The rings will wear long and strong and the shifting is plenty smooth.
This is an excellent option for Cross bikes, and Gravel Grinders too, as you wont' be beating up an expensive piece and the rings are affordable enough to have a few ratios on hand.
Ed Kilbourn
Great Crankset
Familiarity:

I've used it several times
Bought the 175mm 52x36 combined with an 11-32 cassette makes it perfect.

With bigger chainrings (I was on 50x34) I feel I can get more speed with a lower cadence. This will make it hard on the hills, but having the 11-28 cassette helps with that.
Andres Soto
THe 105's last forever! Sure they are a bit heavier but i don't care as it is on my commuting bike. Love Shimanos products. High quality, smooth and keeps you spinning all day long!
Nick Watson
105 = Awesome
Familiarity:

I've used it several times
I bought this crank as part of a 105 groupset to put on a spare frame I had laying around. I decided to go with 105 because the 105 has had a history of being Shimano's workhorse group and this 11 speed group is priced great, which leaves money for wheels or cockpit parts. Every component within the group got a good upgrade and resembles features found on the higher priced 11 speed Dura-Ace and Ultegra groups. The 105 groupset also allows for a pretty easy gear configuration if you're interested too (11/32 cassette, long cage rear derailleur & a 50/34 crank). If you're on a budget or want a group for a training bike, the 105 11-speed group is no-brainer option.
Matt F
Underrated performer
Familiarity:

I've used it several times
If you're on a budget but need a quality groupset, 105 is great stuff. It looks awesome in black and functions at 98% of it's more expensive cousins. There's a weight penalty with 105 for sure but the value is impossible to beat.
Ben Towery
Awesome crank for a newbie
Familiarity:

I've used it several times
I am not in a position to pony up for a top end drive train. This is perfect though for what I hope to be a year round commute. The crank is solid, the chain rings are nicely geared and it'll stand up to crap weather and abuse. I ride terrible roads and will put a lot of wear and tear on the bike in the next couple of years. The 105 should live up to the challenge.
Courtney Dean
works great, just heavier than dura ace
Familiarity:

I've put it through the wringer
shifts awesome, stiff, relatively light
Robert Smallman
How about some aesthetics? Why is the entire Shimano line of cranks so damn ugly? I just don't get it.....Wouldn't touch it..
GiantTCR
will shimano 105 fc-5800 11 speed crankset work with kestrel 105 legend road bike. it now has oval concept 520 compact 52/36t that I want to upgrade
rommel C.
Rommel, Your bottom bracket is probably a BB30. So with adpaters, this crankset will work.
Ben Towery
Unanswered Question
does this crank works with BB86 bottom bracket? Fuji SST 1.3
x_p491446739
Will this crank work with my 105 5700 FD, RD and chain?
Tom W.
Best Answer
There shouldn't be any big issues, you may get some slight chain rub as this is meant for 11 speed chains. But it will work with a proper installation.
Gavin McBride