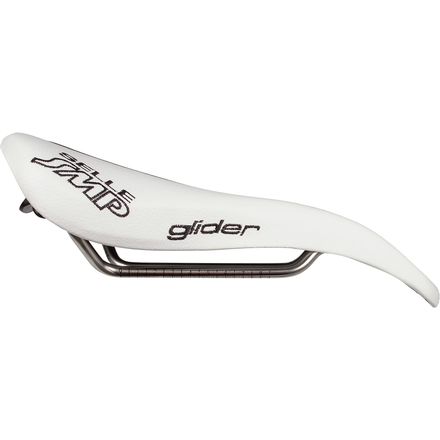 Colors

Detail Images
Glide along in comfort
Upon initial inspection, the Selle SMP saddles may not look like they would be your first choice in comfort. But, looks are deceiving, and once you try it, the Glider saddle may just end up being your favorite saddle.
They aren't the lightest saddle on the market, but they have been developed and produced after careful consideration of how the body actually interfaces with the bike, and if you are going to spend countless hours in the saddle, comfort trumps weight. The Glider, as with all SMP saddles, features a drop beak-shaped nose which relieves pressure from soft tissue regions. This design also means that when you ride, it's easier to roll forward and keep a flat back.
The paddle (widest part of the saddle) has been slightly elevated so that you have something to push on when you climb or take off in the break away. The center of the 136mm wide saddle features a wide cut out which eliminates pressure in the perineal zone. It also keeps all your "bits" from getting crushed. That "highly technical" term is being used all inclusive of the male and female anatomy.
The saddle is built upon traditional steel rails and a nylon/carbon fiber composite shell. You won't need to worry about your saddle being able to handle daily grind-fests without collapsing. Additionally, the padding is a foamed elastomer so that it holds its shape. The cover in black is leather and microfiber in the red and white styles.
The Selle SMP Glider Saddle is 136mm x 266mm and comes in Red, White, or Black.
Didn't work for me, but...
Familiarity:

I've used it several times
1) Not a lot of padding in this seat; your butt will probably rebel at first. Give it at least 3 rides totaling at least 50 miles before you send it back. Your sit bones will almost definitely get to like it, and if you go back to a plush saddle, your butt will rebel again.
2) I went to SMP saddles to prevent perineal numbness. The TRK worked great for that but wore out in 2K miles; also, the TRK has more padding than I'd like. In any case, the tilt of the SMP seats is critical, and I could not find a tilt for the Glider that prevented numbness. I'm below average size (5' 7, 120 mm on the butt-meter). Steve Hogg sells these to 'moderately large or heavy' men and women. I expect this would work if you're larger than average.
3) Appears to be very well made.
4) I ride 25-ish miles 3-4 times a week during Spring, Summer, and into the Fall. I'm not fast. I'm not young. I'm happy to be riding, especially without getting numb. YMMV.
Philip Barry
Cradle of ergonomic selle
Familiarity:

I've used it several times
At 280g, it is not the lightest for those who care about grams. I apparently have wider sitbones and this saddle offers amazing supoort while not being very wide itself. Still mobile on descents!
No saddle compares to the comfort and support offered by this one. It is supportive in climbs and the padding is right where it should be. 4-5 hr rides felt good.
Careful because Selle SMP is not Selle Italia.
George B.
The unique shape of the Selle SMP saddle, takes into account different riding positions by cyclists, regardless of being male or female. Selle SMP's sole purpose is to design a saddle which has the least impact to the compression of the pelvic floor and, at the same time increase blood flow to the leg muscles. The width of the Central Channel of the saddle is anywhere from 3cm to 5cm which prevents the pelvic organs and pudendal arteries from being restricted of blood flow.

The rear of the saddles cutout prevents the coccyx from touching the saddle thus avoiding counterblows when riding on uneven ground.

Sides of the saddles' design follows the shape of the thigh muscles in order to always have the maximum circulation of blood to the legs.

Front of the saddle€s' eagles beak shape €points down and away to relieve pressure from the front of the genitals. Especially beneficial when riding the nose of the saddle while time-trialing. The glider may or not be the best saddle for you. But by looking at the sizing chart and doing a little research on how wide your sit bones are, any Selle SMP will do the job.

Feel free to give me a call or shoot over an email with any questions or comments!
Karissa Lamb
Saved my Butt
Familiarity:

I've put it through the wringer
I rode for 7 years straight and then took almost 10 years out due to having children and my job turning into a traveling job. Then it was just hard to get back. I started using Zwift to ride online with my Kickr. And suddenly I had a ton of miles and easily hit my yearly mileage goal in a few months. The problem was I noticed my butt was really hurting. I've never been picky about saddles, but it was enough to make me take extra days off. So I called CC and talked to an awesome support sales rep. A few days later I received this saddle. I've ridden more miles and have no complaints about pain. None, now it's just due to my tough workout. I was even able to go online and find a YouTube video which enabled me to install it myself. Something I've never done before. It was so easy!
Amber G.