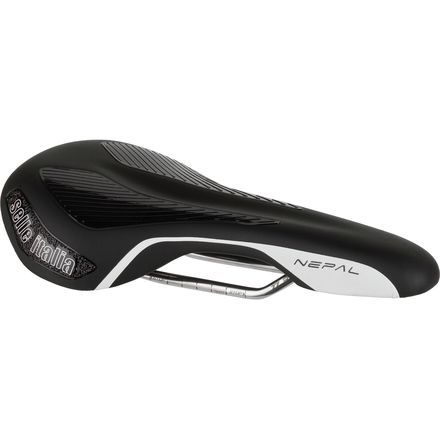 Colors

Detail Images
New option from an old favorite.
For a brand that's been making saddles for the better part of a century, an all-new saddle is a big deal. We're consistently impressed with Selle Italia's approach to innovation, as the firm meticulously returns to the drawing board to craft what it believes is missing from its current offerings instead of relying solely on the success of past designs. The Nepal S Ti Saddle represents a perfect example of this: Selle Italia saw a need for a saddle in its line designed specifically for trail riding, so it shortened and widened its basic road saddle profile and added strategically-placed padding to create a functional choice for riders at either ends of the trail and XC disciplines.
Aside from a profile optimized for singletrack rather than tarmac, Selle Italia adds textured, grippy panels to the Nepal positioned directly under sit bones to further adapt it to the trails. The panels effectively provide extra traction so you're less likely to slide around on the saddle on root-latticed climbs and bumpy traverses. Further addressing comfort on climbs, the Nepal's padded nose makes staying forward to get on top of the pedals less fatiguing on long climbs. Once you pop over the crux and catch your breath, you'll be able to stand up and lean back on a descent without your baggies catching on the back of the saddle courtesy of its rounded back.
The Nepal's shell sits atop light, durable titanium rails, while Selle Italia's beloved Fibra-Tek cover loyally stands between the saddle's padding and the elements. Selle Italia also reinforces the sides of the Nepal, taking the added chance of scuffs and scrapes off-road into consideration and using durable, abrasion-resistant material to equip the Nepal to handle spills with signature Selle Italia grace.
Off-road saddle specifically designed for trail riding
Wider, shorter profile than road saddles
Durable hollow titanium rails
Padded nose and grip panels for comfort on climbs
Abrasion-resistant side panels for longevity
Rounded back won't snag on baggies
Easy choice.
Familiarity:

I've used it several times
On the road, it can be difficult to find that perfect saddle. On the trail, not so much. [At least for me, anyway.] I removed the stock saddle on my new X/C bike, and installed this one. Mostly because of the poor reviews left for the stock saddle. Besides, [the O/E] is a cheap saddle, and I think saddles are too important to go on the "cheap." In the limited time that I have spent riding off road, this saddle has proven to be quite comfortable, and has no sharp corners to snag my shorts while shifting my riding positions. Selle is a brand that I have had used many times with good results. The history continues with this fine saddle.
Eric B.