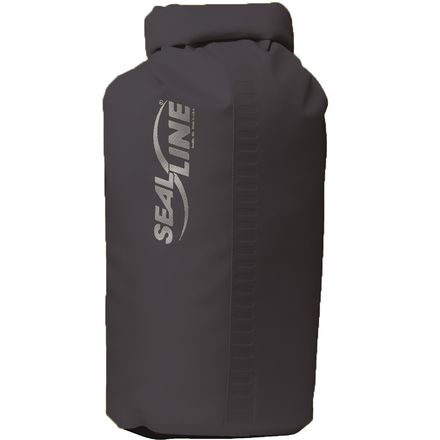 Colors
The river will never see the inside of the SeaLine Baja Dry Bag.
SealLine Baja Dry Bags have been proven on rivers, lakes, and oceans around the world. Versatile and durable, the 20-ounce vinyl sides and heavy-duty 34-ounce bottom withstand just about any abuse Mother Nature, or your crew, can dish out. Baja Bags close with SealLine's Dry Seal roll-down closure and have an attached D-ring for securing inside a raft or on top of a luggage rack. Made with continuous double sealing strips, the roll-down closure is one of the best waterproof closures in existence. Especially handy are instructions embossed directly on the strips, making it easy to get a reliable seal.
Great Dry Bags
Familiarity:

I've used it once or twice and have initial impressions
Used on my first trip to the BWCA. Rough portages gave occasional bumps into rocks and sticks. Plenty of time in the bottom of a canoe. This pliable and tough material held up as good as new, and yes, kept all contents dry.
TODD S.
SealLine Baja Dry Bags
Familiarity:

I've used it several times
Durable, reliable dry bag. What more do you want.
Nate Simpson
Camping issue
Familiarity:

I've put it through the wringer
I love my sealline and have decided i will get more... on my two week camping trip this vacation a storm came in and my tent got ankle deep water about 4 inches yet all i had in the bag was totally dry truly awesome bags.
susanne jensen
Best dry bag I've ever owned!
Familiarity:

I've put it through the wringer
This bag is bomb proof, I throw it in the back of the four wheeler when I go off roading and know that my stuff will stay clean and dry. The bag itself is very heavy duty and well made.
Casey
Ultra heavy duty bag
Familiarity:

I've used it several times
This is the bag I trust anything to go into. It's super durable! Pretty sure they make kids bouncy houses out of this stuff. It's smooth and easy to pack into a kayak, yet tough enough to drag around and pack anything into it. These are my go to bags for all around use. Bonus is that they're made in the USA too.
Marc M.
Good stuff
Familiarity:

I've used it several times
I got this 5 liter bag to have on the deck of my paddle board and it works awesome. I put my phone and stuff in it and it stays dry. I was in Hawaii on a small boat and they had a bunch of these same bags but a little bigger that had been beat to crap and they still where going strong. If you want something durable I would highly recommend this bad.
111p706351
High and Dry!
Familiarity:

I've used it once or twice and have initial impressions
Used this bad boy on a multi day rafting trip. Kept everything so fresh and so clean clean! Nothing got even the littlest bit wet and there was some intense splashing and taking on of water on our boat! Would recommend to everyone :)
Shannon S.
Great bag!
Familiarity:

I've put it through the wringer
I use this bag weekly to keep my jacket, phone and keys dry and in one spot on my sailboat. The green color is much more drab than the picture however.
Ben Towery
Purchased 20L for protecting SLR Camera
Familiarity:

I've used it several times
I purchased this dry bag as an inexpensive way to protect a DSLR camera on fishing trips. It works well for the intended purpose, as I use a an off-brand camera case (built for an SLR Camera with attached lens) to pad my camera inside of the dry bag for extra protection, which allows enough space in the bag to roll the top numerous times for a nice tight seal. I typically carry the dry bag inside of a backpack with the rest of my fishing gear. The bag has kept my camera dry on more than one occasion when wading across rivers, so no complaints on whether or not the product works - it has for me so far.

As far as a dry bag goes - no problems, works well after numerous uses.

If you happen to have the same idea as I did to use this to lug a DSLR around with you while fly fishing - It does work, but the hassle of opening the backpack to open the dry bag to grab the camera case and then to be able to get at your camera is generally more trouble than it's worth in my experience - that being said, I continue to do it and my gear stays dry.
Steven B.
Rubberized protection
Familiarity:

I've used it several times
I don't spend enough time on rivers, but when I do, I like knowing my gear is going to stay dry. Having this bag ensures that the gear I bring on the river never gets wet.

The top of the bag is easy to roll, and does loosen up with some use. As long as you follow the directions on how to close the bag you can be guaranteed that this bag is going to keep your gear dry.

There really isn't a whole lot to say about this bag other than it is build well, and works as described. After watching my bag float down the Colorado River I was nervous that the bag may not work. However, it did, and my gear was completely dry.
Dan Be
Meh
Familiarity:

I've put it through the wringer
I can say that this bag has served me well in the deep slots of utah. But, they need to be rolled very tightly, otherwise water will seep in. I'm fairly convinced this is because of the overly wide rim at the opening. If it were narrower it would be easier to roll tightly. So plan on packing a little less than the advertised capacity. The materials are rugged and seams are good. A little hefty and bulky and to be honest if you're keeping it inside a pack anyways you could do better with something lighter. I'd say look elsewhere personally.
HarrytheMzungu
Used the bag for a sailing race. Our boat capsized and all our gear obviously ended up in the water. We had multiple SeaLine Baja Dry Bags ranging from 10 L to 30 L. All the bags were sealed correctly with at least 3 rolls and floated on the surface of the water. However, all our gear ended up being wet and most of it had to be thrown out. There were other people with the same bags that capsized as well and ended up with wet and corroded/destroyed gear.

These bags are not a good choice if you plan on having them even slightly submerged under water.
Nathaniel E.
I've had the 20L bag for 5+ years, and I've had no issues. Great waterproofing, great space, and no ripped seams or holes. The lining is a bit thick and heavy, but it works, and that's what I care about.
TenfoldDean
tuff stuff
Familiarity:

I've used it several times
I own several dry bags and sacks. Most are OR brand and I love them. In this case, I wanted a durable sack for canyoneering. There are definitely lighter sacks for other tasks; but, I feel confident that this bag will withstand the rigors of canyoneering from inside my pack.

Strength: It's strong and durable
Weakness: It's heavy. look elsewhere if it won't get thrown around too much.
shaun Moyes
I have been using SealLine bags for years on the river, and very much like them. This one is another great model to keep the water out- it's not super thick, in fact I was surprised in how flexible the material is. I was expecting something much more stiff. Very easy to roll and seal the top. Still waiting to take it out and fully submerge it in raging water, will give an updated review then!
Kayla Weiser
Not bad, but there is better
Familiarity:

I've put it through the wringer
I have used this on several extended white water rafting trips and a few day trips. It works pretty well and is a good price. The main problem is that it doesn't hold up as well as some other options. After a year or so, it has started to show wear on the edges and where there are folds. Its a really thick material so once it gets creases in it, especially where it folds to seal at the top, those creases stay. Folding the top carefully is the only way to really seal out the water, and even then, it can leak a little at the top if you don't fold it exactly the same way each time.



This is an excellent choice for someone who wants a bag to use infrequently or for a few specific trips and doesn't want to spend a ton of money. Would also be good for hauling stuff that will be ok on the off chance it gets wet.



A good option for someone who will use a dry bag a ton and is really hard on their gear would be the black canyon dry bag. It's considerably better quality material, though comes at a higher price.
tracy anne
Tough Bag
Familiarity:

I've put it through the wringer
I bought this for a two week canoe trip, and have put it through everything since. The vinyl will take a lot of abuse, and the seal on this thing is great, so long as you roll it right. The downside is that vinyl's heavy and stiff, but this bag is tough as nails and I have never had one leak. You can't beat it for the price.
David Dombrowski
Exceeds expectations
Familiarity:

I've put it through the wringer
I recently bought this bag in the 20L size for canyoneering. I trusted my iPhone inside the bag, and it held up nicely. No water got through, no cracks formed like others have said at the creases, and it performed flawlessly. There are only a few drawbacks I can think of:

1) The bag is really heavy. It's made from REALLY thick vinyl, and it's heavy, but it's burly, bombproof, and really feels completely waterproof.

2) Because of the thick material, it's a bit stiff when rolling up to close.



The black color is really nice, and 20L was big enough for a few snacks, my phone, a change of dry clothes, and a few other small things.
gilipollas
The only bag to buy
Familiarity:

I've put it through the wringer
I've been through lots of different dry bags over the years and will now only use the SeaLine Baja bags. My primary use of the bags is for extended canoe trips (including the 260-mile Texas Water Safari), which invariably result in the bags sitting in the water that accumulates in the bottom of the boat.



These aren't the lightest bags out there, nor are they very supple, but they are tough and don't leak. The tough vinyl material stands up to abuse from boats, rocks, and whatever else you might encounter on the water. It seems every other bag I have used has leaked to some extent, but not the Baja bags.
Raoul Duke
I just picked this dry bag up for a wilderness survival course I'm taking. I haven't field tested it yet but I have used a number of Sealine dry bags in the past and this is no different from them. It's made from a very thick vinyl and looks like it'll take a lot of abuse, which is good for what I'll be using it for. I got the green which is a great color that contrasts well with anything found in nature making it very visible in case you tip your raft or canoe and have to retrieve it. I'll update once I've taken it out into the field.
Alexander S