Seafolly

Active Split Band Hipster Bottom - Women's
Item #SFY001V
Seafolly
Women's Swimwear
XXS
XS
S
M
L
XL
XXL
US Size
2
4
6
8
10
12
14
Bust
32in
(82cm)
33in
(84.5cm)
34in
(87cm)
36in
(92cm)
38in
(97cm)
40in
(102cm)
42in
(107cm)
Waist
24in
(62cm)
25in
(64cm)
26in
(67cm)
28in
(72cm)
30in
(77cm)
32in
(82cm)
34in
(87cm)
Hip
36in
(92cm)
37in
(94.5cm)
38in
(97cm)
40in
(102cm)
42in
(107cm)
44in
(112cm)
46in
(117cm)
Under Bust
27in
(69cm)
28in
(71.5cm)
29in
(74cm)
31in
(79cm)
33in
(84cm)
35in
(89cm)
37in
(94cm)
A Cup Bust
31in
(79.5cm)
32in
(82cm)
33in
(84.5cm)
35in
(89.5cm)
37in
(94.5cm)
39in
(99.5cm)
41in
(104.5cm)
B Cup Bust
32in
(82cm)
33in
(84.5cm)
34in
(87cm)
36in
(92cm)
38in
(97cm)
40in
(102cm)
42in
(107cm)
C Cup Bust
32in
(82cm)
33in
(84.5cm)
34in
(87cm)
36in
(92cm)
38in
(97cm)
40in
(102cm)
42in
(107cm)
D Cup Bust
33in
(84.5cm)
34in
(87cm)
35in
(89.5cm)
37in
(94.5cm)
39in
(99.5cm)
41in
(104.5cm)
43in
(109.5cm)
DD Cup Bust
35in
(89.5cm)
36in
(92cm)
38in
(97cm)
40in
(102cm)
42in
(107cm)
44in
(112cm)
E Cup Bust
36in
(92cm)
37in
(94.5cm)
38in
(99.5cm)
41in
(104.5cm)
43in
(109.5cm)
45in
(114.5cm)
F Cup Bust
37in
(37cm)
38in
(38cm)
40in
(40cm)
42in
(42cm)
44in
(44cm)
46in
(46cm)
How to Measure:

For best results, take measurements over your underwear.

Bust:

Measure under your arms, around the fullest part of your chest.

Hip:

Stand with feet together and measure around the fullest part of the hip.
Select style & size:
Select options
Cancel

Select options

Black, 6

Sale:$36.73

Black, 10

Sale:$36.73
Tech Specs
Material:
nylon, elastane blend
Recommended Use:
beachwear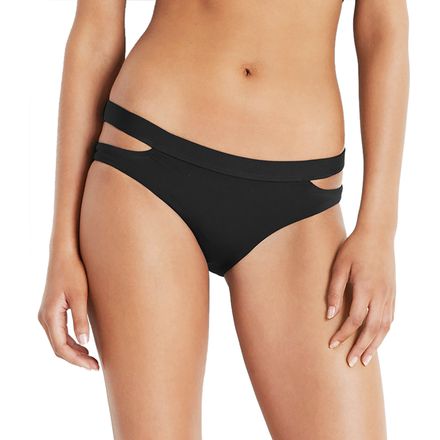 Colors

Detail Images
Frequently purchased together
☃label_view_more_products☃
review

on
Sexy and Functional
These bottoms are hot and, despite the huge cutouts on the side, they actually give you a lot of coverage on your butt. They seem to be pretty functional for watersports if you don't mind looking like a hot mama while you partake in serious endeavors. Go up a size from your usual US pants size
Reed Debus
Height:
5'6"
Weight:
135lbs