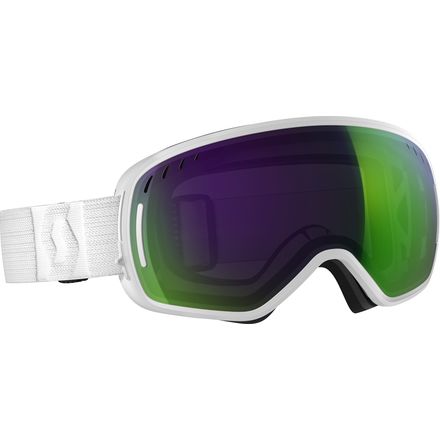 Colors
No-fuss lens swaps.
Conditions change fast on the hill, which is why interchangeable lenses have become such a hot feature on goggles lately, and the Scott LCG goggles have one of the slickest interchangeable setups out there. It employs a sliding lock, which pushes the lens off the frame when it's opened, making changes a breeze. There's a dark and light lens option included with each set, and both lenses use Scott's OptiView spherical technology. They're 3D profiled to match the shape of your eye, and that means less distortion for reduced eye fatigue and better clarity, no matter the conditions. The fit system offers four millimeters of adjustment in the bridge of the nose, so you can fine-tune the fit.
Proposition 65 Warning for California Consumers: This product contains chemicals known to the State of California to cause cancer and/or birth defects or other reproductive harm.
Spherical OptiView lens eliminates lens distortion
LCS system makes switching between lenses quick and easy
Silicone-backed strap stays in place as you ski
Three-layer face foam ensures comfort all day
Medium fit fits a wide range of face sizes
Additional lens for low light conditions included
Included case protects goggles and lenses
Easy to use
Familiarity:

I've used it once or twice and have initial impressions
Really comfortable goggles and changing the lenses is a really easy process
brett wanek
Good until...
Familiarity:

I've used it once or twice and have initial impressions
I tried swapping the lens in the field and the lock mechanism broke. The problem is that the mechanism is part of the frame, so when that happened no lens would go on anymore. It made for an unpleasant, face-full-of-graupel, descent.
For a redesign, I would suggest prioritizing reliability over the ability to swap the lens with googles on the face.
Goran S.
Long time ski bum just got these awesome gogs. Great lenses, great fit, great look. Easiest lens change ever! These are the best, hands down. Highly recommend.
daniel plonsker
Amazing goggles! The lens change system is so easy. It takes me 30 seconds in the field and the light is changing. I love the big size of them, making your peripheral vision huge. All the lenses I've had get the job done, and the goggles come with two, low and high light. Overall, best goggle I've ever used.
Henry Gates
Favorite Goggles Ever
Familiarity:

I've put it through the wringer
The lens changing system is by far the fastest and easiest I've ever used. So nice on a pow day to be able to switch out lenses without taking any gear off my head or face.
wil4483191
Awesome Goggles
Familiarity:

I've used it once or twice and have initial impressions
Fantastic optics, great (custom) fit, easy to change out lenses, they look super cool... these are my favorite goggles ever!
Skier96
Always Seeing Happy
Familiarity:

I've put it through the wringer
The Scott LCG has been my goggle of choice for the past 4 years. These goggles have a really easy to use slide system that allows you to change between a sunny and cloudy lens on a moments notice. The LCG's never fog up on me on boot packs or treks to the summit because of the vent system.
vinzenzk.
My window to the world
Familiarity:

I've put it through the wringer
The SCOTT LCG goggles are my window to the world. My favorite feature is the lens change system, not only does the slider make it easy to change lenses it's also great way to get extra ventilation into the goggles on wet days.
Photo: Chris Bezamat
Dane Tudor
Easy Peasy Lemon Squeezy
Familiarity:

I've put it through the wringer
Most secure, easiest change system available. That simple!
Prestige World Wide
These are really good goggles love the fit and the way they look I'm giving 3 stars because on the second lens that comes with the goggles the foam wasn't properly glued so the lens won't sit down all the way
Alex Guyvan
Excellent in every way
Familiarity:

I've put it through the wringer
Scott hit a home run with these googles. Changing lenses takes 30 seconds, clarity of vision in low/flat light is phenomenal, no-fog, comfortable, great value relative to other googles in the price range--5 stars all around.
Aaron W.
Best Goggle to date
Familiarity:

I've put it through the wringer
I have been wearing my LCG's for the past two years and I have to say I am sold! with about 100 days in them, I have no complaints. The Lens Change system is the best in the game, and I love the ability to adjust the fit of the goggles with ease. Lenses are well designed and fogging has never been an issue. I wouldn't hesitate to purchase again.
Andrew Putt
I Can See Clearly Now
Familiarity:

I've used it several times
I've used these for about 10 backcountry tours recently and so far I love them.

First they fog significantly less than previous goggles that I had owned. It is so nice to be able to ride laps without having fogging vision.

Secondly, the lens swap is super easy, yet your lenses are locked into place when you want them to be.

Finally, they give a wide field of vision without being large enough to cover your entire face, which is wonderful.

I absolutely love these goggles and would highly recommend them.

Feel free to reach out with any questions you have on the goggles:

Phone: 801-204-4680
Email: dgoodman@backcountry.com
Daniel Goodman
So I managed to slap myself in the face with the glue side of my skins yesterday and left glue on the outside of the brand new LCG lens.... Any recommendations for getting it off without ruining it?
Gary S.
Can't guarantee it won't ruin the lens but I would try some Goo Gone. Should be able to get it at your local hardware store.
Matthew Pizza
So in case anyone else pulls this sweet maneuver - I ran it under hot tap water for a long time and wiped it with the goggle bag. It spread but then eventually cleaned up. Pretty sure goo gone would torch these lenses but luckily I didn't have to go there....
Gary S.
I own Scott sunglasses and was so impressed had to try out the goggle... More than happy these are perfect for a day on the slopes.
Ryan Walker
Scott LCG Goggle
Familiarity:

I've put it through the wringer
Scott's interchangeable lens system is the best I've used. Lenses are super easy to change and lock down nice and tight without gap or noticeable air leek.

Large fit. Good stuff.
Cory Heintz
Fit+Versatility
Familiarity:

I've put it through the wringer
The ability to change lenses in the mountains is awesome. This fits well and gives me the ability to change on the fly. Great selection of individual lenses as well.
Patrick Skogen
Lens changes easily and they fit well...
Familiarity:

I've used it several times
I got these near the end of last season, and only used them a dozen times, but I feel I have given them a good test.

The highlights for me are the nice fit, thanks to the rachet system, and the Illuminator 50 lens, which works better than any other low light lens I have tried. For the first time I can charge in low light without worrying about hitting something because I can't make out subtle contours more than 5 feet in front of me. Definitely a game changer for me on less than bluebird days.

The lenses change out easily but I have only used them on mostly gloomy days so I have only changed out the lens twice. On the mountain swaps might be a little tedious with frozen fingers, but I could see how it might be done quickly.

In terms of criticism, I would say they fit kind of big, and the foam around the nose is slightly irritating compared to my last pair of goggles. I also notice that they ice up fairly quickly, and maybe aren't as warm as my last pair, but I'm really stretching to find something negative to say here.

Overall, a versatile and well designed pair of goggles with great lens choices. Make sure you get the Illuminator 50 for low light days.
Jon DiFabio
Great fit easy enough change...
Familiarity:

I've used it several times
Fit better than any goggles I've ever put on my face, partially thanks to the fit system. Easy changing out lenses but you do have to remove the whole goggle from face to do so (unlike the Spy Doom or Anon M2).

I found they do fog up a bit when breathing heavy but it seems to go away fairly quick.

I must add I did return these (in favor of the doom) after testing them out for a couple of weeks. 2 reasons, 1. the black chrome lens wasn't dark enough to handle a bright sunny day. 2. I found the construction of the lens to be a little flimsy at the connectors and was unsure if they would hold up over time.

*A couple nice bonuses, they include a hardshell case for the spare lens. Not very many others on the mountain with these sweet looking googles.
Brooks
Does anyone know what the size of this goggle is compared to smith i/o and i/o x? I currently have i/os, which fit my face and helmet well but could have a better field of view. I just tried on some i/oxs and they were a little too big for my face and definitely too big for my smith maze helmet. The maze has a very small brim and the frame of the i/ox stuck out passed it, which looked ridiculous.
Amos
I'd say these are more like the new Smith IO7! If you thought the IOX was too big, I would definitely check out the new IO7, or the regular IO! OR this would be an awesome option as well. Hit me up if you have any questions LFeasler@backcountry.com
LF