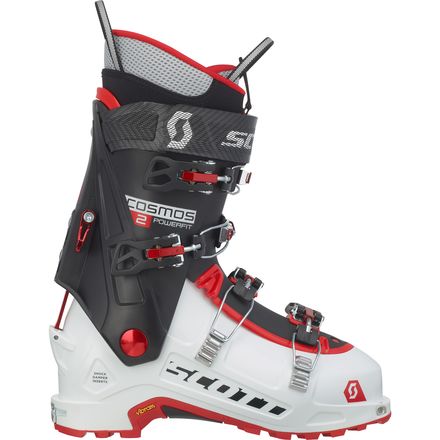 Colors

Detail Images

Community Images
Ski to infinity, and maybe beyond.
If you'd rather not spend your days in the backcountry with your feet crammed into an unforgiving race boot or floating around in a floppy-noodle rando boot, then get yourself the Scott Cosmos II Men's Alpine Touring Boot. Made of a marvelously stiff and light Grilamid plastic, the Cosmos II is a fairly aggressive boot, with a burly flex of 125 and a lean angle of 11.5 degrees. It also weighs just over three pounds, making it seriously competitive in the poundage department. But it's a more powerful boot than many of the other AT offerings out there, including Scott's slightly lighter Orbit II, thanks to the Grilamid and Scott's PowerLite reinforcing ribs that are placed through the shell and cuff. If you're a serious skier who spends serious time getting to serious lines, the Cosmos is one you don't want to miss.
Don't get the impression that it's a one-dimensional downhill boot, either. It has 60 degrees of cuff rotation for easy ankle articulation, a rugged ski/walk switch, and an aluminum lean/lock bar that allows both the shell and the cuff to move freely for a more natural touring motion. Scott's also redesigned the tech fittings, making them Dynafit certified for an easy and solid connection with Dynafit tech bindings.. We'd also be remiss to not mention the PWR Lite liner, which is seamless, fully thermo-moldable, and it has a reinforced tongue for plenty of smooth-flexing power.
A stiff AT boot built for big days in the backcountry
Aggressive 125 flex is stiff and responsive on the downhill
Wide 103.5mm last has a roomier fit
Bi-material tongue gives a progressive flex
Four buckles and power strap deliver a snug and secure fit
60-degree cuff rotation is ideal for long tours
PWR Lite liner is heat-moldable for a customized fit
Vibram sole with shock dampening inserts for comfortable hiking
Excellent performance...until it breaks
Familiarity:

I've used it several times
Super comfortable boot. The 103 last is great for wider feet, and the walk mode gives a ton of range which makes hiking and skinning a breeze. The weight, stiffness, and 4 adjustable buckles really allow you to be one with the boot.



HOWEVER... I bought these boots new and straight snapped the ski walk mechanism after only a month, leaving the boots in permanent walk mode. The walk mode is great when you want it, but provides so much range of motion that it is pretty much impossible to ski with.



They're super comfy so I hate to have to give the boot a bad review, but there's no way the metal should be straight snapping like that. Clearly the boot has some durability issues, in my own experience, and others.



Fortunately Scott have been very helpful, and it's covered by warranty. It seems to be a common problem.
Nick Hindley
Absolutely terrible
Familiarity:

I've put it through the wringer
I've gone through two pairs of these boots, and both pairs disintegrated on me.

1st Pair: These lasted a few weeks, but then on a long tour the ankle canting bolt just fell the f*** out, leaving me with a wet lasagna noodle of a boot despite voilé strap hacks and cranking them down as much as possible. I went into a shop and they were able to replace the canting bolt with some spare Scarpa parts, but then the other canting bolt on the other boot started coming seriously loose. The T-nut was terribly designed and didnt actually stay in place in the countersink, so it just spun and I couldn't tighten it. On top of that, the springs on all 8 buckles broke leaving them to flop around and get caught on stuff. At this point I sent them into Scott for warranty replacement and they sent me new entirely new shells (I kept my liners and booster straps). The new generation of Cosmos II boots use rivets instead of canting bolts, so hopefully other people won't experience this problem.

2nd Pair: These replacement shells lasted all of 2 days before the ski/walk mechanism broke, leaving me in walk mode full-time. I was able to hack together a temporary fix at a workbench, but had to repeat this fix 3 times over 4 days. The guide on our trip had a client experience the exact same issue the week prior, and other people on backcountry have had the same problem. This is a SERIOUS problem that Scott needs to fix ASAP. Then finally, the screws that attach the black plastic tongue to the shells came loose, and one fell out. Again, Scott has clearly had issues with this as well as the new Cosmos II boots have replaced these screws with red plastic rivets. I also broke 3 more buckles.

tl;dr
Scott has numerous serious issues with manufacturing quality and I highly recommend people look elsewhere for a touring boot. 11 broken buckles, 1 broken ski walk mode, 1 ankle canting bolt lost, 1 loose tongue w/ lost screws. It seems Scott has been coming up with solutions for these problems as they come up, but it speaks volumes about their manufacturing quality. These are issues that should never have come up in the first place.
Tom
An excellent product
Familiarity:

I've put it through the wringer
I've put about 30 back country days, including hut trips, and a few ski area days, on these boots. I'm a big guy and ski hard, with tech bindings. There have been no problems with the Cosmos 2, and I find them comfortable and able to transfer power to my skis like the best alpine boots. The cuffs are so stiff I usually ski in Walk mode, saving the Ski mode for really technical descents. So how anyone is breaking the tongues or unable to ski in walk mode is beyond me. I find the grilamid plastic performs very consistently no matter what the temperature (better than Pebax), and the buckles strong. I added foil tape to the liners to make them a bit warmer, and some short flat webbing loops to the power straps to make them easier to adjust with gloves on. Great uphill performance. Not the best boot-packing/rock wandering sole, but so what? I bought them to ski in, and they exceeded my expectations, since it's such a light boot. If you break the walking pin, it's very easy to fix/upgrade. Deal with it. DON'T use with old, outdated frame bindings (Marker Duke).
John Hulburd
Should be recalled
Familiarity:

I've used it several times
I bought last years pair in the summer, skied about 10 times on them and was traversing when the left boots walking mechanism snapped. I ate it pretty hard and was lucky I wasn't on a steep traverse or spine or I could have been very seriously injured. On the way down the other one broke as well!

The walking pin is a 2mm ALUMINUM screw holding onto a 3mm insert. THAT'S IT! I am 181cm (6 ft) and 96kg (200lbs). There is no way that could hold me, and it didn't.

These really should be recalled before someone is badly hurt.

Also, aside from the safety concern the plastic is total crap. Using an apline binding, in this case a Market Duke, totally ate up the plastic on the heel and the toe. Very poor quality.

The boot wasn't all bad, it is comfortable with good range of motion on the hike.
Dylan J.
Mixed
Familiarity:

I've put it through the wringer
I really like the lightness of this boot. And they are comfortable. Having said that I've broken: 2 buckles on one, the walk mode on both, and just realized that I have cracks in both tongues (at the angle where your leg flexes over your foot). Granted I'm a L-XL sort of person and rely more on power than finesse. Bottom line I really really like this boot, but I keep breaking them.
Brett Z.
I will give that to those Cosmo II boots, they are very comfortable. But you must know that the Walk/Ski mode is deficient. When you go down a slope, the only thing that Keep you lock in Ski mode is the tip of a screw! I had my left boot popped when I was riding pretty fast! It just broke with a bit of pressure! Lucky me I was in a clear Space. Couple of week later, the other one did the same. Can I ride with confidence in those boots? Nope! I went to a ski shop to ask them if they had a replacement screw (was on a ski trip in Whistler) and the lady at the ski shop told me that 2 other persons had the same problem).
A useless pair of boots, an almost ruined ski trip ( had to rental), merci beaucoup Scott!!
STAY AWAY! You Will regret it!!
eric lamarre
Low quality created safety concerns
Familiarity:

I've put it through the wringer
I bought the Cosmos 2 last winter. During my first day using them I had to go back into the shop because the top two buckles were popping off on both boots. It was as though Scott (old Garmont) had distorted paper clips to make buckle closures.

Yesterday one of the pivot fasteners had disappeared.

The plastic on the shell is cheap and when using these boots with Marker Baron bindings that were set by my local ski shop here in Colorado (the boots and bindings were bought together) the back of the boot dug into the binding instead of releasing from the binding, even after I lowered my DIN to 7.

No thanks Scott. I feel grateful to have gotten rid of these boots before they were responsible for an injury or for stranding me in the backcountry.
Blazer
After spending a few seasons jamming my very wide flippers into Maestrale's with painful results, I went on the hunt for AT boots with a big last. There don't seem to be many options out there apart from these Cosmos. I've got high volume feet, EEE width and bunyons, so it seemed like these boots were the only way to go. I haven't toured on them yet but impressions from area skiing so far are that they are a bit on the soft side (a potential advantage in the backcountry) but they hold their own in powder and hard pack conditions when cranked down.
Teleturner
Great Boot
Familiarity:

I've used it several times
Light weight and performs like a champ.
Jamoney