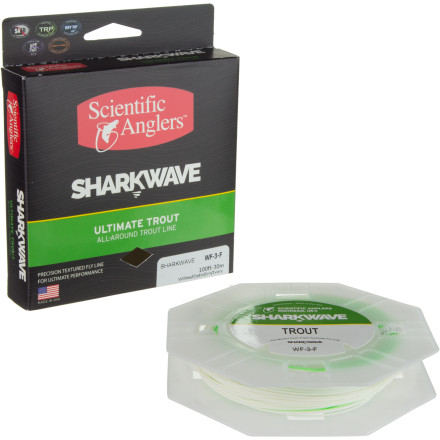 Colors

Community Images
Papa Hemingway would be jealous.
When you're looking to bring a mess of trout to the dinner table, only silky smooth casts will do. The Scientific Anglers Sharkwave Ultimate Trout Taper Fly Line offers friction-free casting for increased distance and accuracy. This textured line features Dry Tip technology for increased buoyancy and is engineered for excellent roll casting, mending, and long pick-ups.
Dry Tip low density technology
Triple-textured
Sharkwave Ultimate Trout taper
Xtra-Strength loops
Engineered for cold to temperate water
Sharkwave
Familiarity:

I've used it once or twice and have initial impressions
This line is textured and has a good grip to it. When casting, it makes a sweet sound while going through the guides and feels very smooth. I can cast so much better with this line than the cheap flyline that i had on my reel.
Joseph
Shoots sooo well
Familiarity:

I've put it through the wringer
This is a great line. It shoots well and picks up for the mend better than anything I've used in the past. Highly recommend. The "zzzz" does take some getting used to as it shoots through your eyelets, but you learn to enjoy it as you know it's doing what it's supposed to do.
Jack L
Bought this for my dad. The line floats well. It also moves through the guides well for smooth casting.
Cameron C
Such Great Line
Familiarity:

I've used it several times
This Sharkwave Ultimate Trout line by Scientific Anglers is awesome. It casts great, floats perfectly, and mends super good as well. Great for delicate presentations, but also nice for those long casts. I love the texture of the line, and the subtle zing noise it makes as it slides through the eyes of your rod. Overall, really nice line and would highly recommend to anyone who is looking to throw some dry flies with great accuracy, but also is looking to toss a good amount of nymphs as well. Lastly, the three tone color scheme is a really cool touch. Feel free to contact me directly with any questions at all on this fly line!
Caleb Lecker
Long casts and quiet presentations
This line shoots through the guides very easily, and seems to land & pick up off the water very quietly. That's a nice combination for casting small flies in slower water where you might not be able to get close to the fish and have to trust your line's stealth factor on longer casts.
Jesse DeKrey
AWESOMENESS!!!
Familiarity:

I've put it through the wringer
I absolutely love this line. Its tough and durable which is a major plus. I love the texture and it has a super cool sound to it. I would suggest it to anyone who does a lot of trout fishing and is looking for something special
Tommy Flitton
Tough and Durable!
Familiarity:

I've put it through the wringer
For those who fish regularly this line is just a step above the rest. Super durable, and wont break down with constant use. Highly recommend!
mbr
This line is by far a favorite when it comes to fishing for all different types of trout. It is amazingly versatile in that it can sit beautifully on a cast that requires that perfect presentation, yet lays out a great drift on an in-line rig. The taper profile is great for throwing into the wind and the materials are durable for those days when you are catching the elusive stick fish. Highly recommend.
Marga
Great Floating Line
Familiarity:

I've used it several times
I bought this for dry fly fishing and it's a great line for that. It's my first experience with textured fly line and really love it. People complain about the noise of textured line, but I kind of like it. I love the feel in your hands and it really glides through your rod's guides, making casting a breeze. The lines floats great and mends very easily too. Overall is a great floating trout line.
I've got is set up on my Orvis H2 , which is tip flex and definitely a faster action rod. I will say that this line doesn't perform super well at short distances with a fast action rod. There isn't quite enough line weight to load those rods properly for casts inside 2 feet or so. That's not the line's fault, it's the rod's fault.
Ned Chanatry
Great Product
Familiarity:

I gave it as a gift but have feedback to share
I bought this as a birthday gift but have feed back to share. Great line, shoots really well with streamers. Paired it with my TFO pro series.
Shayan
Treat Yoself
Familiarity:

I've used it several times
The feel alone of the Sharkwave makes the upgrade worthwhile. It picks up with very little friction, mends like it is hovering above the water and lays down ever so gently.
Jon Collet
From dries to streamers....
Familiarity:

I've put it through the wringer
This is the line I have on most of my reels. I love the taper, and the Sharkwave makes for easy casting and mending. Picks up off the water and shoots like a dream with soft presentation, almost unfair.
Ebon R.
this baby has a soft presentation for dry flies. that long front taper makes it perfect for landing your bug without spooking the fish in the hole.
Travis Tzioumis