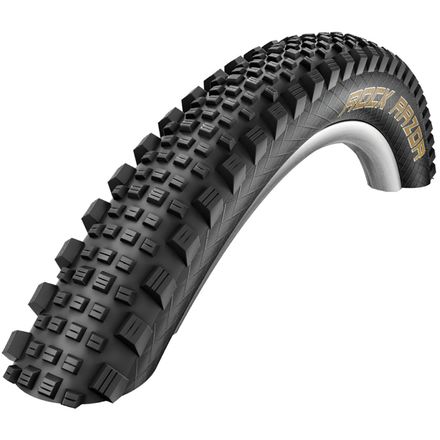 Colors
Schwalbe's fastest gravity tire
With the Rock Razor 27.5in Tire, Schwalbe offers its first true semi-slick gravity and enduro tire that performs superbly on hardpack trails. The Rock Razor features low-profile, medium-spaced center knobs for speed on hardpack (or semi-hardpack), and the tires aggressive side lugs deliver excellent cornering traction, making this the perfect tire for high-speed, technical terrain. Schwalbe quadruple reinforces the sidewalls and provides a double-layer of material just beneath the tread for added protection. The SnakeSkin version of the Rock Razor features the company's original puncture-resisting casing, while the SuperG (for Super Gravity) version bulks up for heavy-duty performance.
Semi-slick design
Low-profile, medium-spaced center knobs for speed on hardpack
Aggressive side lugs for excellent cornering traction
Quadruple reinforced sidewalls
Double-layer of material just beneath tread
Available in SnakeSkin and SuperG version
Actually really liked this tire.
I got this tire in hopes of helping my DH bike roll a bit faster in the bike park. I had magic marys on it which tend to roll very slow in the hardpack so I left one up front and this on the rear and it definitely improved rolling resistance. I was a little nervous at first putting it on because I didn't think that it would brake well but I was surprised at how well it stopped and cornered . After having this and a magic mary on for most of the season I think it's a great combo but will likely be switching back to a Maxxis DHF/DHR combo because even though this is a semi-slick, with the magic mary on the front I still think that the DHF/DHR rolls faster. I also imagine that this would be a great tire if you do a lot of riding down in Moab. Anyways, my 2 cents.
Zach B.
Fast and Sticky
Familiarity:

I've used it several times
I love this style of rear tire, fast nobs on the top and sticky lugs on the side. These things are tacky when you lay them down low on berms, and fast when rolling down the single track. They do fairly well in muddy situations and I haven't had any notable issues whatsoever. I have it paired with the Magic Mary up front, and am SUPER satisfied with the tire setup!!
Ryan Emery
Solid
Familiarity:

I've put it through the wringer
There are lighter and longer-lasting tires out there, but for something that rolls fast, grips hard, and offers real protection against flats and rim damage, the Super Gravity Rock Razor has few equals. Despite the micro-knob center tread, they have a surprising amount of braking traction, and the cornering knobs bite hard across a broader range of trail conditions than you might guess. They wear out fairly fast, especially if you're riding rocky terrain, but the tradeoff will be worthwhile for racers and those who appreciate race-grade rubber.
Garson Fields