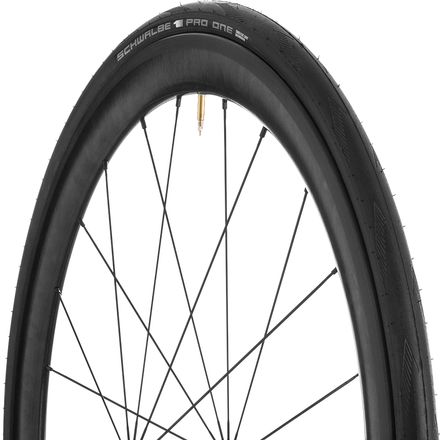 Colors
An impressive update.
Schwalbe's recently updated tubeless road tire, the Pro One Tubeless Tire, sheds weight and rolling resistance compared to the original One tire. Given these advantages, the Pro One makes a compelling case for racing on tubeless tires, and we can only hope to see more race wheels offered in the future that are compatible with them. To improve upon an already solid tire, Schwalbe started with triple compound rubber, adding Snakebite and Sidewall protection that teams with a liquid, tubeless sealant to retain air pressure over time and help resist punctures.
The firm center strip improves the rolling resistance by a claimed ten percent while softer shoulders grip the tarmac for control while cornering at high speeds. Schwalbe's MicroSkin construction adds durability to the Pro One, helping the tire resist ill-intentioned debris on the roads so you get through your race flat-free, while the tubeless construction allows you to race with the tires at lower air pressure and eliminates friction between the tube and tire that can slow you down.
Easy install and Quick bead-up!
Familiarity:

I've used it once or twice and have initial impressions
Installed these Pro One 700 x 25c on a set of Yeoleo Carbon 38s tubeless wheels, went on like butter since the wheels don't have spoke holes, therefore don't need rim tape. The tires beaded up in the first air blast from the tubeless pump and they sealed so well on the rim that I didn't see any residual air leak on pump gauge, but still added 30 ml of Orange Std. sealant for assurance. Took a short ride to feel how they'd perform, they're quiet and comfortable and light as they weighed in at 278g, in comparison to the the out going 25c GP 4000 IIs which weighed in 311g with light tubes.
Juan Contreras
Well worth it.
Familiarity:

I've put it through the wringer
I've pretty much been a Conti GP4000 rider the last couple years.
I ordered these to put on my first set of tubeless rims. Set-up was a bit tricky, but it was likely operator error, not the tires. Once they were good to go I had 3 days until a century in rural Colorado.

Wow, these were responsive, light and rolled great. Well worth the cost for a quality tire. So happy I chose these.
bra106044899-0
Tubeless road? Yes please
Familiarity:

I've put it through the wringer
Road tubeless is the only way to go. You get lightweight wheels with better bump sensitivity, more grip, and faster times.
nathanael mackay
Great tires initially but no reliability
Familiarity:

I've put it through the wringer
I loved the feel of these tires initially as it takes the hardness out of many road variations. The problem was long term reliability as I found out like many others where after so many miles it doesn't hold up well. I ended up using tubes in these after ~500 miles to get the most out it. I would recommend using these strictly for racing or limited training and stick to other brands/models till tubeless road tires are more reliable.
Robert Velez
Great comfortable tyre
Familiarity:

I've used it several times
Had issues with one of my two tires. Will need to ride them more to fully determine the quality of them on the long run.
Kelly
These tires came on the SuperSix Evo that I recently purchased. And just like many of the reviews I had read, they lasted about 500 miles before the first issue. At this mileage they do not show much sign of wear, but the tire on the rear wheel will not hold air. Examining the tire does not reveal any large puncture, so it is not immediately clear what the issue is, but I was planning on switching back anyways.
There is likely a reason why Continental doesn't make tubeless road tires.
Eric P.
Prone to cuts, won't seal.
Familiarity:

I've put it through the wringer
Had these tires for a while and they always had sealing issues/problems, along with being difficult to mount. Small punctures failed to seal woth orange seal for some reason, even running at 80PSI. I switched to Mavic Yukison Pro UST and they mount way easier, seem more resistant to cuts and punctures, and seal well with the orange seal (only ever tiny evidence of sprayed orange seal on my seat tube).

Equivelent scenarios with these schwalbes resulted in stopping to put in a tube.
Ethan S.
no longer holds more than 20 psi
Familiarity:

I've used it once or twice and have initial impressions
I just got these tires mounted on my new Aeroad CF SLX 8.0 DISC DI2. Went on two rides, totalling 100 miles, ran over a pebble on the rear and got a flat that just shot all the sealant into the pavement. Now if I try to pump the tired to more than 20 psi, the air and sealant just flows out of the tiny little hole. For comparison, I normally get 1500-2000 miles without these kind of issues on 4000 s2s. So far my first run of tubeless is a wash.
John Watson
slightly different take
Familiarity:

I've put it through the wringer
I have a slightly different experience than the some of the reviewers here. I've been using the same pair of 28mm since June of 2017 as my only ride.
Mounted tubeless quite easily on a set of American Classic Argent, I find the ride to be plush and secure. I weigh around 150 and ride a Spec. Roubaix SL4 (disc). I typically ride at 75psi rear and 70 front. I have around 4000 miles on the tires and have recently experienced one leak. The tire would hold pressure to around 50-55 psi.. more than enough to get home. After I refreshed the sealant (after a year, I assume it would be dry) the tire sealed and is now, as a test holding 100psi overnight.
Another slow leak around six months in was patched with a plug. Stan's regular sealant 20-25mls...
david
Love em
Familiarity:

I've put it through the wringer
These were game changers for me. Mounted them up tubeless and was totally amazed at how plush the ride is, even compared to the Vittoria Rubino Pros they replaced. I have never experienced anything like it. The profile is also more triangular than some other tires i have used, which made them far, far more responsive to turn. The Vittorias, in particular, had a pretty flat profile for 25mm tires on the 19.5mm Easton EC90 rims i am running, so i had to muscle the bike around. The Schwalbes are just telepathic. Grip is fantastic and confidence inspiring.

I don't have enough mileage to comment on durability, so will update this in a few hundred miles.

UPDATE - after 500 miles of super-harsh cratered out MA roads, including some gravel, glass and huge potholes nobody called out in the paceline, these tires are performing line champs - much better than the Contis and Vittorias I ran before. They barely show any wear, which is is incredible - especially since I am pushing 200 lbs. I love these things more every day.
Cusewordsmith
Great feel/traction, HORRIBLE durability
Perfect as a set for crit races, but that's it...



I had read all the reviews but over looked most bad reviews... Sadly... Here's a photo of my tire below, this hole ran out all my sealant without me realizing it and now I'm currently waiting on the side of the road for my ride..

You might think I'm wrong, but I have not hit a single thing with these tires, they only have 3 rides and about 4.5-5 hours on them.. this hole is simply from wear...



Honestly these have been a waste of $80 a pop...
Colter R.
Great feel, ridiculously prone to flats
I rode Hutchinson Fusions (various versions) for years without an issue.

These have great road feel, and I'm sure the rolling resistance is low. But they are without a doubt the most flat-prone tire I've ever ridden.

Minor nicks don't seal. And if they seal at all, they spew sealant when inflated above 60-80 lbs. I'm riding decent roads, and I brush each tire for debris at the end of each ride.

I have them on two new bikes. I've replaced three of the four tires in two months of light mileage and I'm refilling sealant constantly.

These nullify any advantage to riding tubeless. Latex tubes I have to inflate every day would be far superior.
Mitch S.
Trusty Shwalbe!
Familiarity:

I've put it through the wringer
A nice tire that I like to use for everything. Really easy when I set them up tubeless!
CJ Brish
My new go-to.
Familiarity:

I've put it through the wringer
Love, love, love these tires. Sets up tubeless easy. Grippy yet still fairly long wearing and rolls very quickly. Have never had an issue with flats (knock on wood) even while riding a fair bit on gravel and through goatheads. Seems to run a little big but it translates to a smoother ride. If you haven't run tubeless or haven't had the greatest luck with your current setup, give these a try.
Eric White
Grippy
Familiarity:

I've put it through the wringer
First off, these were difficult to install. I used a tubeless pump, soapy water and removed the valve core. I could not get the bead to seat. My buddy in the bike shop used a compressor and the setup was easy.

My first ride on these was in a Crit race and it rained the whole time. I was tentative in the corners at first, but started to gain confidence as the race went on. I started ripping into corners (even on 23c) and had a nice advantage over the field. Couldn't be happier.

I have been on these tires for about 500 miles now and no flats. They seem to be wearing well and i will get many miles in on these. Highly recommend especially if you have a compressor to make the setup easy.
Ian Gonder
Good - OK so far
Familiarity:

I've used it several times
I'll split this between my experience and my wifes.

I have a little over 300 miles on these tires and after years of riding cotton tires (Veloflex / Vittorias) they've taken a bit to get used to. On descents and aggressively around tight turns they tend to drift a tiny bit more than what I'm comfortable with, but it's something that I'm slowly getting used to after spending some time with them on GMR / GRR / Mt. Baldy.

From a durability and longevity standpoint my wife has been on these for the last year and a half with no sign of punctures or cuts, even when they're long in the tooth. She's arguably as aggressive as I am on the descents and hasn't complained about grip around the turns.
Mark VV
So far so good
Familiarity:

I've used it once or twice and have initial impressions
I must admit, my review is based only on my initial impressions. However, not much will change unless I run into durability issues. My Pro Ones are 28s mounted tubeless on DT Swiss R32 rims.
My first experience with Schwalbes was a total dud. That was with Rocket Ron MTB tires. However, since then I've used Racing Ralph MTB tires, X Ones, G Ones and now the Pro One. I've had great luck with all of them and, so far, the Pro One is no different.
Classic Schwalbe these really are "tubeless easy." Just like installing the G Ones, these can be fitted on a rim with just enough tightness to have confidence without being unreasonable to get on. Once they are installed the bead is easy to set and they hold well.
My baseline for road tires is the Conti GP 4000 25m which is an all around excellent tire. I have also run Corsa 25s this year. I've read reviews that suggest the Pro One rolls better than these tires; my initial impression is that the Pro One certainly isn't slower.
As for durability, only time will tell, but after reading that this might be a question mark with the Pro Ones, I was pleased to see that the sidewalls seem solid and far from paper thin. By contrast, the sidewall of a tire like the Corsa feels more like a thick t-shirt than a bike tire (although, I have to admit those handled some rough dirt road riding without a puncture and only failed when the tread was cut.)
I will report back once I've really but these to the test as far as durability. For now, my impression is that they set up easily, look good and roll fast!




Anonymous
Pro Ones
Familiarity:

I've put it through the wringer
I'm nearly at 1500miles on a pair of 25's on Rol clinchers taped up to run tubeless. They went on fairly easy, set up quick with a compressor and no sealant over night to stretch out a bit. Installed abit of sealant next day and went for a 2hr ride at 80psi. Very nice ride. I had 2 rear flats out of the last 8 months with these tires. Just remove, clean, patch and go. This is my 4th pair of different road tubeless[Huthinson, Maxxis, Specialized Ive ran] and by far the best ride. I'm not a fan of anything with tubes as I come from a mostly xc racing background and cyclocross. I think the problem most people are having is the tight fit on different wheelsets. Either way I just ordered a set of 28's.
Bart B.

BikeRadar did a test with 10 different tires and this one won flat out in speed. I'd have to agree. It's a fast tire. And still plenty of grip in the corners. I run this tire tubeless and at about 70-80 PSI. Floats over chipseal and gravel and smooth as butter on the tarmac. I use this tire year round. I admit, It's not the most durable tire I've ever ridden on but I'll take the trade off of a fast tubeless tire over a clincher and tubes any day.
Chase Skidmore
Zero puncture resistance
Familiarity:

I've used it several times
Incredibly weak tire. I would never use them again.
- I bought 3 tires in past two months and all failed with a large puncture that sealant couldn't seal. Precisely, sealant holds up at 40-50 psi, but can't hold it after 80 psi.
Myeongsoo K.