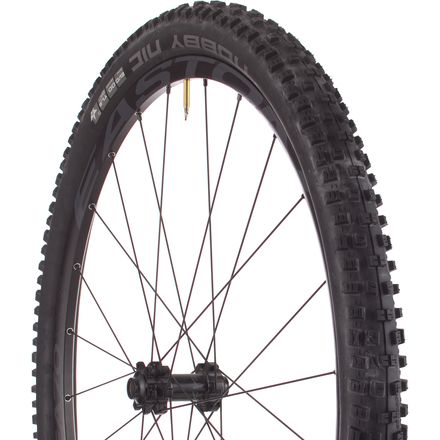 Colors
If it isn't broken …
Schwalbe added some minor improvements to the Nobby Nic 29-inch tires for 2015, beefing up one of its most popular tires without ruining a good thing. The all-condition tread patterns have new slits in the blocks around the center and the shoulders—a minor improvement. This tread pattern is fast-rolling and earth-grabbing—equally at home on technical trails or hardpacked courses. The Nobby Nics use improved SnakeSkin with Double Defense for even more armor against the sharp things you roll over on the trail. Schwalbe doesn't think you should have to worry about punctures, so it changed the name of its tubeless-ready tires to "TL Easy"—the Nobby Nics are some of the easiest tires to install and set up tubeless.
Slightly modified tread pattern
Double Defense SnakeSkin
TL Easy tubeless tires
Light, Strong and Fast
Familiarity:

I've put it through the wringer
What normally follows after that intro is "pick two". With the Schwalbe Nobby Nic you can have it all. Under 800 grams, excellent traction and I haven't torn the sidewall yet. The casing is more supple than my old tires so I have to run a little more air pressure
TomJ
Grippy and Great!
Familiarity:

I've put it through the wringer
I have used the Nobby Nic on 27.5 and 29er builds, as both a front and rear tire. Up front the Nobby Nic provides great traction and tracking in both hard pack and loose dirt and rock. Also for a tire that has such an aggressive tread pattern, overall weight is really respectable. Durability is good and I usually get more than a full season off of a pair.
Brett Cole
Light, tough, and good hook up in dirt
Familiarity:

I've used it several times
Had a spate of bad luck tearing sidewalls on racing ralphs and decided to pull the trigger on these since they were on sale here. After a few hundred miles of mixed spring riding in Utah and AZ on everything from dry hardpack, moist dirt (from spotty snowmelt) and Moab red rock I'm pleased with the all around performance. I'm not a speed racer so I can't tell the difference with the extra grams of rotational weight vs RR (these are still light in comparison to most other tires out there). They set up tubeless with a floor pump on Ibis 941s and also Stan Flows. I've been running them on both the front and rear.
Josh R
Grippy Goodness
Familiarity:

I've put it through the wringer
I have been a fan of Schwalbe MTB tires for years, but I just tried out the Nobby Nic for the first time on my new Ibis Ripley. For this build I used the Nobby Nic on the front for steering and cornering accuracy. So far the Nobby Nic has not let me down and works great not only on dry rocky trail, but does great on soft to muddy conditions.
Brett Cole
Shed some weight on your trail bike.
Familiarity:

I've put it through the wringer
Shwalbe is notorious for producing excellent performing tires without weighing your bike down too much. The revised tread pattern and compound of the Nobby Nic offer the same great traction as the previous version with an increased longevity.
Trevor Linthorst
Lightweight solid tires
Familiarity:

I've put it through the wringer
These are really good tires. I am onto my second set and thus the reason for a 4-star review. With a fair amount of riding in a dry climate, they stopped holding their Stans after a season. Since they are not cheap, I would hope they would last a little longer.
Shae McCowen
I bought these to replace some specialized s-works purgatories and captains. I run tubeless 29ers. I have noticed improved traction on steep standing climbs in gravel or loose dirt where I used to spin out before. Also, I used to see small micro bubbles around the label on the s-works tires when I applied soapy water to the tire which made me think they were inferior quality. No bubbles detected with nobbies; I think they are higher quality and stronger than my previous tires. Tires are a sexy purchase so you should not hesitate to pay a little more for higher quality.
John H.