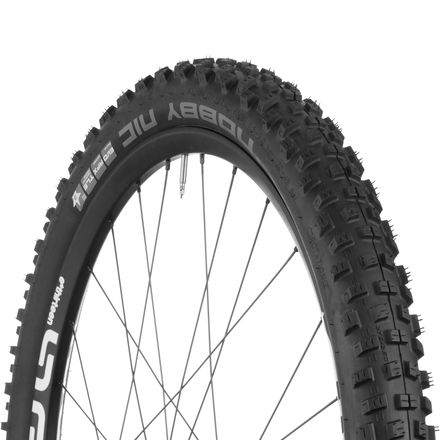 Colors
Cultivating mass.
Beefed up just short of plus-sized territory, the 27.5 x 2.6-inch version of the Schwalbe Nobby Nic Tire has been hitting the gym and slurping down protein shakes to acquire voluminous support for the long trail season ahead. This version retains the sought-after attributes that's made the original a favorite of trail riders, namely its ability to roll smoothly while delivering reliable corning grip at high speeds.
Its larger volume allows you to drastically lower pressure for unrelenting grip around corners and across trail sections strewn with loose rocks. Since its volume falls short of the 3.0-inch behemoths found on 27.5+ rigs, you'll enjoy a significant weight savings in the neighborhood of 100-grams for both the Snakeskin and Apex versions.
It's available with the new Apex casing reinforced with two extra layers of motorcycle carcass for burly sidewall protection and increased stiffness. The Apex version reduces the chance of burping the tire, slashing the sidewall, and bottoming out along the rim, all of which are problematic with many high volume tires. The Snakeskin casing offers lighter reinforcement from the aforementioned issues without as much of a weight penalty.

High volume tire without a significant weight penalty
Voluminous support provides gobs of grip and plush ride
All-terrain tread balances rolling speed with cornering grip
Apex version is reinforced for durability and stiffness
Snakeskin offers lighter reinforcement than Apex casing
Initial info
Familiarity:

I've used it several times
I have yet to get them out on anything challenging, but here are some measurements which might help in your decision to get them.

Just got a pair of Evo, TL, Pacestar, Snakeskin.
Mounted on 23 mm internal width by 24.0 mm external height rims on a Yeti SB5c with 160 Pike fork.

Bead to bead out of the box was 161.5 mm, 6 3/8". A bit narrow, but they stretch.
One tire weighed in at 770 gms, the other at 780. Claimed weight is 810.

Initially, mounted at 45 psi (the rated max), the total height rim+tire was 80.70 mm. Initial width was 57.62 mm for both tread and carcass.

After sitting overnight at 45 psi, I reduced the pressure to 16-18 psi to remeasure.

Running 18 PSI rear and 16 front. Both tires are 62.48 mm, 2.46" carcass and tread.

They fit inside the rear and front easily on this bike.

I'd call them an honest 2.45" tire on a 23 mm inner width rim. It wouldn't surprise me if they were really close to 2.6" on a 30 mm inner width rim, though.

Update, I'm about to get a wheelset with 35 mm inner rim width. I'll report measurements when I do.

Update: 2.61" on 35mm id rims at 14 psi.






Nawrocki