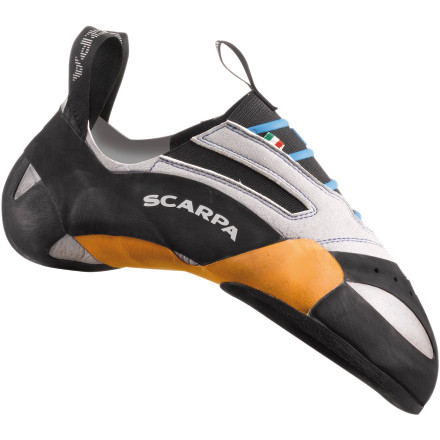 Colors

Detail Images
Those boulders don't stand a chance.
The aggressively downturned Scarpa Stix Climbing Shoe prepares you for technical boulder problems and steep sport routes. X-Tension Randing transfers power directly to your heel and toes for precise movements on tiny footholds, and the reinforced elastic band ensures a snug fit for many years. Microsuede makes the upper flexible without adding too much stretch, and the Flexan midsole keeps the shoe supple for excellent sensitivity. Scarpa teamed up with Vibram to give the XS Grip 2 sole increased traction, enhanced edging, and supreme firmness in all temperatures.
Microsuede upper
Aggressive downturn
Flexan midsole
Vibram XS Grip 2 sole
Reinforced elastic band
X-Tension Randing
Good shoe to get better
Familiarity:

I've put it through the wringer
Is and overoll good shoe. Very aggressive, perfect for bouldering and sport climbing ,specially on the overhang parts. The only reason I don't give a five star rate is because of the saggy hill. I down size 1 1/2 from my regular shoe size and I still fill a empty space on the hill. But for and aggressive slipper shoe it is pretty confortable after you use them a couple of times. I recomend this shoe to any one looking to get better in the sport without braking the bank.
Carlos Resto
Great slipper, imperfect heel
Familiarity:

I've used it several times
The shoe is great. For edging, I actually feel just confident in these as in my Solutions. They also smear really well, to the point that I am rarely using my Futuras, which were my go-to smear shoe. The heel gets a bit loose when they get sweaty. I've climbed 5.12 and V6 in these and they're killer.

I sized these a half size up from my Solutions and the same size as my Futuras - they work well at that size. I also noticed a very short break-in period.
Zane W.
Unanswered Question
I wear a 45.5 in Sportiva Miura VS & Genius. Would a 44 work in these? I have that Morten's toe thing(longer second toe) which makes sizing Climbing Shoes challenging. I'm happy with my Sportivas for outdoors, those two shoes seem to check all the boxes for me, so these would be "solely" for the gym. So comfort is not a huge priority. Thanks.
Brian Lavett
Best bouldering shoe
Familiarity:

I've put it through the wringer

Fit:

True to size
Fist thing I will say quite painful but the way it fits to my foot is incredible. I ended up downsizing quite a bit to get the best fit but im glad I did. I have use this shoe for many comps before and never let me down the edge allowes you to step on the most thing of foot holds and feel solid and the heel is a perfect fit for those heel hooks. Also lots of rubber on the toe so when you go to hook it nothing but grip.
Ethan Hale
Scarpa is Back in the Game
Familiarity:

I've used it several times
I haven't had a pair of Scarpas since the era of the green Minimas and the orange Dom Vs--if you can remember back that far, they just seemed a bit under par in terms of fit, performance, and rubber when stacked up against leading models from Sportiva or Five Ten, but finally the tide has shifted. Under the direction legendary climbing shoe designer Heinz Mariacher, Scarpa's newest shoes, like the Stix, are top notch in terms of fit and performance. Size them right and you won't be disappointed.
Pace Measom
I'll start by saying that I'm a huge fan of almost everything about this shoe. The fit is great - snug yet not too tight - the rubber is super sticky (for a few months), and the toe feels really precise and inspires confidence when toeing in on super small holds. Where this shoe, and most other slipper-style shoes, falls behind is the heel. I've pulled my foot out of the shoe while heelhookingon multiple occasions. All being said, the stix is a great gym/sport shoe that comes at a good value, especially considering the recent increase in climbing shoe prices. 4/5 stars.
Daniel Hupp
I wear a 39 1/2 lasportiva solutions, what size should I go? Half size smaller or bigger? I am a 9 in mens street shoe
Cole N.
I don't know if this well help you. I have a small heel, and the heel for this shoe is softer and a little bigger than the boostic. I ended up having to go down a size and a half from my street shoe. Keep in mind, this is a performance shoe in my quiver, and an awesome one and that. If you have no heel slipping issues and a la sportiva toe box(longer second toe)then I would say you might not have to down size as much.... Maybe just half a size for fun.
Chad C.
Sensitve Slipper
Familiarity:

I've put it through the wringer

Fit:

True to size
A great high performance slipper best suited to overhanging boulders or sport routes. It provides a sharp but sensitive edge that allows deft pulling with your toes but still maintaining enough rigidity for face routes and harder edging. Full toe cover works marvelously for hooking, heal is a thinner design that trades some stiffness for a better feel. Feels to me like a slightly softer and more down turned Instinct S.
Dan Beall
Confused about where these fit in.
Familiarity:

I returned this product before using it
I'm a HUGE fan of the Instinct S. I am a long term LS Cobra fan for Red Rock sport and like (don't love) Muira VS for Mt Charleston (technical footwork with mini edges and smearing). I have heard rave reviews on Boostics compared to Muira VS', but I love slippers. So, I ordered Stix and Boostics. The Stix just don't fit well. I have deadspace in the "cup" area near the ball of my foot, looseness in the arch and the heal is less than solid. So, I returned these after trying them on. (Great return process at Back Country!). I will write a boostic review after climbing with them a few days, but they feel like exactly what I wanted. Instincts are my go to technical red rock shoe and I feel boostics will replace my Muira VS's for Mt C. I just don't see where the Stix fit in. An ill fitting version of the instinct S or a softer version of the boostic without the security of velcro. I love Scarpa, but I feel the sizing (in general )is confusing. I wear 42.5 throughout Sportiva's line, but I wear 43's in Instinct S, 43.5 in Instinct Lace, and 44 in Boostic. 43.5 felt right in Stix, but the shape is just wrong for my foot.
Michael B.
How does the sizing of these compare to...
How does the sizing of these compare to other Scarpa models?

My current sizing line-up looks like this...

Instinct Slipper: 39.5

Instinct VS: 40.5

Boostic: 41

Vaypor V: 41

These new Stix look like a similar forefoot design as the Boostic but I can't find any definitive answer on this.

Thanks in advance for any help!
Joeboy
Best Answer
Not sure how helpful this is but I where my Instinct S, Instinct VS, and Boostic all in a size 40 (or 1.5 sizes below my street shoe), and I wear the Stix in a 40 also.



I think you'd probably fit in either a 40.5 or 41. It is a similar last to the Boostic but not exactly the same.
Paul Nanawa