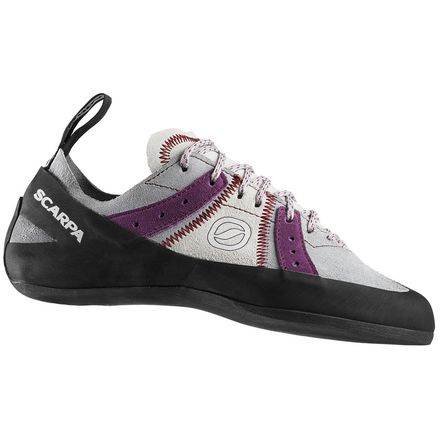 Colors
From the gym to the rock.
Designed specifically with the needs of beginner climbers in mind, the Scarpa Women's Helix Climbing Shoe provides the right blend of comfort and performance at a price the won't break the bank. The midsole gives entry-level climbers initial support yet is sensitive enough for effective toe-downs on smaller footholds as technique and strength improve. Plus, the flat profile allows for a tighter shoe fit for performance or a looser fit for comfort.
Unlined suede uppers provide durable comfort and a snug, no-foot-slip fit
Women-specific fit features a narrow heel and high instep for improved performance
Speed lace system can be quickly adjusted and provides a secure closure
Midsole provides enough support for beginning climbers yet is sensitive enough for toe-downs as strength and technique improve
TAC 100 sticky rubber performs in the gym or on the rock
Improved heel design provides a snug fit for better heel-hooking performance
Padded tongue increases comfort
Flat profile provides edging performance and allows the shoe to be fit for comfort or performance
Great beginner shoe
Familiarity:

I've put it through the wringer
These shoes are great for beginners just getting into climbing. These trusty guys stuck with me through more than a year of abuse both outside and in the gym. I just upgraded to a more aggressive shoe but these have held up well and got me through some tough outdoor slab routes while not causing me to cry because my feet were in so much pain. I have a wider toebox and feel like Scarpa makes shoes better suited for that and the price for these guys is really unbeatable
Jenny B.
Comfortable and well-built
Familiarity:

I've used it several times

Fit:

True to size

Size Bought:

37
I bought these for my wife a few weeks back, and she's in love with the shoes. We'd both been using rented climbing shoes, and having a well-fit pair is miles better than what we were used to.

According to her, the shoes are very comfortable, to the point where she sometimes forgets to take them off in between climbs. The laces allow for a good degree adjustment, so you can get it as tight or loose as you're comfortable with. The padded tongue is a nice touch as well and keeps the top of her feet from getting sore.

She's got smallish feet, a size 6.5, and says these fit true to size per the sizing guide. The fit has made a big difference in her climbing experience, and really made her much happier when we get on route.

Though I'm not personally as interested in the fashion side of things, my wife loves the color and the way the shoes look. Her exact words when she opened the box were,
Peter Tew
Height:
5'10"
Weight:
169lbs
Loyal Shoe
Familiarity:

I've put it through the wringer

Fit:

True to size
I'm the only person I know who can climb all day and never have to take off my shoes. I've been climbing for a little over 2 and a half years now, mostly sport and in the gym and I find this shoe performs pretty well in both situations.



I was given these as a gift since I didn't know what I was doing at the time I needed my first climbing shoe. They broke in incredibly fast at the gym and even during those first days, I didn't need to rip them off my feet when taking a break. These are definitely more of an outdoor sport shoe, though. The soles are soft and rounded so any more technical edge work won't really happen in this shoe (which is what I needed at the gym). It wasn't until I got out on some real rock that I realized I could actually climb well in these shoes. They fit the profile for Washington climbing very well. The rock can be pretty mossy or dirty in places so you have to be patient with your feet and sometimes find odd angles to get around the plant obstacles. Their soft rubber allowed my feet to do some things I couldn't have in a more aggressive shoe.



Like a lot of climbers I know, I'm scared of heights so trusting my gear is even more important than I ever though possible. I never would have started lead climbing without that trust. The picture is of my first lead climb in these shoes. Nothing too scary, but I took longer than most would have. I'm glad I had these shoes mostly for the comfort so I could hang out on the wall and consider my next move without my feet yelling at me.



Now that I've moved more towards harder, technical routes and bouldering, a more aggressive shoe with a harder point is in my future. I will absolutely go back to Scarpa for my future shoes. Great construction and durable. They have been my go to shoe for my whole climbing career and barely show that they have been put under stress. I'll post some close ups later.
Amber H
Super comfy
Familiarity:

I've put it through the wringer

Fit:

True to size
I've had these for a year and used them for gym-climbing 2-3x per week. They only took about 8 hours to break in and are now extremely comfortable. They are a great beginner shoe for someone who doesn't want to be in pain after an hour of climbing or only climbs sporadically. I wear a size 8 street shoe and went for a 7.5 in these shoes which is snug and comfortable. These are not a high-performance shoe - I ended up getting a second pair of shoes (Force-X) for technical gym sessions but plan to keep these for longer outdoor climbs where comfort is key.
ElenaKL
These shoes have been great! They didn't need much break in time, I got them and used them a couple hours later. There was no discomfort or anything. I wear a size 6.5-7 street shoe and got a 37 in these. Snug fit and work great on the wall. Haven't tried them outside yet, but I'm sure they will do well.
Elizabeth J.
Scarpa Helix Climbing Shoe - Women's
Backcountry Video