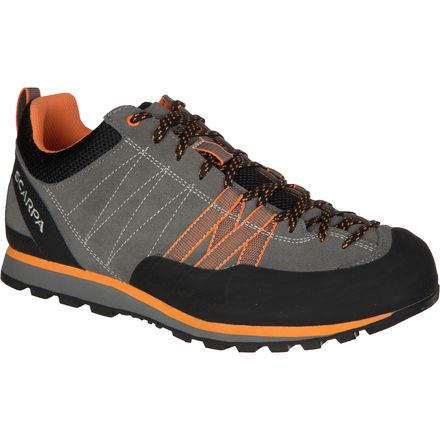 Colors
Nature-friendly kicks.
Part of Scarpa's Planet Friendly initiative to support more sustainable manufacturing practices, the Crux Shoe makes every approach or hike all about a true nature experience. An upper comprised of suede and recycled polyester airmesh encourages ventilation so you aren't sweated out within your first 15 minutes of hiking, and a Vibram Vertical Approach sole helps you get traction on steep surfaces. A microporous EVA midsole cushions under proven pressure zones to maintain comfort even during the most trying approach.
Technical approach shoe with a sustainable construction
Partially recycled construction reduces environmental impact
Durable Vibram sole clings to abrasive granite and slick quartzite
Microporous EVA midsole absorbs impact from rocks and trail debris
Scarpa is a family owned company based out of Northern Italy
bedroom slippers?
Familiarity:

I've used it once or twice and have initial impressions

Fit:

True to size

Size Bought:

41.5
Well, have hiked and climbed for decades, and these shoes are amazing. They are like wearing bedroom slippers in the mountains.
Gareth Davies
Height:
5'7"
Weight:
190lbs
As expected
Familiarity:

I've used it once or twice and have initial impressions

Fit:

Runs large

Size Bought:

31.0
I'm going to start off by saying I bought these because they were on sale. I haven't really used them much, but I can tell you they are sticky, comfy, oddly sized, and they feel like they are gonna be warm in the middle of the summer :-/. I'll post back on that when the time comes. They definitely feel like they will do the job but I still have reservations about them. I'll update later.
Ken Shafer
Height:
6'0"
Weight:
165lbs
love this shoe, use it on my 14er's and hasn't failed yet. 6-10 hours at a time in this shoe with a 40lb pack and no blisters, hands down my go to footwear when temps aren't an concern.

Justin Wheeler
Great all around shoe
Familiarity:

I've put it through the wringer

Fit:

True to size

Size Bought:

40
I love this shoe, I wear them for everything. From a casual around town, to work, to approaches, to moderate hikes this shoe does it all. It has a great fit and is really comfortable. The only negative I could say is the sole does wear out a little fast, everything else is super durable, but that's the trade off of having a little softer rubber that grips extremely well when things get technical.
Ben Melini
Height:
5'4"
Weight:
170lbs
Perfect Fit
Familiarity:

I've used it several times

Fit:

True to size

Size Bought:

9
I'm a size 9 and my foot is slightly wide. These shoes fit perfectly. Scarpa did it right. You're able to customize the fit with the laces as well.

The detailed features make this shoe.
Eric Smith
Height:
5'11"
Weight:
155lbs
Great Approach Shoe
Familiarity:

I've put it through the wringer

Fit:

Runs small
I use this shoe all the time. Whether I am walking around town or hiking up the West Slabs in Utah this is my first choice of shoes when I want something that is going to be comfortable and keep up without weighing me down. The climbing lacing is also a great feature that really allows you to customize the fit.
Wesley Eads
-2 Stars for longevity
Familiarity:

I've put it through the wringer
The Crux was a great shoe... while it lasted. Unfortunately it didn't last long enough for me to want to spent $120 on a second pair.
Shoes are a very subjective experience when it comes to fit. But when it comes to durability and robustness things are easily quantifiable. So while the Crux performed very well-- and I will stress, it performed well-- it cannot win my vote due to the swift deterioration of the midsole.

Pros: Out of the box the Crux felt great. It's a more narrow fit, euro style. The rubber on the toe is durable and the leather upper takes a beating.
I used this shoe for every climb: scrambles at J-tree, 4+ mile approaches to local crags, friction descents, long hikes and even a couple days at work. It has a great style and a nice lacing system.

Cons: Did I push this shoe? Yes. I even ran a couple miles on the trail with these. But I don't think the rigorousness of my use accounts for the short life-span. I'm 6' and weigh 160 lbs. Not exactly a heavy weight. To witness the midsole completely break down within one season, I was a very disappointed. See photos.

To conclude: great shoe, but WAY too expensive for how long it lasted.
Stephen
My fiance just got these and he loves them! He wears them hiking, for approaches and small scrambles, and casually. He almost never takes them off! And I don't mind because the approach style is way less dorky than a traditional hiking boot. They look great and he says they feel great too!
Emery Gaylord
Height:
5'4"
Weight:
135lbs
Still great - Heel cup is out of wack
Familiarity:

I've put it through the wringer

Fit:

True to size
Just bought a second pair second and I still I love these shoe. That being said the heel cup of one of the shoes has shifted a bit which makes them a little uncomfortable, sort of gives them a rolling motion. This is after a year of just about everyday use which is why I bought another pair so I don't think I can make it up to a quality issue. Just thought it would be something to share with the community.
Forbes S
Height:
5'9"
Weight:
170lbs
Wanted to love
Familiarity:

I've put it through the wringer

Fit:

True to size

Size Bought:

44.5
But the tongue.. nothing I've tried has been able to keep the tongue centered. It slides to the outside, then starts bunching up lower down towards the toe.

Otherwise, the shoes are very light and offer enough support while being tactile enough for some finer footwork. I'll probably end up going back to my old workhorse, the Sportiva Boulder X, even if they feel like they weigh 2x more. I'm pretty disappointed by the shoes, but would feel worse trying to return after using them so much.

Will try one more lacing technique before giving up.

Buyers, beware.
Andrew B.
Height:
6'2"
Weight:
175lbs
Quality shoe
Familiarity:

I gave it as a gift but have feedback to share
These are great looking sturdy shoes that feel like they're gonna last me a long time. I've taken them on a few hikes and the shoes have performed well, but they could do with a bit more cushioning. The tongue is also a bit stiff and required a decent amount of breaking in before it became fully comfortable. All in all a great shoe and it lives up to the usual Scarpa quality.
Kate Cronin
Inferior Walking Shoe.
Fit:

True to size

Size Bought:

12
Although a very comfortable, sporty and attractive walking shoe with a vibram sole, my first experience with this Scarpa Cruz product is a terrible dissappoinment. Within 8 months of the purchase the shoe that were used casually for walks and after hour errands (as opposed to daily and all day long) the millimeter thick vibram soles along with rubber heals of both shoes deteriorated significantly. I didn't think about a 1 yr warranty until it was brought to my attention by a Scarpa fan. Having overshot the 1- year warranty by a few days, Scarpa rejected my request to oblige the warranty with the poor crafstmanship and deteriorated / defective soles citing- thats how they wear. I advise that there are far better products available on the market for those seeking a light weight walking shoe.
cor105413229-0
Height:
12'
Weight:
200lbs
Simply a shoe I wear every day
Familiarity:

I've put it through the wringer

Fit:

True to size
I've had research for over a year now and I have put them through just about everything you would expect these shoes to do. From a 30 mile backpacking trip to biking to just wearing them regularly they haven't skipped a beat. I usually like to switch up my shoes, actually I haven't ordered a second pair of the same shoe before but I am going to order another pair for a back up should anything happen to the current pair. Snag one try them out I doubt you'll be disappointed.
Forbes S
Height:
5'10"
Weight:
160lbs
Best shoes I've ever owned
Familiarity:

I've put it through the wringer

Fit:

Runs small

Size Bought:

7.5
Got these just before a two-week climbing trip in El Potrero Chico. They broke in well after four days (some rubbing at the heels before that). These things withstood super sharp rock, cacti, long scree approaches, and handled well on wet, slippery rock, too. I climbed a few easy pitches in them and was surprised that they handled almost as well as my Miuras on large holds. Most importantly, they quickly became super comfortable. The tongue did slide a bit with the original lacing, but when I ran two Xs of the laces through the tongue stabilizer (which seems to be the intended design), the tongue stayed put. I usually wear a size 8 US, but ended up with 7.5 in these for a snug but roomy fit. I have fairly wide feet, so I think I often end up with 8s because of width. But since Scarpas tend to be wide, the 7.5 is perfect.
Ryan M.
Height:
5'7"
Weight:
150lbs
Sticky, supportive, durable.
Familiarity:

I've put it through the wringer

Fit:

True to size
Scarpa's Crux does everything that a good approach shoe should do. They're comfortable, supportive, and durable.
I read a couple of reviews that complained about the relatively €'stiff' midsole that Scarpa chose for the Crux. And, while the Crux is a pretty stiff shoe, I actually see the less-flexible midsole and forefoot as an asset - they scramble and climb so well, in my opinion, because the stiff platform offers such great support.
Mine are pretty stinky at this point, and I guess that smelling bad is a drawback in some scenarios. Still, I kind of enjoy the effect that they have on my personal bubble - sometimes it is kind of nice to have a little extra space.

Conor Hampson
Great shoe
Familiarity:

I've put it through the wringer

Fit:

True to size
I use this shoe for those intense approaches. They have lasted me a long time and when I finally use it to the point I cant ware them I will get another pair. They have such good grip that you can climb the first few pitches of a big wall before you jam your feet in to some tiny shoes. Also I will down size mine just for when I need to climb in them and they are still really comfortable
Ethan Hale
What a shoe
Familiarity:

I've put it through the wringer

Fit:

True to size
I bought these at the beginning of the summer 2016. Best shoe I've ever owned. I replaced the insole with a super feet green. I've used these for hiking, climbing, approaching things, canyoneering, skydiving, mountain biking, casual/everyday, all around solid shoe. I plan on using them to climb the Grand Teton this summer. They clean up well after a day in the mountains/back country. Soles are incredibly grippy. The tongue does slide off to the side a bit but not enough to bother me, I can stitch it myself if it ever does.
Bryce
Unbelievably disappointing
Familiarity:

I've used it several times

Fit:

True to size
I don't review things often, unless they stand out in a good or bad way I leave that to others, having said that I must say this shoe was a huge let down. I wanted these for over a year but since I had scored a pair of nice Merrills at the rei garage sale I couldn't justify the purchase. Finally splurged and got a pair and was initially in love with them, they felt great and looked amazing, but, to my horror, it turns out that with about 10 yards of walking they do the most irritating thing a shoe possibly could. The tongue of the shoe quickly and without fail stuffs into the side of the shoe. I don't understand how people can give the shoe a decent review with them doing this. I have a pretty average size and shaped foot including the arch, so unless I got a defectively made pair I have to assume this happens with all of them. And if this is the case that means scarpa must be aware, theres no way this wouldn't become immediately apparent. My question is, why would they just let that slide (double entendre there)? It's so easily fixed, stitch the damn tongue on the sides, problem solved. Hugely disappointing. Since I would be putting in countless miles and scrambles with these I returned them in disgust. Between this and seeing what happens with their climbing shoes (that rubber piece on top of the toe box that is so ingeniously glued down starts peeling off like a rotting banana peel, bleh) I will likely never buy a pair of scarpas ever again. So disappointed.
Philip D.
Really been digging these approach shoes. The midsole has just enough cushion to keep them comfortable during longer hikes on the trail, and their sole has proven to be grippy on everything from sandstone to granite. They seem to fit slightly large so i sized down a half size. They fit me great out of the box, and I didn't have to deal with any blisters when breaking them in.
Jeff Sorenson
Great Shoes
Familiarity:

I've put it through the wringer

Fit:

True to size

Size Bought:

8
Great all around shoes. Highly comfortable and stylish.
Hans
Height:
5'6"
Weight:
150lbs