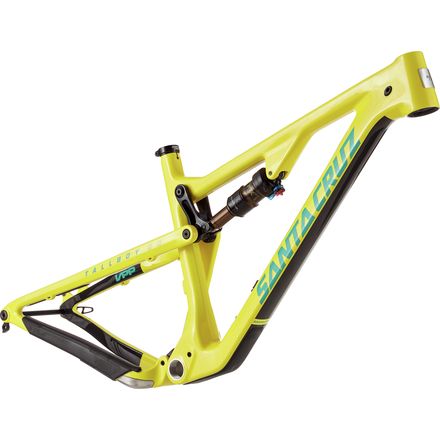 Colors

Detail Images
An ideal blend.
Before you turn away from Santa Cruz's 29er Tallboy, assuming that it's better suited to smooth hardpack and timed XC courses, make sure you've got your facts right. Far from a purebred XC greyhound, the Tallboy Carbon CC Mountain Bike Frame is a third-generation mutt of the best variety. Take it on the kind of chunky, unpredictable terrain your old XC frame would've shied away from to see the best of its mixed trail, enduro, and XC parentage on display.
Unlike previous generations, this year's Tallboy comes with a slacker front end and Boost spacing, giving it enduro eagerness on descents without slowing it down when you duck into a stretch of overgrown, root-latticed switchbacks far away from machine-graded flow. 4.5 inches of travel conspire to keep you trying just about everything with a shrug and a prayer. Depending on the day, choose between the pillowy float of 27.5+ hoops or a 29er's unapologetic affinity for straight lines. Santa Cruz's Flip Chip takes care of geometry swaps, making either a 27.5+ or 29er setup possible without any change to the Tallboy's angles.
When it's time to grind it out on nauseating climbs, ride assured that the Tallboy's top-of-the-line Carbon CC frame arrives whittled down and devoid of an ounce of excess material. Santa Cruz molds it in the lightest carbon layup possible, eliminating stress points while maintaining an impeccable strength-to-weight ratio. Keep in mind that the Tallboy 3's 27.5+ mode best accommodates 2.8in tires, and will likely have clearance issues with some 3in models. As a 29er, trust the 2.35in range to blend cush and traction without feeling sluggish.
An XC mountain bike frame with a hunger for trail terrain
Versatile amount of VPP travel combines XC with trail riding
Moderate geometry climbs well with point-and-click tracking
Flip chip allows for 27.5+ and 29er builds with one frame
Uncompromising stiffness and weight with Carbon CC construction
Reworked geometry proves Santa Cruz Bicycles is always willing to push further
Tall frame for a tall rider
Familiarity:

I've used it several times
I have been forced to ride hard tails because of my height of 6' 9" . I purchased the Santa Cruz Tallboy CC in the XXL size. It has been heaven for me. My riding ability has improved 40%. Now I can be a competitive rider with the "Dino" group that I ride with in Moab. I love going out and having the benefit a carbon fiber full suspension frame and the wonder size of XXL. Thanks Backcounty for the technical support you gave me on choosing the right frame. Hey, I live in Moab UT, so I am putting this frame to the test!!!
moo110838094
I should ride this bike more
Familiarity:

I've put it through the wringer
I have been a huge fan of SC bikes the last couple years, enough to make it the bike that fills our home in the mtb arena. currently we've got a tallboy and highball on the grounds. I have been riding the tallboy more and more, and I'm not sure why. Maybe that FS thing really is a thing and it give me more confidence when I'm flying downhill. Maybe it's because FS bikes have come a long way and now climb like a XC bike should. Maybe it's just fun and easy to ride. I've been on the 29 and 27.5 + and it's hard to call a clear winner. For general fun the 27.5 is the way to go. the 29 is a little faster. Fortunately with the tallboy you can really do both. The tallboy just freaking handles amazing, I paired it with Sram eagle and want for nothing in the gearing, it's all there. There are a lot of spec details I could bore you with but I'll sum it up with it's just an awesome bike. If you want more specifics I'm happy to answer them here personally. kylebrown@competitivecyclist.com or 801-204-4699.
Kyle Br
I think I'm in love...
Familiarity:

I've used it several times
I've been riding a hard-tail for years and have always struggled to stick with others on descents, rocky sections, or root-filled stretches. So, I knew I wanted to go hardtail and I knew that I wanted something that was a little bit XC, a little bit trail. That was the easy part.

When I looked at the landscape of bikes, I was basically lost. There's so much choice and so many options sound great albeit with many too purpose-built for someone who needs a jack-of-all-trades style ride. Enter the Tallboy.

It's just awesome. Easy to dial-in the fit, great manner on both fast XC and when the terrain gets a bit more technical, and just a hot looking ride (with plenty of compliments already).

I opted for a build with a dropper post for some added versatility and that was a smart move. Otherwise, I have a great XT 1x build with a 32t in front and the new 46t rear cog and can basically get up even the steepest pitches.

If you are trying to get something that is fast, fun, pretty light, and serves a cross-section of purposes, the Tallboy is the way to go. You won't be disappointed.
EROCK
SC rounds out the stable!
SC launches its newest generation of the Tallboy with more travel,updated geometry and the ability to run it as a 29r or a 27.5+. The 68 degree headtube and 110 mm of VPP travel gives the newest generation much more depth allowing the bike to descend as well as it climbs. That combined with the new boost spacing (incredible lateral stiffness)rounds out this perfect specimen of a trail/XC bike. Flip the chip and run it as a 27.5+ for desert-dry conditions or winter riding allowing you to shred with wider tires and more traction peace of mind.
We have frames expecting to arrive in mid- May so reserve yours today. If you need help with a custom build or have general question feel free to reach out to me direct.

Wes Branham- Account Manager-Bike
801-204-4542
wbranham@backcountry.com
WesB