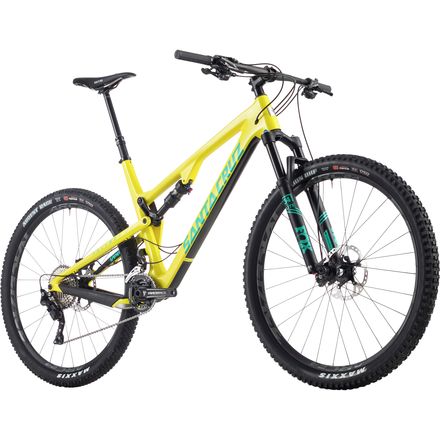 Santa Cruz Bicycles Tallboy Carbon CC 29 XT Complete Mountain Bike - 2017
View Larger Image
Colors

Detail Images
The speed you need.
The go-to choice for Santa Cruz Factory riders seeking a fast-rolling, terrain-eating bike for racing technical courses such as Downieville, the Tallboy Carbon CC 29 XT Complete Mountain Bike excels when it's pushed to the ragged edge where traditional XC bikes would normally falter. We chalk this up to its more relaxed 68-degree head tube angle paired with 110 millimeters of VPP travel striking the sweet spot between pedaling efficiency and bump-absorbing compliance on the descent. In this 29-inch wheel configuration, you'll find it absolutely steamrolls anything standing in your path by increasing the bike's angle of attack over rocks and roots, complemented with a longer 120-millimeter fork smoothing out the rough stuff.
Not only is the newest Tallboy more capable across rough sections of trail and technical XC courses, but it's also interchangeable between 27.5+ and 29-inch wheels with its flip chip integrated into the upper link. The flip chip maintains its geometry between both wheel sizes, so long as you swap in a 130-millimeter fork in 27.5+ configuration. This is a nice addition to the newest Tallboy, as you can readily swap out the included 29-inch wheels for 27.5+ for greater bump compliance and traction on the trail.
The Tallboy employs the third generation of Santa Cruz's VPP Suspension platform, which attaches the upper link to the top tube for greater stiffness and increased stand-over height. The lower link configuration is revised as well, now tucked above the bottom bracket to prevent rock strikes and flinging debris from damaging it. The third-gen VPP platform retains the praised pedaling efficiency you've come to love from VPP, making it an ideal platform for XC racing and trail riding without pedal bob sapping speed across flats or uphill momentum. Another thing to note, Santa Cruz improved its VPP platform for better grip across root-latticed climbs and rock-strewn terrain. This is especially noticeable on long climbs where you'd normally struggle to gain traction over uneven terrain.
We'd be amiss to forget the Carbon CC frame, which is significantly lighter than Santa Cruz's base-level Carbon C frames, due to the use of a higher modulus carbon lay-up that's trimmed away in key areas to reduce weight, but without sacrificing its strength or stiffness. BOOST spacing increases wheel stiffness for better tracking across rough, rowdy terrain, especially notable for the bigger 29-inch wheels on this build. This XT build enjoys the crisp shifting and wide gear range of its XT 2x11 drivetrain for long races and extended climbs where conserving energy is crucial. Shimano XT M8000 disc brakes provide excellent stopping power and modulation, with Ice Tech Rotors preventing brake fade on descents where heat build-up is normally a major issue.
Blurs the line between aggressive XC and trail bike
110mm VPP suspension optimizes efficiency and traction
120mm FOX 34 Float Fork eats up rugged stretches of trail
29in wheels steamroll trail obstacles lying in your way
Flip chip allows you to swap between 27.5+ and 29in wheels
Carbon CC frame shaves weight without compromising stiffness
XT 2x11 drivetrain provides wide gear range and crisp shifts
BOOST axle spacing for greater stiffness of 29in wheels
Gets a high grade
Familiarity:

I've put it through the wringer
A few years ago the tallboy brought me back to mountain biking, it was fun to ride on the dirt again. They have improved the TB since then and it's never disappointed. VPP suspension make it actually ride really well in any direction. Boost spacing just adds more the the whole equation of great handling on this bike. The bike is fast, it will let you go fast, and when you are at speed you'll really feel confident in your ride. between my son and I we've really ridden the TB through about everything and not taken it easy. As will all the Santa Cruz bikes I've owned it's been incredibly solid, with a lifetime warranty it better be. I have run 27.5+ and 29 on this bike and my personal preference is 29, again totally personal preference. The tallboy ranks at the top of my short list all day long. If you have any questions on specifics or sizing feel free to contact me directly at kylebrown@competitivecyclist.com or 801-204-4699.
Kyle Br