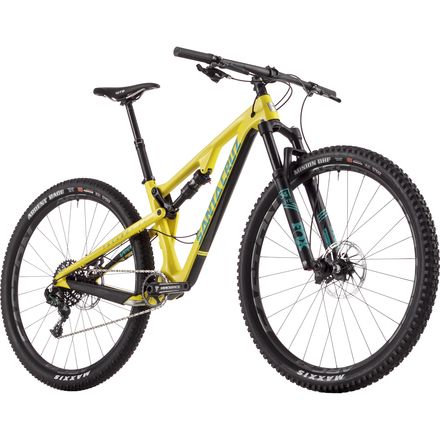 Santa Cruz Bicycles Tallboy Carbon CC 29 X01 Complete Mountain Bike - 2017
View Larger Image
Colors

Detail Images
Do it all.
At the moment, the buzzy, hyperbolic headlines and glory shots littering the covers of the glossies might have you believing that burly all-mountain and enduro bikes are the ones to watch this season, but a closer look across disciplines would reveal that it's not just long-and-low, terrain-devouring rigs that are changing expectations across the mountain world. The definition of XC has quietly become more fluid every year, and with the all-new 2017 Tallboy Carbon CC 29 X01 Complete Mountain Bike, Santa Cruz demonstrates that it's possible for an XC bike to enjoy rough and rocky terrain every bit as much as smooth ribbons of singletrack.
To put it simply, the new Tallboy is a more capable, versatile bike that doesn't stray far from the design that earned it so many loyal devotees. Though the new version counts plenty of notable changes compared to its predecessor, its major changes include a more relaxed, spacious geometry and the improved performance of a reworked linkage that all of Santa Cruz's latest models have received. Santa Cruz also made important modifications to its flip chip technology, first seen on the Hightower, to ready it for use on the Tallboy 3. Flip chip was developed to allow riders to switch between 29 and 27.5+ wheel sizes, and on the Hightower, necessitated a slight change in head tube angle. However, Santa Cruz was able to fine-tune the technology to allow the geometry to remain exactly the same across each wheel size. This means, depending on the day, your Tallboy 3 could be barreling with stability through gouged-up grassy trails and rock gardens, or floating over root-latticed switchbacks with plush, quiet confidence of 27.5+.
By XC standards, the Tallboy 3's head tube angle takes it leaning towards the trail side of things, from a traditional 70.2 degrees to a more relaxed 68 degrees, and Santa Cruz managed to shave a little over 13mm off the chainstay length to bring them down to 17.01in. This, coupled with a significantly longer reach, results in a rear triangle with the snappiness you'll need to dice through the tight and twisties, and a stable, confident front end for diving off the XC course and into the white-knuckle stuff.
Geometry is only half the story, of course, and with such extensive changes, change-averse Tallboy fans will be pleased to learn that the Third Generation VPP suspension platform the Tallboy uses didn't undergo any earth-shattering changes. In fact, it's the same VPP that the Bronson 2.0 and 5010 2.0 received, inspired by the burlier Nomad, which means you get links that stay out of the way to accommodate a piggyback shock's external can without giving up the bottle cage. Because of this, Santa Cruz was able to build the frame with more ground clearance, lower standover, and a stiffer design to complement the already stiff Boost back end.
Third generation VPP also received a few tweaks to its tuning compared to older version, with its new curve deviating from the previous "U" shape and moving towards more of a flattened check mark, with less dramatic ramping on either end of the arc. This improves the suspension's traction and compliance early and towards the middle of the stroke, lending more consistency and grip across root-laced, inconsistent trails. These changes thankfully don't have any impact on acceleration, so the Tallboy 3 remains just as nimble and responsive as its predecessors in case you find yourself on the starting line of a weekend race, with an overall increase in consistency and bump compliance throughout your ride.
Seeing no need to change such a rock-solid construction process, Santa Cruz continues to shape its top-tier Carbon CC frames with a higher modulus carbon than the Carbon C models, allowing engineers to use less material to achieve ideal strength and stiffness levels. That high-modulus carbon is then used to shape each triangle as a whole piece, allowing engineers to continuously shape high-stress junctures and avoid creating weak points or areas of the frame with less structural integrity. Before completion, the carbon is also compacted from the inside as well, eliminating excess material build-up inside the tubing and saving even more weight over quicker, less precise construction methods.
Showing where it believes the future of mountain drivetrains is heading, Santa Cruz allowed the reworked linkage of the Tallboy to define it as one-by only, but it did include ISCG 05 tabs. We still can't speak highly enough about the threaded bottom brackets Santa Cruz specs its bikes with, promising far less creaking and eliminating the headache of dealing with tricky tolerances and inconsistencies of press fit. The Tallboy 3's 27.5+ mode accommodates every manufacturer's 2.8in tires, but you may have issues with some 3in models. Its clearance will decrease as a 29er, of course, but you'll still receive Maxxis' 2.35in Ardent tires out of the box, which are more than capable of providing traction in loose and slick corners and a hearty dose of plushness on the harder stuff.
I'm 5'11'' with shorter than average inseam. Is a M too small? What size would you recommend?
Joseph R.
Hi Joseph, you're in a place where you could probably go both routes- check your inbox- I just you an email with some more details.


Scott Gartman
101%, this one definitely goes to 11
Familiarity:

I've put it through the wringer
I've been riding Santa Cruz bikes since what must be about 2002 or 2003? Whenever the first Blur came out, way back in the 26" days.

Since then, I've frustratingly gone through quite a few bikes. An original Blur, then a Blur Carbon, then a Tallboy and then finally a 5010.

The 5010 was a TON of fun, but it was also a TON of bike. I'm a little older, I have a deep XC background and I live in the Southeast, so 5" of travel, 35mm bars and all that big hit stuff was really just lost on me. And as some others here have mentioned, time on the climbs and flats kinda matters to me as well.

I'm honest enough with myself to know that I am more concerned with keeping my tires as CLOSE to the ground as opposed to as far away and above the ground as possible.

One thing that really struck me with the 5010 was the "new" model 2 geometry - the shortened, Boost rear end mated with the longer front triangle and shorter stem. My first ride on that format and I was wondering "what the heck have we been doing all this time". I shake my own head at myself as I think back to the mid 90s where I was riding a 19" wide handlebar (25.4 diameter), with a 140mm titanium stem (really, how do I still have teeth?!?). To be succint, the new geo is utterly sublime.

Nonetheless, I just didn't need the bruiser that the 5010 is.

Enter Brett Cole, one of the gearheads here at Competitive Cyclist. Brett helped guide me toward this bike, held my hand throughout the entire process and assured me I'd be happy with the purchase.

Let me tell ya - I'm gonna give Brett a big fat kiss and hug whenever I see him. This Tallboy "3" could not be any closer to the sweet spot that is perfection - meaning - this is the perfect bike.

I was barely 50ft into my first ride on it when I noticed that old familiar feeling of how stinking fast those big 29er tires roll. I'm sorry, but there's just no arguing or challenging it. 29ers roll faster, always, everywhere.

Then, as I got up into my first twisty turns, I was hitting the corners faster and I was scrubbing the INSIDES of them? Somehow I was cornering FASTER and TIGHTER on my Tallboy than I could on my 5010. Huh? Phenomenal!

After several hard and long rides on this bike, it dawned on me that this bike is a 101% TRAIL bike. Sure, I guess I could do an XC race on it if I wanted to, but I've been riding and racing way too long to ever ruin another day with an XC race. However, I'll definitely knock out every 50 miler within an 8 hour drive. It cruises like a Mack truck that's stolen, could weigh way less with a different wheelset and has more than enough travel for anybody in the world that is over 35 or doesn't have a pro enduro license.

101% ROWDY TRAIL MACHINE!

If you've ridden a Tallboy in the past and you think you know them, do yourself a favor and rush to a shop and try out this new geometry. The front end flicks around and comes up like a BMX bike when you want it to, yet tracks like a motorcross bike when you need it to. It honestly rides like it weighs 18lbs. This bike is pure, unadulterated fun.

I can't thank Brett Cole and Competitive Cyclist enough for helping get me here.

Keep the rubber side down!!!
CHRISTIAN L
more than one SC in the home
Familiarity:

I've put it through the wringer
This isn't our first Santa Cruz that we've owned so that should say a lot right there. I added a tallboy because I wanted a XC bike that would be a little more of a "fun time" bike along side my highball racer. I have my son riding the bike as well. The tallboy is very easy to handle and rides excellent. Riding with a 50 stem it's great in pretty much every condition. I mostly ride a little more XC territory and I am always a little worried about climbing quickly and efficiently. Uphill was not an issue and it ran up extremely well, I think it's totally race capable as it sits. Descending is smooth and confident. I don't really do any big down hill hits but have gone at it pretty hard and the tallboy is super stable. Eagle shifts very well but it is a tad more clunky with the huge gear range. I have not run into issues with it mechanically. I'm happy to answer sizing questions, as SC runs on the small side, or any questions at all on the tallboy.
Kyle Br
This bike rips
Familiarity:

I've put it through the wringer
I've had this bike for about a month and a half now. I traded up from a Pivot Mach 429 and have been very pleased. It rides a bit different and took some getting used to but I've been very pleased.

I would generally consider myself a trail rider who dabbles in some XC endurance racing. This bike is relatively light and it's easy to put in the miles. It excelles riding both downhill and uphill. Santa Cruz knocked it out of the park with this bike.

I'm 6'0" and fall right on the border of the L and XL (just a heads up the sizing chart listed on this page is not correct and the correct chart can be found on Santa Cruz's site). Based off the measurements for current bikes I own, I opted to go with the L. This has proven to be the correct choice.

I'll likely upgrade to Industry 9 wheels but have been relatively pleased with the DT340/Easton Rim combo. I initially identified this as weak point that has actually turned out to be a serviceable wheel set.
Shawn Craig
This is my third Santa Cruz and my second carbon Tallboy and they just keep making better bikes year after year. This thing does everything really well
steven H.
Dear , how long ir takes to deliver in Miami ?
Rodrigo
We do have a few medium and larges currently in stock finally as of 6/27. If you have question specifically on how this version compares to previous versions feel free to contact me direct.
We do have a few of the 27.5 X01 versions in stock as well.
Wes Branham- Account Manager-Bike
801-204-4542
wbranham@competitivecyclist.com

WesB
Is there a geometry chart for the new Tallboy?
Dave
Hey Dave - Check out the picture below for the geometry chart for the 2017 Tallboy. The specs are slightly different depending on if you build it up as a 29er or a 27.5+. You will need to zoom in but these specs are also available on Santa Cruz's website. Feel free to contact me directly if you are interested in ordering this bike or with any additional questions.

- Kyle L. - Expert Gearhead - klivingston@backcountry.com - 801-736-4337
Kyle Livingston
Pre-ride impressions, confirmed weight!
Familiarity:

I've used it once or twice and have initial impressions
This is the bike I have been waiting on for about 3 years! Having ridden my original Santa Cruz Blur for 12 years, I was beyond excited to hear that the heir apparent to the heir apparent of my beloved Blur has finally materialized. I have been asked a few times regarding the claimed weight, as it seems a bit on the low side for a bike with aluminum rims and a dropper post. When I checked with a shop scale, I was surprised to see 26.10lbs, slightly lighter than the listed 26.45 (12,000 grams) that we have listed! Now I'm even more convinced that this may be my next MTB! The bike could pretty easily brought down to be a very "raceable" 25lbs. This may be the do-it-all bike I've been looking for!

Ed Kilbourn

Gearhead - Bike

Office: 801–736-6396 x4670

ekilbourn@backcountry.com
Ed Kilbourn