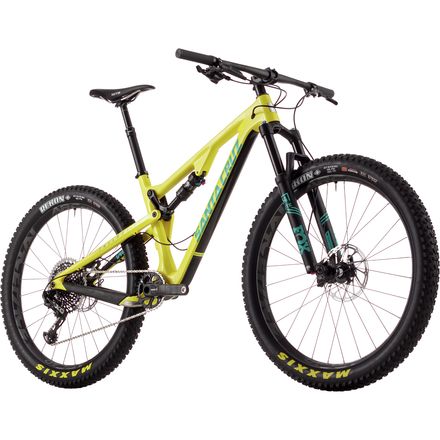 Santa Cruz Bicycles Tallboy Carbon CC 27.5+ X01 Eagle Complete Mountain Bike - 2017
View Larger Image
Colors

Detail Images

Community Images
Cage free.
The latest Tallboy Carbon CC 27.5+ X01 Eagle Complete Mountain Bike is an enigma. On one hand, it's a Tallboy, which originally became a wagon-wheel staple because the always-planted nature of its VPP suspension has long made it ride the way we want a 29er to ride. On the other hand, SC's inclusion of a flip chip in the upper linkage means it can toggle between the OG wagon wheel posture and this 27.5+ set-up. This effectively bends the bars of the previous Tallboy's XC-only cage, giving it more freedom to explore the open pastures of all-mountain riding.
This free-range tendency is further reinforced by the new Tallboy's longer, slacker, and more travel-ier frame, and the addition of SRAM's X01 Eagle 12-speed, one-by drivetrain is yet more mark in the more-than-just-XC column. See? An enigma. And rather than try to pigeonhole it in an arbitrary category based on travel and head tube angle, we find the best way to treat the new free-range Tallboy is to give it free reign on any trail this side of gnarly DH courses.
Given the revolutionary 27.5+ status it confers on the Tallboy, it's worth pausing to dwell on the flip chip. First seen on the five-inch Hightower, the flip chip was developed to allow riders to switch between 29er and 27.5+ wheel sizes. This results in a slight change in head tube angle on the Hightower; however, Santa Cruz has fine-tuned this technology to allow the geometry to remain exactly the same across each wheel size on the Tallboy. This means, depending on the day, your Tallboy 3 could be barreling with stability through gouged-up grassy trails and rock gardens, or floating over root-latticed switchbacks with the plush, quiet confidence of 27.5+ as it's setup here.
Either way, the new Tallboy's head tube angle leans it towards the trail side of the spectrum by dropping from its predecessor's traditional 70.2 degrees to a more relaxed 68 degrees, and Santa Cruz managed to shave a little over 13mm off the chainstay length to bring them down to 17.01in. This, coupled with a longer reach and shorter stem, results in a bike with the snappiness you'll need to dice through the tight and twisties and a stable, confident front end for diving off the XC course and into the white-knuckle stuff.
Geometry is only half the story, of course, and with such extensive changes, change-averse Tallboy fans will be pleased to learn that the Third Generation VPP suspension platform the Tallboy uses didn't undergo any earth-shattering changes. In fact, it's the same VPP that the Bronson 2.0 and 5010 2.0 received, inspired by the burlier Nomad, which means you get links that stay out of the way to accommodate a piggyback shock's external can without giving up the bottle cage. Because of this, Santa Cruz was able to build the frame with more ground clearance, lower standover, and a stiffer design to complement the already stiff Boost back end.
Third generation VPP also receives a few tweaks to its tuning compared to older version, with its new curve deviating from the previous "U" shape and moving towards more of a flattened check mark, with less dramatic ramping on either end of the arc. This improves the suspension's traction and compliance early and towards the middle of the stroke, lending more consistency and grip across root-laced, inconsistent trails. These changes thankfully don't have any impact on acceleration, so the Tallboy remains just as nimble and responsive as its predecessors with an overall increase in consistency and bump compliance throughout your ride.
For all the changes listed above, the Tallboy's Carbon CC construction remains the same. As with previous Carbon CC frames, the Tallboy requires less material to hit Santa Cruz's stiffness targets without sacrificing any of the responsiveness of the less expensive, heavier Carbon C models. Both triangles are constructed as whole, monocoque pieces, which also contributes to keeping weight low because the carbon can be wrapped through junctures and around joints. This eliminates the artificial weak points of bonded frames and actually requires less material in the process. While it's being cured, the frame is compacted from inside and out. This final step eliminates excess material and resin pooling, resulting in more structural integrity and, of course, additional weight savings.
A low-travel race bike that refuses to be caged as XC-only
4.3in of the latest VPP suspension keeps tires glued to the trail
Longer, slacker geometry adds more party to the Tallboy's ride
Santa Cruz's CC construction redefines our expectations of carbon
Flip chip in linkage preserves geometry on 27.5+ and 29in wheels
SRAM's 12-speed drivetrain features the ultimate bailout gear
Santa Cruz Bicycles is never afraid to mess with success in pursuit of improvement
Quiver Killer
Familiarity:

I've put it through the wringer
This is one of the first bikes with "plus" tires that I've spent any significant amount of time on, and I must say, I'm really impressed. The grip and cushion -Utah's terrain is unforgiving, to say the least- is remarkable, and going downhill, the bike feels like it has more travel than the stated 110mm would suggest. That being said, going uphill, the suspension platform and shock tuning turn the bike into a capable climber, one on which I wouldn't mind spending a long day ascending.

Mind you, this isn't an enduro race machine. The Bronson and Hightower LT are better for that. It's a beyond solid all 'rounder. The Tallboy has sharp handling and the headtube is slack enough to create confidence in all but the most steep and technical terrain.

The X01 spec on this bike is money, and the fact that you can swap over to 29" wheels, pushing the bike a bit more to the XC side of things, is simply icing on the cake. This bike is a winner, and with the name Santa Cruz emblazoned on the downtube, you know you're getting one of the highest quality bikes out there.

Feel free to reach out with questions @ crusher@backcountry.com or 801.619.7495
Cory Rusher
Huge fan of the tallboy
Familiarity:

I've put it through the wringer
I have been a huge fan of SC bikes the last couple years, enough to make it the bike that fills our home in the mtb arena. currently we've got a tallboy and highball on the grounds. I have been riding the tallboy more and more, and I'm not sure why. Maybe that FS thing really is a thing and it give me more confidence when I'm flying downhill. Maybe it's because FS bikes have come a long way and now climb like a XC bike should. Maybe it's just fun and easy to ride. I've been on the 29 and 27.5 + and it's hard to call a clear winner. For general fun the 27.5 is the way to go. the 29 is a little faster. Fortunately with the tallboy you can really do both. The tallboy just freaking handles amazing, I paired it with Sram eagle and want for nothing in the gearing, it's all there. There are a lot of spec details I could bore you with but I'll sum it up with it's just an awesome bike. SC sizing runs on the small side so definitely hit me up if you have any questions on that. If you want more specifics I'm happy to answer them here personally. kylebrown@competitivecyclist.com or 801-204-4699.
Kyle Br
Long term review - perfect bike for me!
Familiarity:

I've put it through the wringer
I've owned this bike now for 10 months and I live in New England are ride a mix of fast flowy trails as well as rocks and roots filled singletrack. I do not do a lot of drops and enjoy fast singletrack - so perfect bike for me. If you do more jumps and drops, then you might look at a 5010.

My previous ride was SC Blur, so I wasn't sure what to expect with the new bike as the seating position was so much different and the handlebars felt huge!

Bought the bike with 27.5" wheels and then bought another set of 29" wheels - really like the ability to simply go back and forth between the 2, it only takes me 5 minutes to flip the chip and swap out wheels.

The 27.5" wheels are my favorite setup for trails with fast flowy corners, this bike absolutely rails in the turns!

The 29er wheels do a bit better rolling over baby heads and rocks but you do give up a bit of absolute cornering power (riding 2.35" tires vs the 2.8" tires on the 27.5" wheels).

I weigh around 190 lbs and I found the 27.5" wheels work best with 13/16 PSI (F/R) and the 29ers with 16/19 PSI - once I bought a digital gage (Topeak) and lowered the pressures, the bike handling and grip went to a whole 'nother level!

At NEMBA Fest this year at Kingdom Trails the Fox tech removed one token from my front fork and really made the ride more plush and I have had no issues with bottoming out.

Resist the urge to cut down the bars, I love the leverage they give and the Eagle 1x12 drivetrain is sublime - shifts are imperceptible. Could use better brakes, love the modulation but these don't feel as powerful as my old XT's - I swapped to semi-metallic pads and bite has significantly improved.
Dan D.
Tall Drink of Water
Familiarity:

I've used it several times
This bike EATS ROCKS! It's super fun, if love cruising over rocks with ease. I've demoed a lot of different bike profiles. I really like the climb, so I expected to get a climbing bike. But, I could never get my mind off the 27.5+ tires, since they are so much fun and easy. So, I decided to ride them this year and it's been nothing but smiles.



It's definitely a playful bike, and the components are effortless. I will always support putting money in components, and they really effect your over all game.



This really is for crushing up rocks on the down hill, with a soft ride uphill. My photo doesn't do this bike justice, but it's all I have, right now. These tires are definitely not ideal for a single track. But, who cares?! It will go anywhere.



Also, I feel fine, on the uphill, which is important to me because I love to climb. So, it's really been a good balance of everything. I also like that I can put 29 in wheels on this, if I want to. So, this bike feels like so much FREEDOM!
Emily Jenson
Killer
Familiarity:

I've put it through the wringer
I was given the pleasure of demoing the SANTA CRUZ TALLBOY CARBON CC 27.5+ X01 EAGLE - 2017. I went into it with some biased opinions (27.5+ are slow, sluggish, and a more of a dad style bike) I could not of been more wrong. I had this bike for a week and put it thru the wringer. I rode a good amount of trails in Utah from cross country rides to trails with more technical downhills and jumps. One ride required over 2000 feet of climbing. Also went on a weekend trip to Grand Junction and Fruita, Colorado, and rode many of the classic trails at each. This bike rips!! It handles everything unbelievably, from long climbs to techey down hills. My two previous bikes were the Giant Reign Advanced and the Scott Genius. Both of which are longer travel bikes, the reign coming in at 160mm of travel. I thought I was going to be limited to the trails I could ride because the tallboy has 130mm of travel... I was wrong once again. The plus size wheel made the suspension feel like it had more travel on the down hills. Because of the tire width, it held awesome in the corners and crushed over rocks down and uphill. It may have felt a little more sluggish on some longer climbs but that is a trade off for the confidence you feel from the wider tire on the way up and down. If you are strictly looking for the speed and gravity aspect of riding, I might suggest staying with a 27'5. If you are riding for fun and looking for a bike that can do it all while giving you a little extra confidence with a wider tire, the SANTA CRUZ TALLBOY is epic. If you have any questions hit me at 801-523-4075 or email me at borloski@backcountry.com
Brandon Orloski