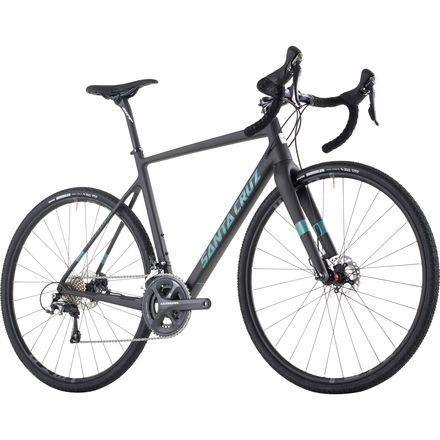 Santa Cruz Bicycles Stigmata Carbon CC Ultegra Complete Cyclocross Bike - 2017
View Larger Image
Colors

Detail Images
The ambassador.
For decades, the worlds of mountain and road bikes were intractably separated, with either discipline keeping a jealous guard on its technological sovereignty. Cyclocross has made some in-roads into this divide, but Santa Cruz's enterprising Stigmata Carbon CC Ultegra Complete Bike is the most complete ambassador between the two rival factions that we've seen to date. Nothing between road, grass, gravel, dirt, and even light singletrack are off-limits for it.
The Stigmata brings together a geometry that triangulates between road, 'cross, and gravel with off-road elements like the 15 and 12x142mm thru-axles you'd expect on a full-suspension trail machine. The wheelbase is actually tighter than many of the other gravel/'cross machines coming out of manufacturers traditionally associated with mountain bikes, but it mimics them in chainstay length and head and seat tube angles. The frame's middle-road geometry recommends the Stigmata as the industry diplomat, able to cleanly transition from light off-road duty to cyclocross to the road simply by changing tires.
The Shimano hydraulic disc brakes and Ultegra drivetrain are just as happy to jump between surfaces, while a list of features originally associated with road machines—including internal routing for cables and hoses, carbon dropouts and disc mounts, and electronic drivetrain compatibility—pull the bike back toward the skinny-tire camp. Whatever your application, the 27.2 millimeter seatpost helps quiet anything from mellow washboard chatter to chipseal tarmac noise, and the tapered head tube makes for a stiff front end for efficient climbing and sprinting with sharp tracking for control when off-road terrain acts up.
A bike that connects road, 'cross, gravel, and hardpack
Pairs modern geometry with Santa Cruz's high-grade CC carbon
Internal cable routing maintains clean lines
Responsive ride complements of thru-axles
Accommodates tires up to 41mm in diameter
Shimano's hydraulic Ultegra build further bridges divides between road and gravel