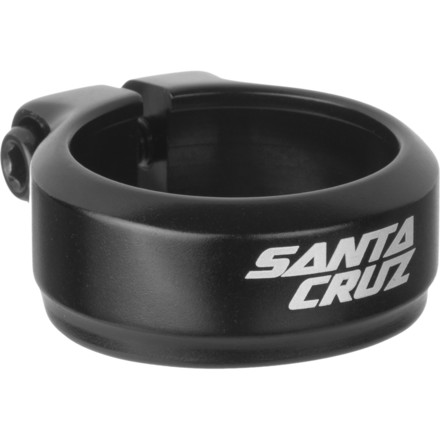 Colors
Clamp that post.
Do you have a Santa Cruz? Do you have a seatpost? Oh baby, do we have something for you — the Santa Cruz Logo Fixed Seatpost Clamp. It subtly styles up your ride and securely holds up your 30.9mm seatpost.
Is this 34.9 or 36.4? I ordered one in the past and it was 36.4. Fit the new 5010 (36.4) but not my Tallboy (34.9). Calipers also measured it at 36.4.

I would order if someone was sure they are. Is 34.9 that are sold and not the 36.4 labeled 34.9.
Doug
Doug- it didn't fit my 2017 Bronson. I think it's 34.9mm, while the Bronson needs the 36.4mm.
Noah L.
Ben B.
Does its job to keep the seat post secure from both the rider and the potential bike thief. Santa Cruz has good customer service to back up their products.
D-rock
Are you sure it's for a 30.9? I think it's for 31.6 diameter seatpost. That's the diameter of my Bronson 2.0 which takes a 34.9mm clamp.
Luke Humphrey
Never mind, my Bronson is a 36.4mm clamp size.
Luke Humphrey
I think something is off...It didn't fit my Bronson


Noah L.
Not much to say, does the job
As far as I'm concerned, a fixed seatpost clamp is great as long as it holds my post. The Santa Cruz Logo is a cool feature and this thing does it's job.
Spencer Oliphant