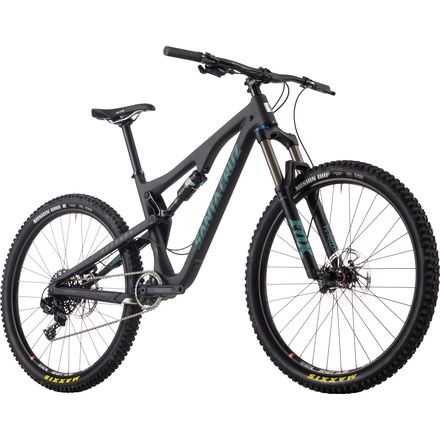 Santa Cruz Bicycles Bronson 2.0 Carbon R1 Complete Mountain Bike - 2017
View Larger Image
Colors

Detail Images
Evolve or perish.
Continuously refined for all-mountain mastery, the 2017 Santa Cruz Bronson 2.0 Carbon R1 Complete Mountain bike competently charges down technical trails with menacing rocks and no-fall lines. However, instead of being relegated to lift-accessed downhills and shuttle runs like many of its longer-travel brethren, the Bronson easily powers itself up steep hillsides with a well-balanced geometry taking cues from the Nomad. Realizing this, it's really no surprise to see the Bronson 2.0 excelling at enduro events where downhill confidence is of utmost importance, yet uphill efficiency is certainly meaningful.
This particular version sports Santa Cruz's C-level carbon for an exceptionally stiff bike with snappy acceleration and efficient climbing prowess. The 2017 Bronson 2.0 retains a 66 degree head tube angle, roomy cockpit, and short chainstays for conquering descents and railing around berms. 150mm of VPP3 suspension soaks up the biggest, baddest hits without wallowing under acceleration needed for quick uphill bursts and out-of-saddle sprints. The 74-degree seat tube angle lends a well-balanced feel for long climbs by efficiently placing power to the pedals. New for 2017, the addition of a 110mm Boost thru-axle reinforces the front wheel for improved tracking across rock gardens and root-latticed singletrack.
The big story with the Bronson 2.0 is the revised VPP3 suspension, which features a stiffer box-section upper link and cleanly tucked away lower link that prevents damaging rock strikes. This revised suspension platform benefits from increased small-bump sensitivity for better traction over roots and rocks. Mid-stroke progressiveness is enhanced, preventing you from unnecessarily blowing through travel. And to ensure longevity, double-sealed pivots prevent dirt and trail debris from compromising the suspension.
This well-equipped R1 kit includes reliable components that keep you riding confidently with minimal hassle. Overhauling the front fork, Santa Cruz includes FOX's Rhythm 150mm fork with micro-adjustability between Open, Medium, and Firm settings. Another new addition, the R1 kit ditches the previous Shimano 2x drivetrain for SRAM's NX 1x11 drivetrain. This 1x11 drivetrain offers a wide range of usable gears without a pesky front derailleur to worry about. Rounding out this package, the WTB STP i23 wheelset is tubeless-ready for optimal traction and bump compliance across rugged trails.
All-mountain masterpiece is composed across demanding terrain
150mm of VPP3 suspension for descending and climbing prowess
Aggressive geometry is slack, with ample cockpit room
C-level carbon frame offers uncompromising stiffness
Fox Rhythm 150mm fork smooths out unruly stretches of trail
SRAM NX 1x11 drivetrain provides a wide range of usable gears
Santa Cruz crafts bikes on the forefront of technology and style
I love my bike!
Familiarity:

I've used it several times
I love this bike! Ascending is cake; and the descent is awesome! Going through rock gardens and rocky areas are so smooth, it feels as if the ground has been smoothed out in front of you! The raked out front tire/fork provides a stable ride. The handle bars were a bit uncomfortable the first few days ( I initially thought they would be too wide) but now that I am used to them, I would never go back to narrower bars. It is really easy to maneuver, and it begins to feel like it is part of your body. Wouldn't trade this bike for the world, very happy with my purchase!
Kent Reynolds
Warrior of Radness
Familiarity:

I've put it through the wringer
I have had the opportunity to ride many bikes recently, and this is my favorite. I generally ride pretty aggressive trails, and I usually end up pedaling to my descents. I like to have 2 bikes, one bigger for Park and DH shuttling days, and a smaller one for trails that are still aggressive, but where long travel isn't a necessity. This bike hits the perfect middle spot between those two. If I had to have one bike to ride all the time, this would be it.

This bike climbs better than its number suggest. Its not as good as a short travel bike like the 5010 or Tallboy, and not as well as bikes in its category like the SB6, but better than pretty much anything else in its class.

This bike is also super fun. I am not a racer, I like to think I am pretty fast, but I ride to have a good time, and this bike makes that happen. While the SB6 is a true Enduro race rig, this bike pops and jumps and gets sideways much easier. I would even say that it is more playful than the shorter travel Hightower, which feels more like the hard charging Enduro bike (and Santa Cruz actually uses the Hightower for their enduro factory racers, not the Bronson). It descends very well, and I haven't ever felt like I have pushed it beyond its limits, even on the most technical tracks at the resorts around here.

If you are an aggressive rider looking for a bike that's just plain fun, this is the bike. You might not be faster, but your grin will certainly be bigger.

If you have any questions about this or any other mountain bikes or gear, shoot me an email at btanner@backcountry.com or call me at 801-746-7608 (EXT 4589)
Braydn Tanner
Watch Out For Poison Oak & Gorillas
Familiarity:

I've used it several times
I recently had the opportunity to help organize a trip to Santa Cruz headquarters highlighted by a factory tour and group ride with some of my best customers in Northern California. We had access to the whole Santa Cruz demo fleet and I decided to try out the Bronson (I did get the added benefit of the lightweight Carbon CC frame, ENVE M60 carbon wheels and Eagle 1x12 drivetrain). I recently bought a Hightower 27.5+ and wanted to have a nostalgic ride on some traditional 27.5" tires (somehow 2.3" is now considered skinny! Haha). I rode the Bronson a couple of times out in Utah last year but after riding the forest trails of UCSC with the Santa Cruz crew I totally understand why this bike shines as arguably the best all-mountain whip on the market. The revamped VPP pedaling platform cruises uphill and the 150 mm of cush upfront crushes everything in your path on the decent. The Santa Cruz trails were a bit overgrown with poison oak and I even had a run in with the endangered NorCal Gorilla (pretty funny story!) but the Bronson lived up to its "Dream Bike" reputation.

I have been working on a modified rating system for all the bikes I have tested and here is my breakdown for the Bronson:

Plowability - 8.5

Climbability - 7.5

Maneuverability - 8.5

Wheelie Rating - 9

Closest Competitors: Yeti SB6, Ibis Mojo HD3

Feel free to contact me directly with any questions on the Bronson or any other Santa Cruz bikes. It is pretty amazing that you can get a full suspension, carbon bike for this $3600 price! If you are interested, I would be glad to help you build your next dream bike from the frame up. Also check out my article on "How to Choose a Mountain Bike" for additional info.

https://www.backcountry.com/explore/how-to-choose-a-mountain-bike

See you out on the dirt and watch out for poison oak!

Kyle L. - Expert Gearhead

klivingston@backcountry.com - 801-736-4337
Kyle Livingston
A huge Step Up!
Familiarity:

I've used it once or twice and have initial impressions
I am 5.8'' tall and bought this one in Size M. I took it out once so far, compared to my old bike (Cannondale Moto 2010) this is a huge step up!



Pros: The 27.5+ tires make it easy to get speed and roll over obstacles. It is so light that my hopping and jumping game will increase this season! The color pops! (I purchased it in blue/orange). It is a downhill bike ready for enduro rides. I pedaled uphill (in Utah!) with open suspensions and no other problems than my gears (see the con section) and breathing to get up. The bike is so light and easy to ride uphill that I almost wanted that extra challenge to stay in shape. It is handy to reach the levers on the go that stiffen the suspensions while riding and the dropper seatpost makes it easy to adjust to the terrain without ever having to step off the bike! No justifications for breaks anymore!



Cons: - Not a lot of color options to choose from (but is that sooo important?) - my gears are set off after my first day riding up and made my chain pop. (That is to be expected though after riding it with full weight for the first time) Don't have any other cons so far!



Recommendation: ahhh definitely!! I will take it out a few more times (of course) after my shoulder is healed up from our first trail bonding day and when the rain stops (preserve the trails!) and update my review with more details. =)



oh, and if you purchase the bike kit, don't forget to order pedals ;-) my smart self didn't know that they were not included in the kit!



Happy riding! =D
Tanja Kunde
confidence inspiring but heavy.
Familiarity:

I've used it several times
just bought the R1 build in January. bought it for technical descents and maybe some downhill riding. I have done some rocky descents with medium drops on it and it does inspire confidence. the problem with descents is the ascending you have to do to get there. longer climbs like the ones in Pisgah National Forrest , NC are a grind. This build made me feel every ounce of this bike. While technically not a problem of the bike , if you want a sub 30 lb bike you need to spend a lot more than the 3,600 dollars. I only wish I had an idea for the actual bike weight before I purchased this bike. for medium climbs this bike does what it is supposed to do. the 3 stars is really just for this build. The higher end build of this bike should be much better.
Randolph V.
Rear shock setup for this bike.
Rear shock setup for this bike.
Don Myers
What is the weight difference between santacruz bronson 2.0 carbon VS. a bronson aluminum frame? What is the typical weight of a complete santacruz bronson 2.0 carbon R1 bike? Thanks!!!
Virgilio A.
The Santa cruz 2.0 Bronson C (Carbon) R1x weighs about 45 lbs. I don't know about the aluminium frame.
Tanja Kunde
yikes! i dont know how the commenter below got a 45 lb carbon Bronson, but my aluminum bronson size medium weighs around 31 lbs.
Jennifer R.
In Love
Familiarity:

I've put it through the wringer
Backstory, I haven't had a new bike since around 2005, so I was definitely due for an upgrade. With all the new tech in the bike world and so may different options it is super hard to make a decision. I started riding as many bikes as I could to figure out what I liked. Unfortunately I liked EVERYTHING! Pretty much all new bikes out there ride awesome so it is all about figuring out exactly what you want and where you'll be riding.

I ended up on the Bronson because I wanted something that could still climb with confidence, but crush the downhill. This bike really does it all. For it being a longer travel trail/enduro style bike it climbs really well. I was down to this or the Yeti SB5 and landed on this because I felt its ability to descend like a monster outweighed the slight climbing edge the SB5 has.

I was able to get some good milage done on this before winter hit and can't wait for more!
John Kutcher
BOOST BRAH
Familiarity:

I've used it several times
There is a reason may of us here at Competitive Cyclist have, or have had, the Bronson. It kicks ass. It is arguably the best all-around mountain bike on the market. It climbs without hesitation and it descends like it's on rails. Honestly I have climbed faster on this than on XC bikes, which speaks volume to the VPP suspension design. I always though a slacker head tube and bigger tires meant slower climbing, well, that isn't the case anymore.
The frame does have a better stand over height over years past since they moved the shock link from the top tube to the seat tube. Speaking of the seat tube, that weird looking tab…that is intended for the front derailleur and I hope next year it goes away, it really doesn't do any favors for me, and I really want to take a saw to it. Does anyone run 2X anymore anyways?…tisk tisk. Having a boost bike is definitely the way to go moving forward due to the industry. That said, I'm no Tony Gwinn so I really didn't feel a difference from boost to non-boost, but whatever, you can tell all your friends how much stiffer it is in the rear because it's boost bike brah.
The frame does fit 2.4's which should be standard but I have to mention it. I'm 5'10" saddle height 71.5cm and it fits perfect.
Please hit me up if you have any questions or need anything at all. Happy to help out:)
Bill Sherman
Customer Account Manager-Bike
Office: 801-204-4545
bsherman@backcountry.com
Bill S.
Fancy
Familiarity:

I've used it several times
I had the chance to own this bike at the first of the year. the new VPP v3 is out standing! Very active in the middle portion of the stroke with a great pedaling platform. If you are looking for a long travel do everything bike, look no further. Pedals very efficiently and handles the gnarly rock gardens and square edge bumps as well.


Feel free to contact me with any question

Dan Dalton- Bike
801.736.6396 ext 4316
ddalton@backcountry.com
Dan Dalton