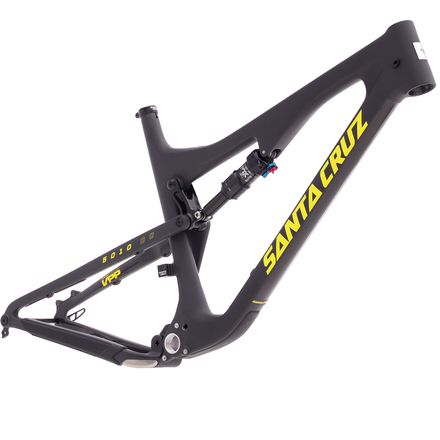 Colors

Detail Images
Prime number.
In the ever-changing mountain bike industry, keeping tabs on all the different numbers at play can be a frustrating exercise. Head tube angles, reach, axle widths, Q factors, chainstay lengths—they add up to a number salad that'll leave your head spinning whether you're a just getting onto the race scene or a knobby tire veteran who cut his teeth during park sessions on the Blur 4X. Santa Cruz's 2017 5010 2.0 Carbon CC Mountain Bike Frame makes the numbers game easy. It enjoys the same benefits of the 5010's 2.0 remix, so it's longer, lower, slacker, and a bit plusher while retaining the all-mountain properties that made the 5010 such an immediate success. When it comes to any trail type this side of gravity courses, 5010 is the only number you need to know.
The 2.0 geometry represents a marked departure from the original 5010, which SC first rolled out in 2013. The redesign is so pervasive that it touches on virtually every important frame dimension, so—despite our "only number" disclaimer above—we're still compelled to dive into the numerical minutia. The biggest change is to the head tube, which drops one degree from 68 to 67 degrees. That's the same as the previous Bronson model, and it situates the 5010 2.0 just this side of slacked-out enduro monster. The frame's reach and bottom bracket follow suit, with the former tacking on an additional 20-25mm, depending on size, and the latter dropping slightly. The combined result of these apparently minor tweaks is a longer, lower, more stable frame that eagerly attacks lines that most other five-inch bikes have to think twice about.
If the 5010 2.0's front end and bottom bracket are about slack excess, then the changes out back are about tightening things up for more pedaling efficiency and cockpit versatility. The seat tube is steeper, longer, and wider, which benefits both the ups and downs of all-mountain riding. While grunting over the crux of a climb or grinding speed on singletrack, the steeper angle nets a more efficient pedaling posture, making it easier to stay on top of the pedal stroke. While descending or cleaning lines through rock gardens, the shorter, fatter seat tube allows for more dropper travel, which nets increased stability and frees up cockpit space for body English while throwing the bike around.
The 5010 2.0's chainstays are stubbier, reduced from the previous 5010's already impressive 17.12in to an even stiffer, more agile 16.8in. Better power transfer while we're putting the pain into the trail and nimbler dexterity when gnarly terrain turns the tables? Yes, please. The frame's rear triangle terminates in a gigantic 148 x 12mm rear axle, making for more rear clearance which in turn allows for those abbreviated chainstays. In one final burst of engineering inspiration, Santa Cruz tacked on side-swing compatibility, which makes for clean routing and sharp shifting for those of us who prefer the knee-saving grace of a double over the low weight of a one-by.
Like the frame's geometry, the third generation of Santa Cruz's VPP suspension also resurfaces with the 2.0 changes. The most immediately obvious of these include an additional 5mm of travel and a relocation of the system's counter-rotating links. These changes make for a better standover height, ground clearance, and stiffer rear end; however, the latest VPP's real proof is in its revised tuning. The altered suspension curve keeps it riding even higher than the previous VPP, increasing small bump compliance and keeping the tires glued to the trail for more efficient traction across the successive impacts of lumpy courses and rooty climbs. The initial stroke's reliance on the upper link activating for a vertical wheel path remains unchanged, maintaining the firm feel during accelerations while jockeying for position in a mass start or a finishing sprint.
As the suspension compresses deeper, the lower link takes over, letting the rear wheel back out of big hits. That's similar to the old VPP, but the new version's overall curve across travel is less dramatic. Where the old VPP's suspension curve describes a deep "U," this latest model's curve resembles a flattened check mark — an appropriate shape considering that the design checks off many of the points on our pedal-platform wish list. When paired with FOX's Evol air can, this makes for a ramp-up arc that doesn't dramatically alter as the shock compresses, so the pedaling platform stays consistent across travel, with less wallowing, bob, and bottom-outs.
All of these changes are included in a frame that's still built with Santa Cruz's top-end Carbon CC construction method and materials, which allow the engineers to use less carbon but still hit stiffness targets. The frame is every bit as responsive as the less expensive Carbon C version, but its claimed weight is almost 300g less. Both triangles are constructed as whole, monocoque pieces, which also contributes to keeping weight low because the carbon can be wrapped through junctures and around joints. This eliminates the artificial weak points of bonded frames and actually requires less material in the process. While it's being cured, the frame is compacted from inside and out. This final step eliminates excess material and resin pooling, resulting in more structural integrity and, of course, additional weight savings.
Despite that extensive list of changes, most of the obsessive details that we've come to associate with the clean lines and understated aesthetics of Santa Cruz frames carry over. In ascending order of importance, these include down tube and chainstay protectors, ISCG-05 tabs, and the glorious 73mm threaded bottom bracket shell. It's impossible for us to overstate how much we love threaded bottom brackets. As advanced as even Santa Cruz's Carbon CC construction has become, even it can't produce molded bottom bracket PressFit cups that rival the precision of CNC-machined threads. A threaded bottom bracket adds a touch of weight and the extra labor is reflected in the price, but we think the reduced creaking and greater durability are worth it.
Santa Cruz's ultimate trail machine is more capable than ever
A responsive pedaling platform with 5in of VPP travel
Slacker, longer geometry for sending bigger lines
Extended travel and relocated links push into all-mountain territory
Boost rear thru-axle increases stiffness and tire clearance
CC Carbon construction reduces weight and increases stiffness
Santa Cruz Bicycles remains a consistent leader in industry innovation
Very happy
Familiarity:

I've used it several times
I just recently bought last years 5010 frame. My Gearhead Connor Johnson picked all the components for the build and did a great job. He has rode a lot more bikes than I have and totally knew what I needed. I have been out riding my local trail an I am having a blast. Very good experience with backcountry, great customer service, extremely knowledgeable and a great bike.

Andy H.
Outstanding!
Familiarity:

I've used it once or twice and have initial impressions
First full suspension and first Santa Cruz. I absolutely love it.
Pops on jumps and rips in the corners.
poggfam5
Solo
Familiarity:

I've put it through the wringer
This bike has a potential much greater than its numbers say. As the go-to whip of the 50/01 shredders for their two-wheeled shenanigans, and the trials lunacy of Danny Macaskill, the 5010 can put up with whatever abuse you can dish out. Being a short travel 27.5 wheeled machine, it sits in a very interesting spot. Without the wagon 29 wheels, it does lose a little bit of efficiency, but it makes up for it in grin-inducing laugh out loud madness. If your local trails aren't super aggressive (and even if they were, this bike could take it) and you want to have a blast, here you go.

The most comparable bike I have ridden to this machine is the Evil Calling. The Evil does have a (very) slightly lower BB and slacker head tube angle than the 5010, but If I were to buy this bike I would stroke the front fork out a little to get that head angle slightly slacker. The steeper head angle does add to the fun factor of this bike, felling slightly more like my Dirt Jumper than a trail bike, and a super slack head angle would take away some of that liveliness. The VPP suspension does pedal better than Evils Delta link, but is not as progressive as the delta, so I would tune a little bit on that to make it a little more progressive so you don't run through the travel as fast.

With those things being said, the great thing about this bike is with its super efficient suspension and light weight, you can go on serious backcountry adventures with it and not be hating the weight or pedaling, and then have a blast on the way back down. For a perfect single track ripping machine, both up and down, this is a great option.

Feel free to give me a call or shoot me an email if you have questions about this or any other mountain bikes or gear.
Braydn Tanner
5010 Be Nimble, 5010 Be Quick!
Familiarity:

I've used it once or twice and have initial impressions
I'm 5'11" and 175lbs. I rode a large and it was spot on for sizing. I rode on mostly flow trails with some chunky bits and jumps. If you're looking to buy the frame only, its likely that you're looking to build up custom and I'd be happy to help your dream build for you, reach out and I'd be happy to help get a quote for you.



What I liked about the bike:

- I had a Santa Cruz Blur LT (v2) that I absolutely loved and the 5010 2.0 reminds me of an upgraded & new version of it. This brings back nostalgic, awesome memories on a similar handling bike.

- I'm a fan of the geometry of this bike; its fast and snappy, but I wouldn't be nervous taking it on more technical descents either. Its slack enough with the 67 degree headtube angle and its 5" of travel can get you through most rowdy stuff. I'd also be pretty happy pulling a full day ride in - this is like the Bronson's little brother that can also pack a punch.

- Pedal all day on this bad boy. Its pretty much the only thing it won't be able to do for you! The VPP3 suspension is efficient and I left the rear shock open when pedaling.



What I didn't like about this bike:

- Not much that I didn't like. My riding style might get myself into some more technical terrain regularly, so might throw on a 140mm fork, but other than that there isn't much to change.



If you spend most days rippin' singletrack and are about pedaling (as opposed to shuttle days, etc) and like an aggressive, nimble bike, look no further. Overall just a fun trail bike! Let me know if you have any questions or would like help doing a custom build, reach me at 801.204.4547 or cojohnson@backcountry.com and I'll get you dialed!
Connor Johnson