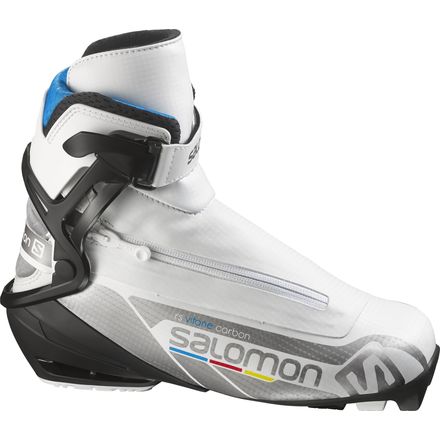 Colors
Top-shelf performance with a women-specific fit.
You don't wear men's pants, shirts, or undies, so you shouldn't have to stuff your foot into a boot designed for a dude's foot. Thankfully, Salomon's steppin' out with a high-performance skate boot designed just for the ladies: the narrow-heel, low-volume RS Vitane Carbon Skate Boot. Like its male counterpart, the Vitane is fitted with a lightweight, high-strength carbon skating plate in the sole that stores energy when flexed and releases it when unweighted, driving energy into the ski to keep you flying down the track, and a carbon 3D Energyzer cuff that gives you snappy ski return and eliminates tip drag, letting your ankle and lower leg muscles relax for easier kick with less fatigue.
As with all SNS Pilot boots, the Vitane has a double-axle pivot that's set back from the toe of the boots, giving you increased control over your ski and eliminating side-to-side motion in the boot-binding interface, ensuring that you're not wasting energy trying to keep your foot in line with the direction of your ski. In addition to the carbon skating plate, the sole has a full-length guide ridge that provides a stable platform during glide and downhill sections. The S-Lab Energyzer cuff provides strong lateral support while allowing easy ankle flex, and closes with an easy-to-adjust strap that conforms to all ankle shapes.
The Vitane isn't just a shrink 'n' pink job, either. It features a customizable fit, courtesy of the heat-moldable foam in the heel and forefoot. An internal sock holds your foot in place, while SensiFit Overlap construction has semi-soft wings that enclose the foot from both sides, locking in place with a precise one-pull Quicklace system, and a racing insole provides foot support for hard-charging ladies. Even with all these features, the Vitane still weighs in 130 grams lighter than Salomon's top-shelf men's S-Lab Pro Skate boot, so you can laugh at your training partner when you blow by him.
Sensifit upper
S-Lab Energyzer cuff
102mm last with Women's specific fit
Carbon skating plate chassis
Dissociated Quicklace closure
Zippered lace cover
Custom Fit heat-moldable fit
3D mesh ntimicrobial lining
SNS Pilot binding compatible