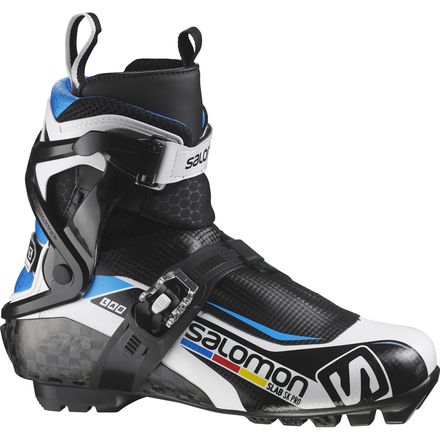 Colors
A purebred racehorse.
Boots aren't generally as exciting as a new pair of skis, but they can be more important and, in the case of the Salomon S-Lab Skate Pro, pretty damn sexy, too. All dressed up in a carbon tuxedo, the top-of-the line Pro is stiff, fast, and built to crush it, with a full carbon chassis that's designed to transfer every ounce of power you have into forward momentum. The carbon Energyzer cuff and long 3D carbon chassis work together to provide top-shelf support, power, and proper positioning, reducing fatigue and increasing speed, power, and endurance while also helping lift your ski tip for a quicker, drag-free return. Underfoot, a seriously stiff carbon skate plate won't twist, no matter how much juice you put into it, so every ounce of energy you expend is used to propel you forward.
Tons of stiff, light carbon is always good, but the fit of the Pro is perhaps its most revolutionary feature. It begins with Salomon's Second Skin dissociated lace construction, which features laces attached directly to the carbon chassis of the boot, forming an incredibly snug but comfortable fit when tightened, without any dead spots or pinching. The Pro has a Memo click strap closure that cinches down around the lower leg and a wide ratchet that closes over the forefoot, eliminating any slop and providing lateral support when you're coming up on your edge. The liner is even heat-moldable for a perfect custom fit, and the Pro has an adjustable rear strap so you can dial in your heel hold.
All this technology is great, but it would be irrelevant with a sloppy ski-to-boot interface. Thankfully, the Pro has Salomon's Pilot 3 Racing Skate sole, which features the now-standard dual-axle technology to ensure better ski control and power. In this case, though, the front pivot is set back 17mm from the front of the boot, placing it under the ball of the foot for maximum power transfer, control, and responsiveness, because little differences add up over 30 kilometers. Buttressing wings on the sole further reduce any loss of power by ensuring that the boot transfers energy into the full-length guide ridge and not into side-to-side wiggle, and the racing insole supports your arch for better ergonomics and increased comfort.
SNS Pilot 3 Racing Skate sole with carbon skating plate reinforcement
S-Lab Carbon Energyzer cuff and long 3D carbon skate chassis
Heat-moldable foam liner
Inner sock and 3D mesh lining with antimicrobial treatment
Ratcheting forefoot strap and adjustable heel strap
Dissociated Second Skin quicklace system
Adjustable Memo ankle strap
Racing insole
Water-resistant seamless lace cover with diagonal zip