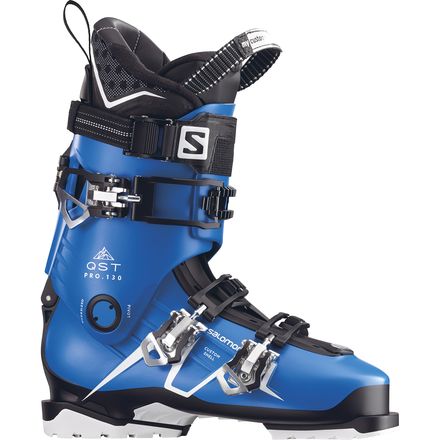 Colors

Detail Images
You can have it all.
You left your race days behind you along with speed suits, keg beer, and dorm life, but even as you've relaxed your GS turns enough to enjoy a little off-piste smearing, you can't shake the need to ski with an uncompromisingly rigid boot. Fortunately, a stiff boot doesn't have to mean crunched up toes and a lack of circulation anymore. Power and performance no longer exist exclusively alongside pain, and the Salomon QST Pro 130 Boot is evidence of it. With a fully customizable shell and a flex your old race crew would approve of, QST Pro brings comfort without sacrificing the ability to back you up in the big stuff.
Salomon uses its Twinframe 2 shell construction on the QST Pro 130, giving it full, 360-degree customization from the cuff to the shell. Your bony lumps and bumps can all be accommodated when the material is heated up without having to jump to punching and grinding right off the bat. Once you dial in the fit of the shell, do the same for the My Custom Fit 3D Race liners; being able to mold both a liner and shell around the contours of your foot results in a serious advantage once you're opening it up on the steep stuff. A boot free of slippage and hot spots means you'll be able to drive your skis without lag time or exaggerated movements from within the boot. Because achieving a perfect boot fit out of the box is nothing short of miraculous, Salomon purposely made the buckles, Oversized Pivot, and straps able to be dismantled by a bootfitter, improving your options for zeroing in on the precise fit that will work best for you.
The QST Pro 130 was made with above-the-lift traverses and backcountry hikes in mind, and its walk mode makes a big difference when you're shedding layers and shouldering your skis to get to a hidden stash. The extended rubber sole helps you hang on when the wind turns a straightforward skate into a sketchier scramble, and the micro-adjustable buckles and 50mm power strap give you the ability to crank your feet down even further when you're trying to stay afloat in windblown chop.
To accommodate the expanding waistlines of modern skis, Salomon adds its Oversized Pivot, a burly, 24mm design, to the QST Pro line. Sitting at the critical intersection of the shell and cuff, the pivot lends the boot lateral stiffness when you're tipping your skis on edge, making sure you can drive power where you need it when you can't help carving up a big arc to remember the glory days. At the end of a big day, thank the Endofit tongue and its waterproof gusset for making life easier when you stumble back to the car. Though the rest of you might be soaked through, your toes will be dry, and the flexible tongue will make slipping your boots off an effort that doesn't require your last reserves of strength for the day.
Powerful freeride boot made for aggressive off-piste lines
100-106mm last for medium to wide-width feet
130 flex ideal for experienced, expert skiers
Fully customizable shell and liner for a precise fit
Extended rubber sole lends traction on hikes and scrambles
Endofit tongue makes sliding boot on and off pain-free
Waterproof gusset blocks snow to prevent cold toes
Micro-adjustable aluminum buckles for further customization
Best Boot I Have Ever Owned
Familiarity:

I've put it through the wringer
As suggested by my local boot fitting shop in Salt Lake City, Utah I picked up the Salomon QST Pro 130. Since purchasing this boot and having it heat molded to my feet I have only been impressed. I use this boot anywhere from 4-6 days a week. Between teaching skiing, skiing trees and riding big mountain it has performed just as I needed this to. It is a super comfy boot and the just the right fit for me. I love the walk mode for walking around the resort and have recently used it for a back country tour in which it performed smoothly. Using it for touring was nice due the flexibility it has and how lightweight it is for a normal alpine boot.

I would suggest this boot for anyone that loves to ski big mountain and for those interested in learning back country skiing without investing in an entire touring set up at first.
Christian Ceraso
These Boots are bad ass. A light weight freetour boot that allows you to hike up well and rip down hard. If you are looking for a good solid boot this is it.
Ethan Russon
Best boot right out of the box
Familiarity:

I've used it several times
This is the first pair of boots that I have not had to get any work done to get the fit right. No custom insoles, no punch outs, just slip them on right out of the box and the fit is stellar. I attribute this to the new liner Salomon is using. I've been on their 98mm last boots for almost 2 decades now, and every pair I've had to get at least a couple punch outs to the shell but these babies are perfect.

The fit is great, flex is what I would call a soft 130, not anything close the the 130 race boots I used to ride but plenty stiff to drive my Cochises through all conditions, and are way more comfortable. When I'm laying down an edge at top speed I can feel the power going straight into the ski. That's all I'm looking for in a boot. How Salomon figured out how to make these boots this light and this stiff is beyond me, but I'm glad I bought them.

Touring mode is great for me. I only use these to access sidecountry stashes on short tours, but they are comfortable to skin in and very, very light for the power they deliver on the downhill.

Hands down the best boot I've ever owned.
Sturdyman
No tech inserts!
Familiarity:

I've used it several times
CAUTION: Do not buy this boot if you are hoping to use the inserts to make it compatible with a tech binding! I have discovered the hard way that the inserts are not available for purchase anywhere in North America and Salomon customer support has been extremely unhelpful in answering any questions about this. I bought these instead of the MTN LAB for touring because they are a better fit for my wide foot, only to end up SOL on making them tech compatible.

That issue aside, I would give them a 4/5 as an alpine boot. 5/5 on comfort - molded very well to my wide and asymmetrical feet on the first try. 4/5 on downhill performance - softer than expected for a '130 flex' but still stiff enough, with a good heel cup.

Good boot overall but unimpressed by how Salomon has responded to the tech insert issue!
Dan