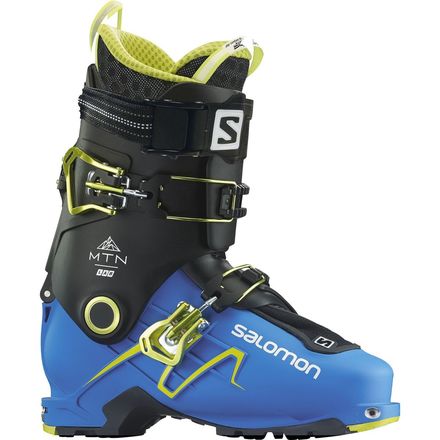 Colors

Detail Images
Buy the hype.
After skinning a few thousand vertical feet, wallowing up a powder-filled couloir, or navigating a wind-scoured ridge, it's reassuring to know that your boots will deliver the power and security necessary to actually ski your line well. And while there are plenty of AT boots out there that will feel more like a pair of hiking boots during the ascent, it's still relatively tough to find a pair of AT boots that will deliver the stiffness that hard-charging skiers need when skiing aggressively in steep terrain, making sweeping turns down wind-buffed bowls, or slashing powder turns in the trees on a storm day. Designed with a 120 flex, impressive 47-degree cuff rotation, and a weight well below that what you'd expect from a stiff AT boot, the Salomon MTN Lab is quickly earning the reputation as a game changer due to its ability to travel efficiently in the backcountry and crush big descents in challenging conditions.
As touring boots have become increasingly more specialized the last few seasons, the industry seems to be asking the average backcountry skier to either sacrifice uphill efficiency for power on the descent (or vice versa) or invest in a quiver of boots to match the different backcountry objectives and conditions they'll encounter throughout a season. If having a closet full of AT boots doesn't necessarily fit in your shoestring budget to ski upwards of 100 days a year, then consider the MTN Lab your quiver-of-one backountry boot. Its commanding flex and downhill-focused design puts it at the top of Salomon's MTN line, but its generous 47-degree walk mode, rockered sole, and tech inserts make it a more efficient backcountry tool than any of its predecessors from Salomon's Quest BC line. If all the uphill capabilities of the MTN Lab sound great, but the boot's downhill prowess sounds overkill for the kind of skiing that you do, then the MTN Explore might be the better option from Salomon's MTN line. Simply put, the MTN Explore has a more approachable 110 flex, more cuff rotation in walk mode (67 degrees), and it weighs about four ounces less per boot, making it a solid choice for the more ascent-oriented backcountry skier.
Salomon's been building backcountry boots for quite a few years now, but it's failed to gain serious traction among the touring community since its previous backcountry boots were basically stripped-down versions of alpine boots with a little less plastic in the shell and cuff, a slightly lighter liner, and a walk mode with a few degrees of cuff rotation. Instead of just rehashing one of its old designs, Salomon built the MTN Lab from the ground up and brought Salomon Freeski team members and accomplished backcountry skiers Greg Hill and Chris Rubens to the table to help design a boot that would perform in the kind of demanding backcountry zones Hill and Rubens operate in—Rogers Pass, Chilean Andes, and the Coast Mountains of British Columbia. At first glance, it's obvious that the MTN Lab is new territory for Salomon. The boot's lugged and rockered sole, tech fittings, and waterproof textile panel are all features that you wouldn't have been able to find on Salomon's Quest Max 120 BC, and the MTN Lab's generous 47-degree walk mode is almost 10 degrees more than what you could find on any boot from the Quest BC line. Weighing 3lb 7oz (3102 grams) per boot, the MTN Lab is comparable to other descent-oriented AT boots on the market in terms of weight. Part of what keeps the MTN Lab's weight down is the boot's Grilamid shell, which is quickly becoming the industry standard among high-end alpine touring boots. Not only is Grilamid lighter than the polyurethane used to mold traditional alpine boots, but it's also impressively stiff and strong, so less material is required to give the shell the stiff and responsive feel of an alpine boot. Since Salomon was able to mold the shell with less material, the thinner Grilamid shell weighs about the same as those lightweight Pebax noodle boots your Lycra-wearing touring partner skis in.
In terms of fit, Salomon really stuck to its goal to develop a boot that skied hard and traveled efficiently in the backcountry. The low-volume 98mm chassis is identical to Salomon's X-Max 130 alpine boot to give the boot that snug fit required to actually ski well. Skiers that require a wider last may want to consider a boot with a more high-volume fit. The SensiFit 3D liner bolsters the boot's snug-fitting feel with a heat-moldable design that conforms to the shape of your foot. And while the addition of a heat-moldable liner may not be anything revolutionary, it does add that extra bit of performance and comfort skiers have come to expect from a boot. Realizing there's still a large population of skiers out there that are skeptical of the downhill capabilities of any boot with a walk mode, Salomon built the MTN Lab with a rigid and lightweight carbon spine and oversized 24mm pivot connection for a solid and secure link between the shell and cuff to give the MTN Lab that bolted-together feel of a traditional alpine boot. The metal-on-metal Surelock mechanism reinforces the boot's stiff nature by eliminating play between the shell and cuff once locked into ski mode. The Sensifit shell design saves weight by reducing the amount of material used throughout the shell, but it is able to maintain stiffness through the ridged reinforcements that run diagonally down the sides of each boot for added strength and material where it matters most. The most noticeable feature of the shell is the waterproof textile panel along the top of the boot—the jury's still out on the durability of this panel, but it does keep the overall weight of the boot down, which is never a bad thing.
Reducing the amount of buckles on a boot is one of the easiest ways to shave weight from a boot. If you've been paying attention to the latest boot trends, then you've probably noticed that the industry has been experimenting with some pretty far-out buckle systems lately—ratcheting dial shell closures and wired one-buckle systems that feed into the walk mode are quickly replacing the four-buckle systems that have basically been the industry standard among stiff AT and telemark offerings for the last decade. Salomon, on the other hand, decided to work smarter instead of harder and stuck with a simple and streamlined two-buckle design with cam-locking power strap that ensures a locked-down fit that won't wear out like traditional hook-and-loop power straps. The layout of the buckles is designed to save time during transitions by placing the top buckle and walk mode latch close enough together that both can be engaged or disengaged with the same sweeping motion as you get ready ski. The addition of tech inserts allows you to use the MTN Lab with the array of tech bindings available on the market today, and the aggressively lugged Contragrip sole is ready to chew up knife-edge ridges and motor up steep bootpacks in chalky couloirs.
Dedicated alpine touring boot with an appetite for aggressive descents
Powerful 120 flex has a stiff and responsive feel
Narrow 98mm last and heat-moldable liner delivers a precise fit
Lightweight Grilamid shell balances weight with power
Generous walk mode for efficient skinning and comfortable hiking
Rockered sole with aggressive tread makes short work of steep bootpacks
Intuitive buckle layout reduces transition times and saves weight
Great Touring Boot
Familiarity:

I've put it through the wringer
Solomon mtn lab ski boots are a great fit for an aggressive skier. They are lightweight and sturdy enough to handle someone who tends to push the limits of their boots. Their comfortable fit also makes them a prime candidate for anyone who is looking to up their ski boot game while maintaining a fit that isn't painful.
Patrick Riedinger
Love em
Familiarity:

I've used it several times
These things are great on the up and even better on the way down. I'm a big guy who likes to ski hard and these boots can handle it. They are comfortable enough to be in all day long through warm or cold temps. Extremely happy with their performance.
Matt C.
Aboot that...
Familiarity:

I've put it through the wringer
Great boots that blur the line between free-ride and light-is-right. I'd call them 'free-touring' boots. Stiff and ski very well. Plenty of power to drive big skis at high speed. Despite only having two buckles, the fit is precise. Unlike other 'light' boots, the cuff is tall enough, even in small sizes, to distribute force well on the tibia and not cause a pressure point at the top, just like a good alpine boot. The fit is narrow, definitely a true 98mm last, as claimed. THANK YOU! Buckles are easy to use, as are the power strap and the walk mode. Transitions are fast. Just a couple small gripes: The liner is very thin and not very warm. Sometimes during kick-turns the cuff lock switch gets caught and locks on me, making the next kick turn REALLY hard if you don't notice it. Probably poor technique but maybe could be looked at for next year. The heal pocket could be a bit more snug but if you're looking for a true narrow last, powerful, and lightweight boot, this is it.

Pros:
relatively light weight
great ROM
great narrow fit and power
slick buckles

Cons:
liner- it's not warm
walk mode- occasionally locks out on it's own
heel pocket is a bit roomy relative to last

johngchrist
Wonderful Touring Boot
Familiarity:

I've used it several times
This boot is a super solid, user friendly, medium/light weight boot. I have tried lighter boots and heavier boots and this one is perfectly in the middle. I got this boot knowing it was going to last me a long time since I use it exclusively for touring. The warmth is awesome and the fit is great. I have a slightly narrow foot, 98 last, and with my custom foot bed this boot was a real nice fit. I haven't molded the shell or liner yet but it is something I plan on having done for next season. Switching from walk to ski mode is a breeze and all the buckles are dependable. Definitely stiff enough to charge your touring setup. That being said, for those of you looking for the one boot quiver in and out of bounds it is possible but I would recommend keeping this one locked to the pins.
Christian Ceraso
Light and stiff
Familiarity:

I've used it several times
I'm a big guy and ski pretty hard so I wanted a backcountry boot that was stiff on the downhill, but light enough to lap all day. This boot is the perfect combination. I'm a big fan of Salomon boots, they just fit my feet really well out of the box and this boot is no different. I see why they've gotten so much attention and it's rightfully deserved. Really glad I went with these and expect many seasons of happy use in them.
Matt C.
Very good first impressions
Familiarity:

I've used it once or twice and have initial impressions
My first impressions of this boot echo that of the other reviewers. This seems like a legit alternative to dynafit boots. The boots are light, and seem like they will be very responsive. I'm excited to try them out.
Justin Henderson
Sick Boot! But be advised..
Familiarity:

I've put it through the wringer
Spent this spring touring with the MTN Lab 120 size 28.5 in Chamonix. The sizing is a little off, most people could probably size down. Once you mold the liner and boot the fit squeezes you like a nice leather glove. (Salomon rep told me to bake the liner in the boot in the oven for 6 min) Uphill this boot is super light and easy to glide. This did not surprise me! The main reason I went with this boot is the downhill features, probably like most of you. It's stiff. It is a 120+. The 2 buckles is where my issues is. I charge hard and the top of the plastic cuff dug in. Deep. Above the second buckle there is about 3 inches of plastic that rise up the front of the shin to the power strap. I cranked down the buckles and straps and dove into some deeeeep descents. The 3 inches of plastic bent in and dug into my legs, through the tongue on the liner, and left serious bruises and blood blisters. At the moment I'm not sure how to fix it... I'll leave another review when I get it figured out.

28.5 boot. 6'1 173lbs
Jon Kurzynske
Big, Beefy boots for backcountry tours!
Familiarity:

I've used it several times
Big, beefy and stiff for backcountry tours and big lines. The two buckle system works great and is quick and simple to use. Work great with my AT setup and take crampons well for ski mountaineering situations. All of my ski partners who use this boot are super stoked on their performance. I feel I was wise to take their recommendations when considering boot options.
Joe F.
Get this boot if you want it all
Familiarity:

I've used it several times
Great on the up hills, even better on the downhills. The two buckle system takes a while to get used to, but once you come to terms with new technology this boot will change the way you tackle the BC.
Garrett Corbari
Buying (loving) The Hype
Familiarity:

I've used it several times
I have to say that Salomon has been on a bit of a roll lately. They have a bunch of money athletes such as Cody Townsend and Greg Hill while providing ski and boot product lines that seem to be mostly above the norm.

Then some rumblings began emerging of a boot that is close to as light as the Dyanfit Vulcan while having a cuff movement close to it and sporting the tallest cuff in AT boots lately. Those reports came to fruition with the MTN Lab boot and it does live up to all that is said about it. For how solid it feels after completely buckling and strapping down (120 is about right), the range of motion and the weight is impressive. I could actually feel the articulation almost better than I could in the Vulcan.

I've seen some folks balk at the 2 buckle design and while it doesn't have the responsiveness that a 4 buckle does, it keeps a more than adequate feel to the turn in all backcountry and some resort conditions. The mechanism on the top buckle that not only has a wide range but helps it reach to further tighten the top is one of the more overlooked pieces of tech out there. The size is great too as there is a shortened boot sole length but the boot wall is very thin so my long and thin 11.5 shoe size foot fit almost easily into a 27.5.

Complaints? Not many here, but it isn't a TLT Performance replacement and I wouldn't use it for resort charging either (though I do prefer a burlier boot so those that don't could do it) leaving it in that weird gray area of it does superb freeride touring and COULD do resort or alpine touring. I also think while the closure is great the power strap is a little mincy. I also haven't tried the liner yet as I Intuition'd this pair but will be back for an update.
Wally Phillips
Great so far!
Familiarity:

I've used it several times
I have a moderate in-step and about a 100 last foot, and these things aren't as tight as I thought they would be. I wear a size 12 and went with the 27.5, but I do like to push the size as small as I can go. The walk mode on these is insane for a boot that is a 120 flex. Can't wait to get more days on them!
Ryan Emery
The Salomon Mountain Lab boots are my first touring boots and they are incredible. The stiffness provides the right level of stability, but unlike my Salomon 120 pros they are incredibly comfortable after getting the boot molded. The boot climbed like a breeze, and held my feet in place with no concerns on the way down.
Chris Shields
best all around ski boots
i used it as my everyday ski boots on a katana vwerks skis with marker kingpin bindings and the combo is super light and super techy. they are easy on easy off and they are super comfy and have excellent stiffness for when i'm landing some air. i can wear them all day without any discomfort.
Nelson
Unanswered Question
Compatible with Marker Griffon 13 ID with Sole ID?
Alex Alimanestianu
Best Boot I've Tried
Familiarity:

I've put it through the wringer
I use the Salomon MTN LABs as my primary boot working on Snowmass Mtn. These boots do it all! I wear them when riding my 4FRNT Ravens touring and around the resort on a daily basis. They make my Black Crow Animas easier to stay on during huge powder days due to their low weight. Much easier on the joints. Runs narrow which is perfect for my foot. Would recommend to anyone who wants a super versatile boot that will boost your everyday enjoyment on the mountain.
Philip S
Game Changer Boot!
Familiarity:

I've used it once or twice and have initial impressions
Went on my first ski tour with this boot and after my first upgrade in about a decade and was mind blown by all the features. The walk mode + ergonomic buckles are easy to travel in and they are fantastic for flat sections where you need to quickly change between downhill and walking modes. Even while breaking in the boot on my first trek up, it was comfortable on both feet ( I have slightly narrower feet than AVG.)

I was riding on loaned out skis that were too big for me and I have to say that they were still easy to push uphill and skied fantastically on the way down thanks to these boots. The stiffness of the boot came in really big for controlling the skis through some tight spaced Aspen forest skiing. I didn't find the boots overly stiff, since I am used to the opposite. I would estimate on first impression that the stiffness value may be overrated in the 120 flex value?

Will update upon additional field research!
David Lenz
The moment I've been waiting for
Familiarity:

I've used it several times
I have tried and struggled with various AT boots throughout the past ten years. Some skied decent enough(although not nearly as well as my downhill boots), but felt like I had bricks on my feet while I was walking up. Others skinned like a dream in walk mode, but had the support of LL Bean Wicked Good slippers on the way down. Then others were light and efficient on the way up, but were overly stiff for my 160 pound frame while skiing down. There were a few instances where I thought I was going to bust my tib/fib on the way down before my boots would flex at all.

That all changed last month when I purchased my MTN Labs. They certainly don't hold me back on the ups and it's stiff yet progressive flex lets me charge as much as I would like on the way down.

This the first boot that I have ever described as intuitive. Switching from walk to ski mode couldn't be any easier. Just two buckles to close, a quick flick of the Surelock and tighten down the power strap and your ready to go. One of my favorite features of this boot is the ability to close the upper cuff buckle and switch the Surelock back into ski mode with one motion. I can finally switch modes as fast as my tele friends.

Speaking of only having two buckles, I can not believe how secure they keep my feet. While most boot manufactures still rely on creating a boot with three or four buckles, Salomon has created this boot with only two well designed buckles. I have zero concerns with the durability of these buckles, I am sure they will last through years of use, which isn't something that I could say about some of the other AT boots I have tried.

So far they have been very comfy on my feet with no boot work in this early season. I would certainly recommend these boots to anyone looking for a boot with efficiency on the ups while not sacrificing anything on the way back down.
Pierre Lemire
Unanswered Question
Are these compatible with salomon guardian 16 wtr?
Tyler N.
I've been skiing in the quest max 120's in a 25.5 for a while. How does the fit compare with the mtn lab in terms of length and last?
Nick Jenkins
Hi Nick,



The Quest Max 120 and the MTN Lab are going to fit pretty similar. Both boots have a 98mm last. The BSL on the Quest Max in a 25.5 is 298mm and the MTN Lab is 291mm. Feel free to hit me up with any additional questions. -Matthew Pizza- Expert Gearhead
Matthew Pizza
Comfort AND Perfomance
Familiarity:

I've used it several times
I fell in love with Salomon boots earlier this year when I picked up some x-pro 120's, and when the time came to pick up a touring boot, I knew I didn't have to look any further than the MTN Lab. This boot really nails it in all aspects- super light weight, huge range of motion, ultra customizable, and stiff enough to huck anything out of bounds. Though it is only a 98 last, which I generally consider narrow for myself, I've found that getting them heat molded allowed for a perfect fit keeping my feet all happy while seeking tasty lines. If you like the ascent as much as the descent, take a look at these boots- they rock!
Hunter Foraker