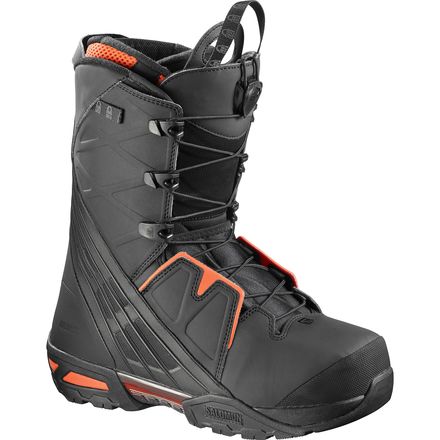 Colors

Detail Images
Alaska bound.
Designed to crush Alaskan-style lines and gut-wrenching steeps, the Salomon Men's Malamute Snowboard Boot offers a super-stiff flex for dissecting technical terrain and serious no-fall zones. Salomon's signature PowerLock Pro Lacing delivers a powerful, quick-lacing solution for riding anything the mountain throws your way. Reinforced Power Frame Panels enhance flex retention over the course of the season, allowing you to ride these puppies 100 days-plus without them turning into lifeless noodles.
Additionally, you'll find removable Energizer Bars inside the boot's shell that customize the boot's flex intensity to better suit your riding style. The Platinum 4D liner utilizes Full Custom Fit Pro heat-moldable, multi-density foam for just the right fit, as well as removable Ankle Guards for enhanced heel hold. There's also an Integrated Heel Strap that locks the liner to the boot's shell for extra response when you're charging at high speeds. Add in a circulation-enhancing Ortholite C3 footbed for unrelenting comfort, and a high-traction Hike sole for a boot that's ready to shred the steep and deep with effortless precision.
Stiff, highly-responsive boot for backcountry lines
PowerLock lacing system quickly secures your foot
Platinum 4D liner locks in comfort and support
Power Frame and Energizer Bars offer flex where you need it
Grippy outsole provides traction and comfort in tight spots
Ortholite footbed uses dual-density foam for impact protection
Washable liner keeps the funk at bay
Won't ride in anything else...
Been riding these for about 15 years and just got a fresh pair. Old ones were still solid, but a bit packed out. I scored some new ones on an end of season sale.
I'm in the PacNW and ride a NeverSummer Titan 172 with Burton Diodes, so its a pretty stiff set up and I need boots to match. That and my feet are wide, so the market is pretty limited, but I swear by them and everyone else I know who has 'em raves as well. Between all the carbon in the board and the bindings, I'm locked and loaded once I buckle up - zero flex, yet super comfy for all day blasting.
My last pair had some issues with the internal lacing system cables breaking and a pair of the external speed hooks snapping off, but Salomon simply warrantied them and gave me a new pair without any pushback - can't beat that!

A few thoughts:
- The sizing is weird and I think it has changed over the last few years. I really suggest that you go into a shop and try them on rather than rely on a chart or else you'll be mailing them back
- These rigs are big - you may have to re-adjust your straps etc. if you are coming from another boot to compensate for the burly size of the outer shell
- The lacing system(s) take a bit to figure out compared to other boots, but once you've got it down it's a snap. Fast and secure every time, zero heel pull.
- Super comfortable ride, my feet have never, ever been cold or wet, I've never experienced any hot spots or discomfort either. Once I snug them up, I forget their on.

My only fear is that they might discontinue them!
Tom B.
The only boot
Familiarity:

I've put it through the wringer
This is my 5th pair of Salomon boots in the past 15 years or so. 4 of them the Malamute, I tried the F24 years back. I won't buy anything else. I have a wide foot with a medium arch and Salomon boots and shoes fit really well. No other boot has the integrated heel lockdown strap system as dialed as these. Super stiff but when the average speed on mountain is 45MPH it's necessary. Haven't had any binding heel wear problems but I also buy only top end bindings. I live 5 miles outside of Vail and can snowboard home, the Malamute is the real deal.
Nathan P.
Unanswered Question
Anyone ever try using a crampon with this boot?
Eric T.
Solid boot, but it could be improved on
Familiarity:

I've put it through the wringer
I totally love how this boot rides, and how the fit feels, but there are some flaws in design holding it back.

I sized down 1/2 size, as I usually do with snowboard boots. The fit feels great, and the heat moldable liners are super comfy. This being said, there is a thick nylon seam running down the back of the heel on the outside of the liner. The seam has caused me some significant comfort problems, generating crazy hot spots and occasionally, spikes of severe heel pain. I believe that when the seam is forced into the shell of the boot on hard toe side turns, it is creating a major pressure point. It seems to be only on firm snow, and on the toe side edge- where you'd be forcing your heel against the back of the boot. I've had to call it quits early a few times because of it, and I went ahead and cut the seam out. This seems to have solved the problem.

The other major issue I have with the boot is durability. I've had the boot for less than a year. I got it in April of 2016, and by the end of December 2016, the shell has had major wear spots. The wear spots are where the high back hits the heel of the boot, and where the boot sits in the binding , on the inside and outside of your heel. The damage on the back of the heel is so severe, it has almost cut through the shell of the boot! It would be one thing if I got a full season of riding out of it, but 2.5 months of riding with summer in between really seems like it wore out prematurely. There is no wear on the sole.

Bottom line:
The ride is awesome, the fit is ok, but they won't hold up as a daily driver. Usually I can get 2 seasons out of a boot, but this seems like it will be toast after a season.
Robert H
Very pleased.
Familiarity:

I've used it several times
I have been riding Malamutes for about 10 years, and that first pair finally started wearing out. They're still going strong, but they're getting softer and one of the boot tongues separated from the liner. The 2016 Malamutes look just as well built, and are very stiff. I ride bigger boards (180cm +) and need a boot that is stiff enough to drive the board, and flexible enough to allow for good range of motion.

Worksmanship: Very good. Everything feels beefy and solid.

Flex: Very stiff. At first I felt like I was riding in plastic boots again, but taking out the liner stiffeners made it perfect. I'll put the stiffeners back in when the boots soften up a bit. I used the boots both for carving a 192cm board on groomers, and for driving a powder board in tight trees on powder days, and the boots performed well.

Fit: The new liner lacing locking system is neat and keeps the laces tight throughout the day. Even with the cross-the-foot strap my heel isn't perfectly locked into place, but it's close. Laces on the outer boot are super long, and I plan to trim them down as to avoid extra cordage hanging around.

On the overall, I'm very pleased with the new Malamutes and would recommend them. Although I only had them out four so far, I'm treating them as an upgrade of the previous boots I've ridden for 10 years now...

Tom.
Excelent boots for riding, worse custome
Familiarity:

I've used it several times
I bought boots in 2015.

Just want to say that boots is perfect for riding, but at 18th day of using my lacing system is broken (sure lock thing). And nobody from salomon.com answer me for solving my problem.

On the photo you can see missed red thing from left side which should hold laces in sure lock thing.

P.S. I would put the maximum rating if not for the unfortunate case with lacing system and Customer Service from Salomon.
Viktor Tsarevskiy