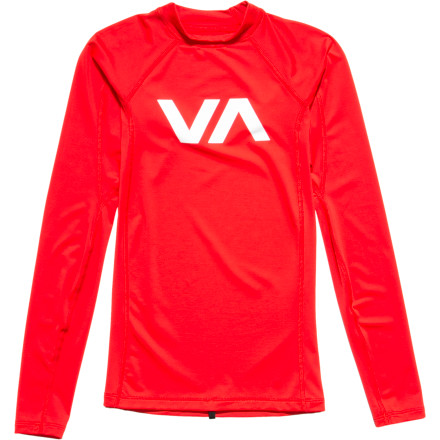 At first glace, you would think that the RVCA Men's VA Rashguard was made for surfing purposes. RVCA tends to dabble in the world of MMA and Brazillian Ju-Jitsu though, so this rashguard was originally designed to protect your arms during hand-to-hand combat. Drop into a barrel or drop a fool to the floor, either way this rashguard will keep your arms looking as smooth as a baby's bottom.
Nylon material is durable, quick-drying, and smooth
Spandex material adds flexibility and stretch
Flatlock seams eliminate seam bulges that could cause irritation
Boardshort fastener loop keeps the hem attached to your shorts
Not a major pain point, but a little tight in the chest, given I am relatively inexperienced W/this kind of clothing, I am told this is to be expected. Have Yet to wear it in action, but aside from the slightly tight fit, feels secure, ready for the beach!
Jesse DeKrey
Is this item UPF rated? Some rashguards...
Is this item UPF rated? Some rashguards on here state UPF 50+..... This one nothing....
Greg Anderson
Hey Greg,



RVCA does not have this listed with a rating. My guess is that since performance gear is not their bread and butter that they simply do not have the resources to test the product for a UPF rating.
Wayne Christoffersen