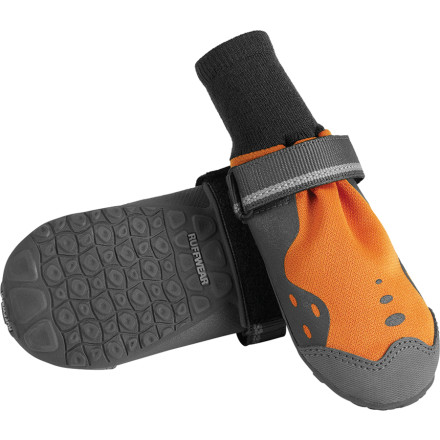 Colors

Detail Images

Community Images
Protect your dog's paws on long walks across litter-driven roads and rocky trails with the Ruffwear Summit Trex Dog Boots. The non-marking outsole is built to last through high mileage, yet it's flexible from the start so Fido doesn't have to break them in (breaking in usually involves a significant amount of chewing and clawing). While the lower material protects your dog's pads, the upper polyester is PU coated so no unwanted moisture irritates the rest of your dog's paw. And the reflective trim helps you see your pup's scampering feet through the dark nights.
Non-marking rubber outsole remains durable with miles of use
Polyester is PU coated, which prevents unwanted moisture buildup
Stretch gaiter keeps dirt and debris out
Hook-and-loop closure for easy on-off accessibility
Reflective trim to see your dog on night-hikes
Cover the Cloppers!
Familiarity:

I've used it several times
My dog is aging, but she is still more than capable of keeping up with me! Her spirit is strong, but her feets are not! She never had tender paws until the past year. Any temp from warm to cool will get her ticklers all prickly. So i bought these non insulated pup shoes for her! She loves them, and they stay on when she goes about running through the trees. The scrunchy top doesnt hurt her when removing them (she is scruffy). I cannot wait to see them in action in the winter. Protection is key.
Emily Forsdick
Pretty Cool Boots!
Familiarity:

I've used it several times
Keep in mind, I didn't buy these boots for my dog so he could do CRAZY stuff... I bought these for him in result of a serious injury he had last year, in which he never fully recovered. He now drags one of his back legs, which causes the beds of his paws & toe nails to bleed, even after a short walk around the block.

Anyway, these boots have made it possible for the little guy to actually get up and going again. I did need to place TWO different orders due to sizing (med for his back paws and lg for his front)... But so so worth it!
Cassandra Margolin
Stayed on for about 60 seconds
Familiarity:

I've used it once or twice and have initial impressions
Seems like some people have had success with these but I definitely did not. Tried them on my ~60lb black lab and purchased a size small. It took about 10 minutes to get them on because the fit was so tight. He basically walked awkwardly for 30 seconds and then the shoes started flying off his feet and he progressively ran faster and faster until they were all gone. It was like watching that scene with the leg braces in Forest Gump.
Jacob Dudek
Keeps Pup's Feet Warm
Familiarity:

I've used it several times
My dog has super sensitive feet, especially when it comes to snow and cold. These boots fit him really well and if synched tight, stayed on. It took him a bit to get used to them as these were his first pair of dog shoes. Once he realized they keep his feet on icy ground, he didn't seem to mind them.
Jessica van Jaarsveld
You might have better luck
Familiarity:

I've used it once or twice and have initial impressions
My 28lb pup has pretty small paws (1.5" measurement) which doesn't bow out much from the rest of her leg making it tough to find booties to work for her. The 4XS seemed to fit perfectly, but before we even got to the car for our first hike in them she had already had one off. Maybe these would have worked better with socks, but I wasn't about to try after first impressions.
Kevin K
Alright shoe
Familiarity:

I've used it several times
Got these for my lab for around the farm when he is outside. He measured a XL so i got a large and they are still a little big. Other than that they keep his paws dry and warm. They'll do
Michael Lancianese
Wont stay on my dog.
Familiarity:

I've used it once or twice and have initial impressions
went on a hike and lost one of them on the first use. I purchased the Ruffwear Bark'n Boots Polar Trex and have had much better luck. They don't look as comfortable but at least they won't get lost on the first use.
Ty K
Seem pretty solid, shoot small on size
Familiarity:

I've used it several times
I have a 75lb lab mix with huge paws and he's a size medium. You should really struggle to get these things on. That's the only way they are going to stay evenly on the paw and not fall off. I've been through 6 different pairs of booties on my dog and these seem as solid as any other. The only issue is they disturb his dew claw as they velcro just above or right on the claw.
James Bleuer
Great For Hot Sand
Familiarity:

I've used it once or twice and have initial impressions
Desert sand and slickrock can be super damaging to your dog's paws. Do your hiking buddy a favor and pick up a pair (or 4) of these boots. As noted in earlier reviews, you'll want to measure both the front AND back paws - my dog ended up needing size S up front and size XXS in back (even though he's a heeler mix and I never thought he'd need anything in size small or below). Unfortunately, with the 4 pack, I had to buy two - one pack of 4 for the back, one for the front. Luckily I'll have 2 spares in case they wear out or he loses one...

After taking him on a few hikes, he's walking normally with them and they haven't come loose or fallen off yet.
John Langer
You may need two different sizes - FYI
My dogs front paws are massive, his rear, not so much. I only measured his front paws and get mediums. The rear boots wouldn't stay on. They are visibly smaller, but, I didn't notice at first. I measured the rear and got him Smalls.

Kinda a bummer they are only sold in sets of four, when you need two different sizes. However, it will be nice to have extras when my dog loses them on the trail, eats them, etc.
Ryan Kiel
perfect paw protectors
Familiarity:

I've used it several times
Let's face it, no dog really wants to wear these things. Sometimes though, they are a necessity. Our pup lives to run through the snow and has huge puffy paws. After a few minutes the fur between her pads looks like it has ice cubes stuck on it. The boots fix this problem and she is a snow fiend. They have the added bonus of looking ridiculous/adorable. One thing to consider is how your dog reacts to clothes etc. Our little snow bear really doesn't mind dog packs, Halloween costumes and the like. If you have the type of pup that sits down on the trail when you put a pack on her, the boots may be a non-starter. If you think your dog will forget about them at first squirrel sighting, they will probably save a lot of paw pain.
Aliza Mills
Not enough grip
Familiarity:

I've used it once or twice and have initial impressions
I bought these for my cocker spaniel (about 25lbs) adventure dog and ended up returning them. I had taken Guinness hiking up a 10k peak in southern california (Mt. Baldy) and after 11 miles his poor paws were pretty raw. I bought these hoping that they would help, but on our next big adventure, they actually caused more problems than they helped.



They didn't quite stay on well - little by little they would slide on and I would have to stop and put them back on. But, the worst part was that in areas that had a very narrow trail with a steep drop off, they didn't have nearly enough grip and my poor dog kept stopping and looking at me like "Dude, I'm totally going to slip off this cliff with these stupid things on my feet! Please, take them off!" I eventually did, and he had no problem with the trail after that. I would love to find something that would stay on, and that would help him not slip off the cliff (which would mean me also going over the cliff because let's be real, he's my baby!), but these were not it for us.



On the positive side if you're not doing some heavy hiking and just want something to protect their paws on the road, these are well made. They stay on better than some other boots I've tried even though they do fall off sometimes, and obviously as you can see in the photo they look adorable!
Rachel S
not for all dogs
Familiarity:

I've used it several times
these worked great as some amusement and helped the dawg a bit too. while dogs take a minute or two to get used to these they help out dogs on long hikes and sometimes in the snow, i say sometimes because snow can find their way into these and the dog can still get annoyed with them. but where they are jagged rocks and for summer time use they are great!
Evan Grott
130lb Bullmastiff and he wears two XL for his paws and two L for the rear. They aren't easy to put on but that is also a good thing ensuring that they stay in place when he's moving. They've done a great job protecting his feet in snow and on scree/talus but the stitching on the velcro has frayed on two separate pairs after getting wet. Going to stick with them for now but may have to try something else when the velcro completely fails.
grrizzlyadms
I'm very happy with these boots.I live in Nevada and more often than not the terrain is gravel or hot dirt,these boots have really saved my dogs paws . There has been several times, before i bought these, that I've had to literally carry my dog out of the trail due to rocks or some cacti cutting his paws up. Quality of life has definitely increased after this purchase
Sean Grimm
I need help! I ordered these in XL and they look like they will fit my dog but how do you get them on?!
Kat C
Best Answer
Kat,



From my experience with my parents 170 pound Great Dane... a little bit of wrestling, coercion, bribery and asking "who wants to go on a walk???"



But in all seriousness, it can be tough. With this pair I would undo the velcro strap and then roll the stretch gaiter back (similar to how people roll long socks so they can easily slide a sock over their foot).



Then I'd unroll the gaiter up the dogs leg and then do the velcro strap.



But chances are your pup wont want these on. It'll take a little getting use to.



Shoot me an email if you have any more questions!



Jared D.

Expert Gearhead

800.409.4502 ext 4055

jdowns@backcountry.com
Jared Downs
My husband figured it out, though it took him a while lol, apparently I just wasn't stretching them enough to get them on my dogs massive paws!
Kat C
Puppy Paws!!
Familiarity:

I've used it several times
I bought these for my little brother (aka. the family dog). I got the large and they wouldn't fit. We have a lab that is just over 60 lb's and my mom wanted these to protect his feet on the really cold/icy days upstate NY can deliver. I had her measure his paws and the large sounded perfect. The large would fit his paw perfectly fine its just the stretch gaiter doesn't open large enough for us to get his paw in there. Overall this product has great quality and design. Just wish the gaiter had a little more stretch, as I feel the XL would be to loose on the dogs paw.
George E
Great for winter walks!
Familiarity:

I've used it several times
Got these for our 50lb border collie mix who:

a) tore up his pads on a 15mi hike this summer

b) struggles on daily walks in the winter, not due to grip, but due to cold paws and all the salt that Portland, ME puts on their roads and sidewalks!



We picked these over the Griptrex because they were cheaper and because they had the sock cuff, which we figure will do a great job of keeping slush, salt, and debris out.



All four of his paws are different sizes but heard that you should always size to the smallest. We did that and all four have stayed on great! Of course they're snug so it's a bit of a struggle to get them all on, but we've yet to have issues with the boots coming off or twisting around.



He is still skeptical when standing around, but once he's off on a walk/run it's like he doesn't even know they are there! It's made a world of difference not only for him, but also for us as we no longer have to wash his paws after every outing!



I definitely recommend the orange color - it makes it easy to keep an eye on the fact that the boots are staying on straight while running... I don't have to stop to check them every time, I can just glance down and know they are still on right.



All in all a great product that has made for one happy winter pup and we're excited to try them out on the trails this summer!


AWillumitis
Stay on the pup
Familiarity:

I've used it several times
These boots are excellent. We them for hiking to protect my dog's foot. They stayed on well and held up to the trails.
Ellen Bailey