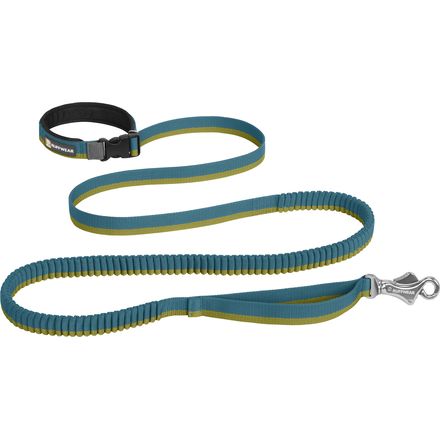 Colors
Room to roam.
The Ruffwear Roamer Leash gives your four-legged friend room to roam without violating the strict on-leash policy of your city park. The integrated elastic core gives your pooch a little extra wiggle room to wander while the padded handle adjusts to be worn around your waist or can be used as a hand-held. The Talon Hook keeps this stretchy leash firmly fixed on your pup's collar, and an accessory loop means you're not carrying an overly full poop bag for miles. A traffic handle near the hook gives you a way to yank your oblivious friend out of harm's way.

A stretch webbing leash for your furry friend
Can be worn as a hand held or around the waist
Buckle is easy-to-use and durable
Perfect Leash
Familiarity:

I've used it several times
I've been using this leash for a few weeks now and I absolutely love it! The longer length is perfect. It's a high quality leash, doesn't get knotted up, and is versatile with the waist feature as well as a hand hold close to the collar clip. Highly recommend this leash!
Holly D.
Pretty cool leash
Familiarity:

I've used it several times
I bought this when it was on sale without much for expectations. I use it for hiking and running with the dog and it works great for that. Only complaints are the bulkiness and the waist strap can abraid your clothing if it is more delicate such as thin polypropylene. Seems to not be a problem with more clothing.
Kyle D.
Great Leash
Familiarity:

I've put it through the wringer
Love this leash! I use it for daily walks, runs, skijouing (with another leash) and its held up to all i've put it though. The stretch is nice especially when my dog sees an animal he must get to, it gives me an extra second to react..
Dana G.
Good leash when you're outside
Familiarity:

I've put it through the wringer
The Ruffwear Roamer Leash is great for folks who want to get outside with their dogs, but need to maintain control. The stretch is great as it allows for a more gentle experience for high energy dogs who aren't in control. However, if you're in a downtown area, this flex can be a huge pain as the dog is more likely to get wrapped around things as you effectively give up a couple feet of control.

I'm a big fan of the buckle on the handle. The prior version fo this leash didn't have this (it has a slip which was ok) and it's nice if you need to attach your dog while running into a store.
Chris Shields
Great Hiking Leash!
Familiarity:

I've put it through the wringer
This Leash is awesome for everyday dog walking as well as hiking or running. I love how there is a huge stretchy section in the leash. This lets your dog know when they are getting close to the end of the leash and it will slightly start pulling them back instead of your dog pulling you. The other great option is the adjustable connection. You can use the leash like a normal leash by holding it in your hand or around your wrist, or when you are running and hiking you can make the end larger and wrap it around your waist freeing up your hands for trekking poles or balance. The perfect leash for the trekking doggo.
Daniel Maus
Good For High Energy Doggos!
Familiarity:

I've used it several times
I have a Australian shepherd mix who seems to never get tired. Whether it be a walk down the street or a trail run up millcreek, this leash does it all. Extremely versatile and user friendly, your furry companion can pull a little with the added elastic bungee while keeping the leash stable.
Samantha Fox
bungee time
Familiarity:

I've used it several times
I am loving this leash. I got two in red and blue for each dog. I hated having to hold on to the leash while hiking because my hands get so sweaty. Being able to snap this around my waste and keep moving is a dream! we did a few walks around the neighborhood and then our first hike yesterday. better than expected. love it! highly recommended.
Sonya Salansky
Stretchy & Sturdy!
Familiarity:

I've used it several times
I absolutely love the Ruffwear Roamer Leash. I have tried alot of leashes for my dog, and this is by far the best. The elasticity of the leash keeps the dog close but doesn't automatically tug at him if he goes off a little and gives a little extra leeway when he needs it. Also the buckle at the end if perfect when I need to hook his leash around a fence at a field, chair at a restaurant, or anything of the sort. The leash is well made and very durable, my pup chews on leashes and likes to walk with the leash in his mouth alot and you can't even tell the leash gets chewed on - excellent quality overall!
Larissa Bortz
I've been a long-time fan of the Slackline leash, but wanted to give my pooch a little extra wander-room, so I picked up the Roamer. I do have two dogs, one of whom does not dig the Roamer - but the other smaller dog definitely seems to enjoy it.

I love the fact that the plastic waist clip is back: the metal one on my Slackline drives me totally bonkers. Though, right off the bat (when running and wearing the Roamer fastened around my waist), I noticed that if my little, 30-pound mutt decided to launch herself (for whatever reason), the Roamer absorbed some shock and didn't near rip me in two, which the Slackline sometimes does. Definitely appreciated that detail. However, the Wavelength tech also makes it tough to wrangle your pooch when you need to. There is the "oh-shit" handle at the bottom of the leash near the clip, but the ratio between the time-to-grab-it-properly and when you REALLY need to grab it isn't... ideal. Maybe the Wavelength has to be a little shorter in order for the handle to work or maybe I just have to be a little faster on the uptake, who knows.

Also, fair warning: avoid getting wrapped up around trees or poles. My little dog took herself for a ride around the street post the other day, which was an alarming experience for her and hilarious thing for me to observe. But yeah, the Wavelength definitely has some strength behind it.

Bottom line: this is a pretty nifty little leash. I definitely prefer it overall to my Slackline and my dog seems to dig it more, too. She seems to be really into the bounce-back of the Wavelength, which cracks me up. As I mentioned before, our dog who requires a Gentle Leader does not like this leash as much, so we just use it for the other little dog.
Monique Seitz-Davis